Single Irish Chain Quilt Patterns

An Easy Quilt Pattern for the Beginning Quilter

The Single Irish Chain Quilt pattern is an easy beginner quilt. Set in horizontal rows it's all rectangles and squares, ideal for a new quilter to practice rotary cutting skills and to perfect that scant quarter inch seam allowance.
But set it on point, add setting triangles and the design is transformed.
All of the images on this page are designed and drawn in Electric Quilt, a quilt design software that is available for both PCs and Macs.
I use it to design all my quilts and the illustrations here on the website. It's easy to learn, easy to use and makes auditioning colors and fabrics a snap.
Tools to make quilt designing easier...
Click any image for more information, reviews, and pricing.
The Building Blocks

This two unit quilt pattern is characterized by a single chain of squares that form a grid around an open area. Pieced units nine patches alternate with solid squares to form the pattern.
The open spaces are ideal for showcasing your applique, hand or machine quilting or new set of machine embroidery designs.
You can choose from one of several pieced designs to create this pattern. These different block(s) provide a way to increase or decrease the amount open space to suit your needs.
The Basic Nine Patch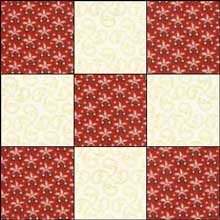 A simple 9-patch
This nine-patch is simple to construct from individual squares. But if you need exact multiples of it, strip piecing is even faster and easier.
This unit creates the smallest possible open space, probably too small for most fancy machine quilting or applique, and is based on a 3x3 grid.
Click here for several different ways to make a Nine Patch.
Set in straight rows with an alternating solid square...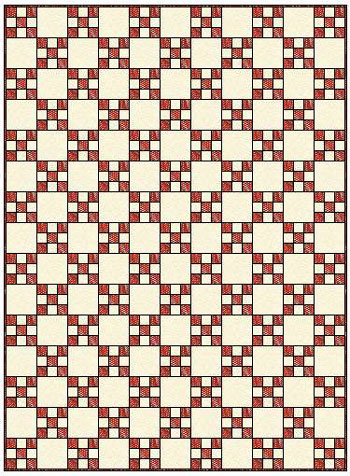 11 x 15 blocks
Or in an on-point setting...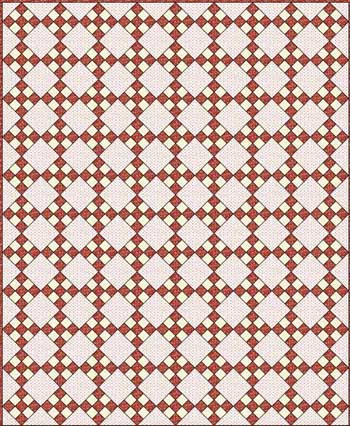 9 x 11 blocks
To complete this type of layout, you need to also cut and sew setting (QSTs) and corner triangles (HSTs) to fill out the design.
Country Lanes Quilt Block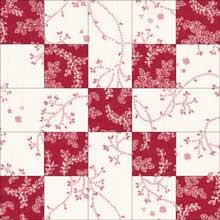 Country Lanes block design
Other common names: Cross in the Square, Pennsylvania
Just like it's cousin, the Double Irish Chain, this block is based on a 5x5 grid and creates an open space 2/3's larger than the previous ninepatch block.
Click here to learn how to make this block.
First a horizontal layout...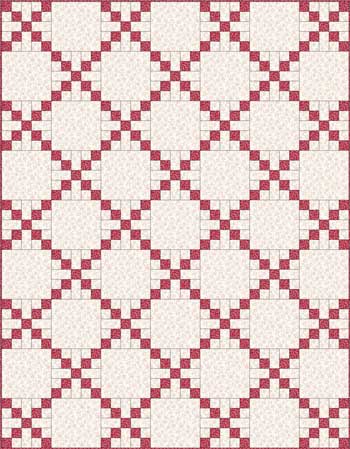 7 x 9 blocks
And now an on-point layout...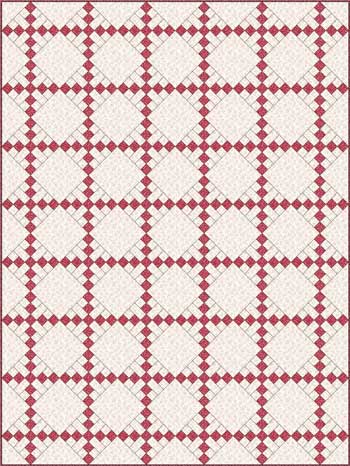 6 x 8 blocks
The Double Nine Patch

Other common names include: Single Irish Chain, Golden Steps, Puss in the Corner
Double Nine Patch design
Simply a nine patch made from nine patches. It creates an open space equal to its 9x9 grid.
It can be set in one of two ways:
With a solid alternate square or 
With a plain sashing strip and a nine patch for the cornerstone. The sashing is cut a width equal to the unfinished nine-patch square.
Our examples use a solid alternating square.
Set in horizontal rows...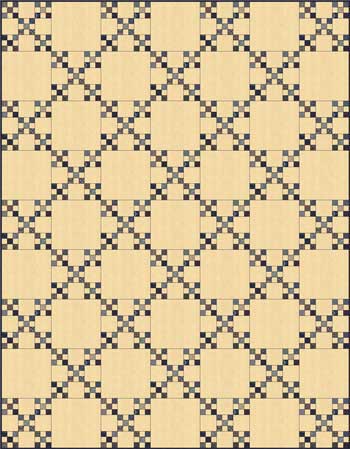 7 x 9 blocks
Set on point...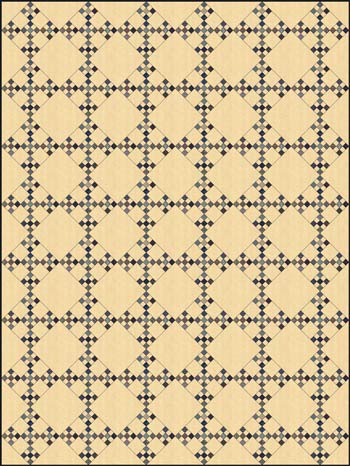 6 x 8 blocks
To jazz things up a bit, why not add two extra fabrics.

Choose a light fabric for the small nine patches, another fabric (pink) for the alternate squares in the double nine patch, and a third color (blue) for the alternating squares.
6 x 7 blocks
Did you notice...?
The symmetry?
All the straight sets for our Single Irish Chain had odd-numbered blocks in the rows and column. In the diagonal or on-point layouts it didn't matter.
Symmetry was maintained.
Make the Single Irish Chain design your own

The pieced units used to create a Single Irish Chain Quilt all have a single row of squares that forms an 'X' and runs from corner to corner. These squares needn't be all the same size. Two more that work to create a single Irish Chain are: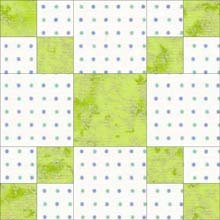 Common names:
Pennsylvania, Criss Cross Quilt, Simple Cross, Single Irish Chain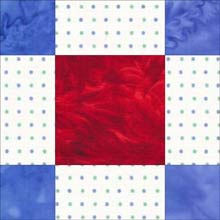 Common Names:
Nine Patch, A Plain Block, Sheepfold Quilt, Irish Chain
Remember that to maintain the quilt design's symmetry in a straight set, both rows and columns need an odd number of blocks. There is no limitation for an on-point layout.
Finally, though a single Irish Chain quilt pattern is traditionally constructed with just two fabrics, there is no reason not to use up your scraps. Just be sure that there is enough contrast in value between the background fabric and chain fabrics so that the design is prominent.
For more on Irish Chain quilt patterns visit: