The Birthday Quilt
A Nine Patch Quilt Pattern
by Julie
(Plainfield, IL)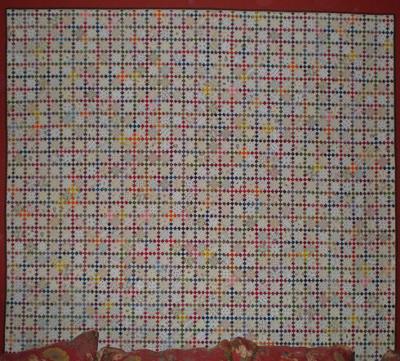 This is one of my favorite quilts!
This nine patch quilt is made from a pattern called "The Birthday Quilt" from JJ Stitches in Sun Prairie, Wisconsin. What a cool store if you're into reproductions!

There are 1024 nine patch blocks set on point measuring 1-1/2" finished. These alternate with 1-1/2" finished squares of shirtings.

There's at least 250 different fabrics in the quilt. The more fabric the merrier. I've found myself being drawn to scrap quilt patterns ever since. There's something about the hunt for fabrics for a quilt that really gets the creative juices flowing, don't you think?

This was one of the most fun projects that I have made...only problem is that it was very hard to stop making these mini-blocks when the quilt was finished. Kind of like potato chips...you can't have just one. So after I finished piecing this one, I went straight into piecing my 'Ohmigosh' quilt.

It is the perfect "bee" project". The box to contain the pieces was small and neat, the little blocks looking more like pieces of candy than quilt blocks.

Now, I have a girlfriend that said she would surely have her's quilted and bound before my top was even finished. (Hmmmmm...)

She was wrong!

Fun quilt to make...even better to own!

Now if I could only get my girlfriends to post pictures of their Birthday quilts, too...now that would be something to see!

Update: These gals have finished their quilts, too!

My secret weapon to make all the cutting manageable...
There's a ton of rotary cutting with this quilt, I admit.
I'd had the June Tailor Quarter Cut Ruler laying around for the longest time, and really thought it was a crummy ruler. (I don't fold my fabric in quarters to cut strips...too many dog legs!)
But for this project, this ruler was PERFECT for cutting the strip sets down into one inch units. I found I could stack quite a few of them under the ruler and then slice away. I can't recommend this ruler strongly enough if you plan to make this quilt!
PS Sometimes I affectionately call this the "Mattress Pad Quilt". Each nine patch is machine quilted on both diagonals and so are the shirting squares. From the backside it looks like a 'mattress pad'! A ton of quilting.
---
If you enjoyed this quilt, please do let the quilter know by posting your comments. And if you've got one to share, don't be shy, we'd love to see it!