Irish Chain Quilt Pattern

Part 2: Simple Changes = Knockout Quilts!

In the Irish Chain Quilt Pattern: Part 1 we learned the basic layouts for this easy patchwork design.
When the blocks are set in horizontal rows (also called 'straight sets') there are no bias edges for a beginning quilter to fuss with.
All it takes are strips, squares and rectangles.
But we promised this is more than just a design for beginners.
My Favorite Quilt Design Software

All the free patterns and block/quilt illustrations on this site were created in either EQ7 or EQ8—my favorite quilt design software.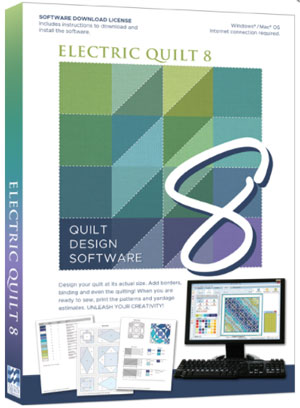 Click here to purchase EQ8 from Amazon
This program makes it so easy to audition different colors and values with just a few mouse clicks.

Rotate and flip the blocks with another series of clicks.
I can't imagine going back to graph paper and colored pencils.
Or worse yet—simply keeping my fingers crossed. Fabric is much too expensive!
The box contains a software download license—License ID and Password—and a booklet to get you through installation and get you started. There is no disk as in the past. 
Download the software onto your computer from the EQ website using the ID and password as directed. At the time of download you can choose either PC or MAC. 
I LOVE Electric Quilt!
I hope you do to.
Make Simple Changes

Confident beginners, intermediate and advanced quilters can all find something compelling about the Irish Chain by changing one of it's elements:
Tinkering with one, some or all of these elements radically changes the appearance of this traditional design without a corresponding change in skill needed.
Use an On-Point Layout

Using the same nine patch and solid cut squares from Part 1, we now choose an on-point setting.
Units are arranged in diagonal rows.
Corner and setting triangles are required to complete the sides of the quilt. Though not hard to manage, these triangles add some bias seams to the quilt.

Block 1
Block 2
You can find more information on these triangle shapes on our page Setting Triangles along with a printable chart of cutting sizes to make these units.

In this single Irish chain, solid squares alternated with simple nine patch blocks result in a patchwork design like this: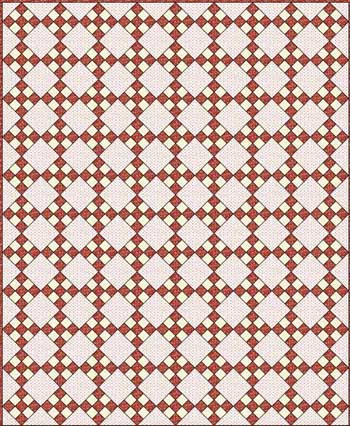 Single Irish Chain Quilt
On-point setting
9 x 11 blocks
In an on-point or diagonal layout, you can have either odd or even numbers of blocks in the rows and columns and not effect the symmetry of the design.
Another feature of this type of setting is that the chains look like they are running horizontally and vertically from edge to edge.
Make Smaller Blocks

Now reduce the size of these simple nine-patched to 'itty-bitty'. Add shirting squares instead of solids and you have the stunning result, The Birthday Quilt.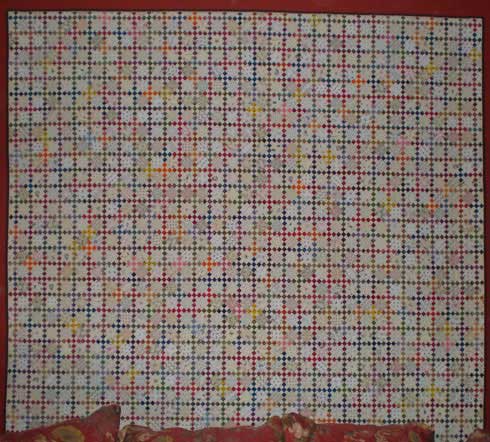 The Birthday Quilt
A Single Irish Chain with an on-point setting
68 inches square
The nine-patch blocks finish at 1-1/2 inches and are strip pieced from 1 inch strips...lots and lots of 1 inch strips! The darker fabrics create a strong grid pattern.
See how it glimmers a bit when the 'dark' in the nine-patch is a chrome yellow or Halloween orange. This simple detail makes a more interesting and vibrant Irish Chain quilt, don't you think?
Change the Color...

Perhaps a detour from the traditional color layout is more your style.
In this version of a Double Irish Chain, the fabrics are reversed. A dark blue background becomes one of the two fabrics for the 'chain'. The other is now the 'light'.
With just two colors in this quilt the 'X' pattern is replaced by a checkerboard in Block 1. The blocks now look like this...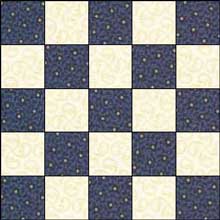 #1
#2
...and seem to disappear in the resulting quilt. (Remember, we used an on-point setting. Use the outlines to identify the blocks.)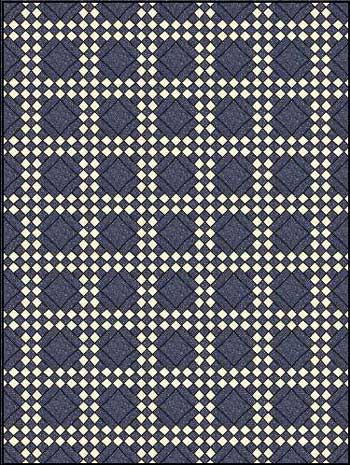 Double Irish Chain
On-point setting
6 x 8 blocks
...and its placement!
Add an extra fabric to your Irish Chain and fiddle with the color placement in the same 5x5 grid layout and on-point setting.
Instead of the traditional 'X', the blocks look more random. But looks are deceiving. You'll need these three different patch arrangements.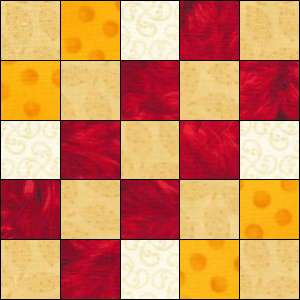 #1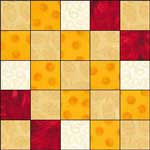 #2
#3
Set together, they create a field of interwoven ribbons.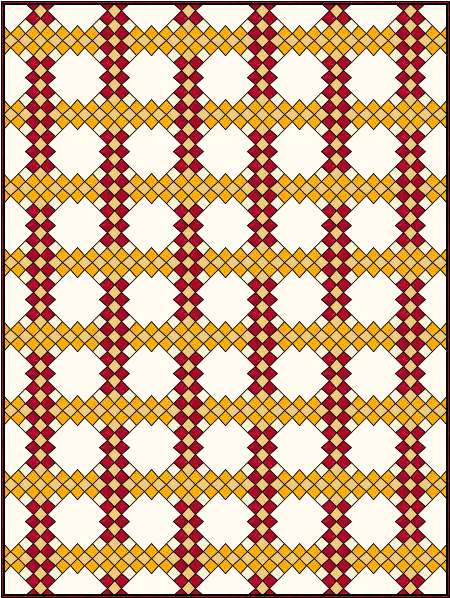 Woven Irish Chain Quilt
Diagonal set
6 x 8 blocks
Some of the piecing lines have been removed so that they don't distract from the design.
Push the Envelope

Colorwashing patches is nothing new. Use either gradated or patterned fabrics (like florals) to blend the colors between adjacent blocks and the 'chains' seem to flow or melt into each other.
Using these two blocks based on an 11x11 grid, the 'chain' colors are graded from a dark royal to a pale blue. (The piecing lines are left in these illustrations.)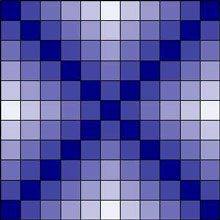 Block 1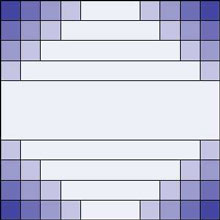 Block 2
Notice how the chains in the quilt (shown below) are a bit fuzzier, the effect not quite as masculine.
Using a floral fabric to blend from chain to chain would further soften this striking use of color and pattern. (Some of the piecing lines have been removed to make it easier to see the design.)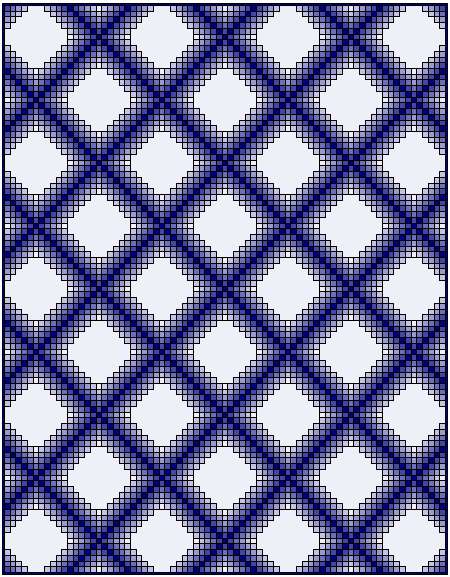 Colorwash Irish Chain Quilt
Straight set
7 x 9 blocks
Wouldn't the open spaces between the chains be the perfect spot to showcase your applique or machine quilting?
An Irish Chain quilt is a scrap lover's paradise

Up until now, all of the quilts have used a controlled or limited fabric palette.
Let's throw caution to the wind!
With its more contemporary-feeling black background and 'chains' galore, this next quilt is the perfect choice to help clean out some of your fabric scraps.
These are the blocks, again, drafted on an 11x11 grid.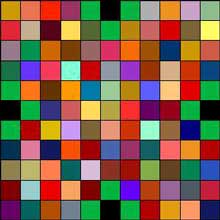 Block 1
Block 2
Notice the bright green patches that form a border around the chains when the blocks are assembled.
The contrast between the black background and this 'organized' or 'planned' green holds the whole design together.
The scraps themselves are mostly mediums and darks with a few lights thrown in for that 'sparkle' factor.
Use a 1 inch finished grid and this dazzling layout is truly a stash buster and a piecing tour de force!
Scrappy Irish Chain Quilt
Straight set
7 x 9 blocks
The Irish Chain quilt pattern is just that simple.

Change the layout.
Change the scale.
Change the color palette.
That's all it takes to transform this easy patchwork design into a dazzling Irish Chain quilt any quilter, regardless of their skill level, would be proud to stitch and own.
For more on Irish Chain quilt patterns visit: