Double Irish Chain Quilt Pattern

Easy Quilt Blocks = Easy Quilt Pattern
by Julie Baird
This post contains affiliate links for which I receive compensation.

The Double Irish Chain Quilt Pattern is a two-block pattern, traditionally based on a 5x5 grid and made with three fabrics.
The first block is defined by the strong 'X' created by two diagonal rows of squares running from corner to corner. The alternate block completes the design.
In its most basic layout the Double Irish Chain quilt design contains just rectangles and squares—a wonderful quilt for the beginning quilter to practice her new techniques.
Play with color placement and/or put the blocks on point and the complexity of this quilt pattern 'appears' to have increased. But this will be no problem for the confident beginner.
Let's get to the quilt blocks and settings!
The Building Blocks

---
The Double Irish Chain quilt pattern is traditionally stitched with three fabrics: a light for the background and two medium to dark fabrics, that's where the 'double' comes from. (Remember that color value is relative. You need enough contrast for the 'chains' to stand out from the background fabric.)
Double Irish Chain Quilt Block

AKA: Checkerboard
Grid: 5x5
| | |
| --- | --- |
| #1 | #2 |
A straight or horizontal layout of these blocks is below. Just like it's single and triple chain 'cousins' odd numbers of rows and columns are required to create a symmetrical quilt.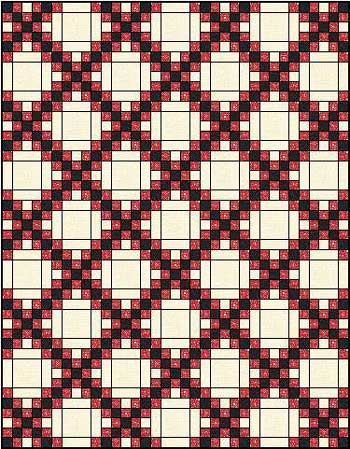 7 x 9 blocks
The open space for quilting or applique is smaller. Part of the alternate block now has some of the chain in it (unlike the single irish chain). To have more space in this #2, increase the size grid units. Reduce the contrast between the 'chains' and the background fabrics to focus the viewer's attention on your quilting or applique in these open spaces.
With the addition of setting triangles in an on point layout the quilt is transformed.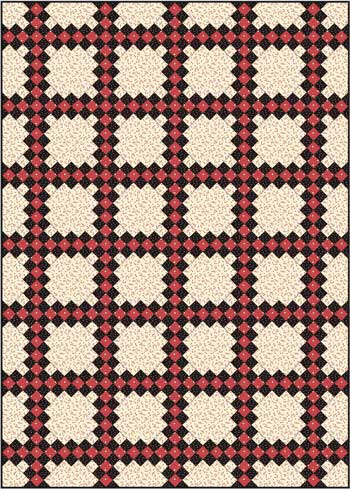 6 x 8 blocks
The chains now form horizontal and vertical rows. I think this layout 'hides' the blocks, don't you?
Checkerboard Quilt Block

AKA: Double Irish Chain
Grid: 5x5
| | |
| --- | --- |
| #1 | #2 |
This stunning variation uses only two fabrics to create a very graphic quilt. The background fabric substituted in as one of the two chain fabrics.
When laid out in straight sets it looks like this.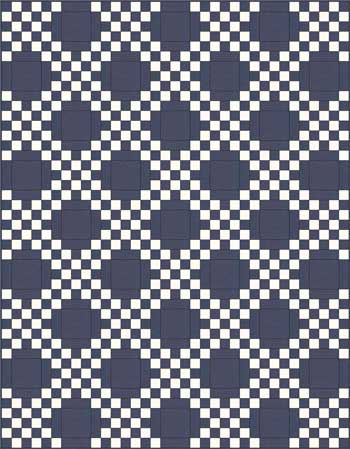 7 x 9 blocks
And then a diagonal layout.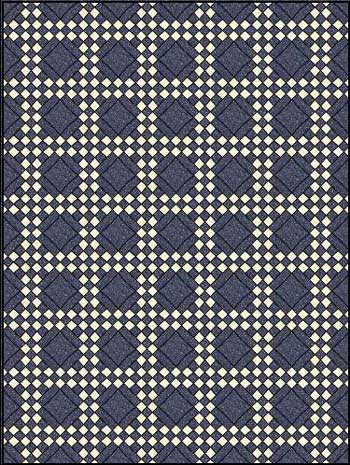 6 x 8 blocks
Again, this on-point setting really blurs the construction lines, kind of a trompe l'oeil in fabric or fool-the-eye patchwork.
Federal Chain Quilt Blocks

Grid: 5x5
This two fabric quilt is a variation on the previous quilt, with the changes occurring in Block #2. Instead of just a single square in each corner, two half square triangle halves have been added, creating a modified Snowball design.
| | |
| --- | --- |
| #1 | #2 |
The open spaces in this version of the Double Irish Chain quilt pattern have a more 'rounded' look to them with the addition of the triangles.
The cutting and piecing will take a bit longer due to this additional shape. Be gentle handling the bias edges in #2 so you don't inadvertently stretch them. Starch quilt fabric before cutting helps to stabilize these edges.
A straight set looks like this...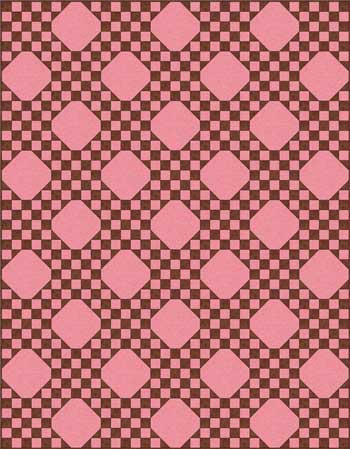 7 x 9 blocks
The chains line up in horizontal and vertical rows in this diagonal setting.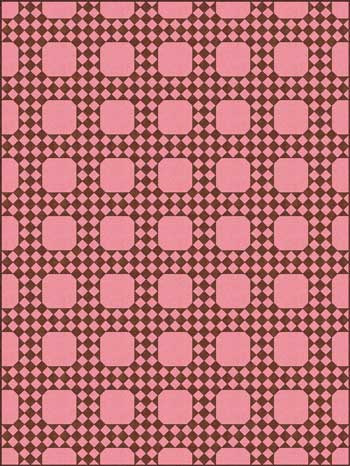 6 x 8 blocks
Double Irish Chain Variation
Grid: 6x6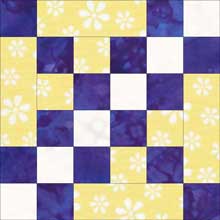 This is the only name I've found for this hybrid quilt design that is both a double chain on one diagonal and a single chain on the other. It is also a one-block quilt as opposed to the majority of these Double Irish Chain quilt patterns that need two different ones to complete the chain.
Without the alternate block it creates a much busier quilt than the previous blocks in both the straight block layout. And, of course, there is no room for applique or special quilting.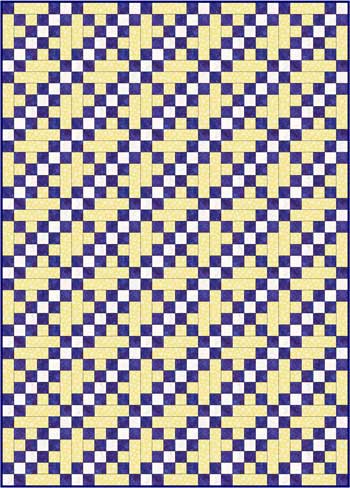 5 x 7 blocks
...and the diagonal block layout...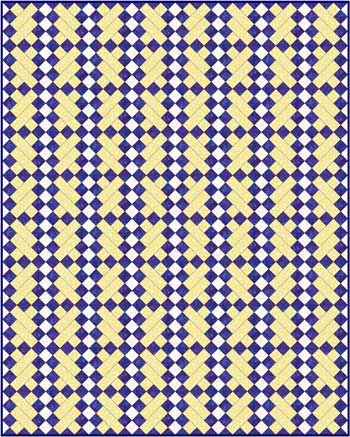 4 x 5 blocks
Make the Design Your Own
---
A big part of quilting is making a design your own. With these suggestions for blocks, why not try your hand at designing your next Double Irish Chain quilt?
This first set of blocks was introduced in "Simple Changes = Knockout Quilt". You can see the block's laid out at Irish Chain Quilt Pattern: Part 2.
Blocks 1 and 2 are our Checkerboard block with four, instead of the usual 3 fabrics. Block 2 contains 3 of the fabrics.
As we saw, not all Irish Chains are two block quilt patterns.
The following 3 blocks all create this pattern with or without a second block. This second block, the alternate is also shown below. Though simple, this alternate block seems to give the design a more 'complete' feeling.
These blocks are based on larger grids which means more pieces and more opportunities for playing with color placement. It'll take a bit more organization to keep track of all the pieces.




Other Names:
On the Square
9x9 grid





Other Names:
Steps to the Lighthouse
11x11 grid





Other Names:
Unknown
11x11 grid





Optional Alternate Quilt Block
Use a grid equal to its
Block 1 counterpart
If you choose to use the alternate block, you'll have a nice large area to add some special quilting stitches or applique to your Double Irish Chain quilt pattern.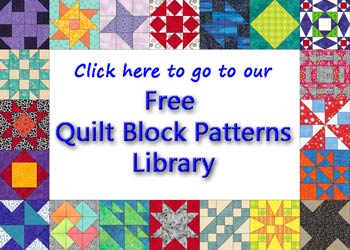 For more information on Irish Chain Quilt Patterns see: