Single Chain and Knot Quilt
Exploring the
Single Chain and Knot Quilt Pattern

From our Quilt Design 101 series...you love the block...now what?

From simple blocks, like this Single Chain and Knot quilt block, marvelous quilt designs grow.
I was first drawn to this block after seeing it used in a border.
It.Was.Fabulous.

But I thought that was it.
Yet after playing with the design in EQ7, I came up with several layouts that would be fun to make and great for stashbusting or as a color study or for showcasing handwork or free motion quilting.
That's a versatile design!
On this page, you'll find ideas for straight set and on-point layouts, as well as the border idea that caught my eye.
Enjoy!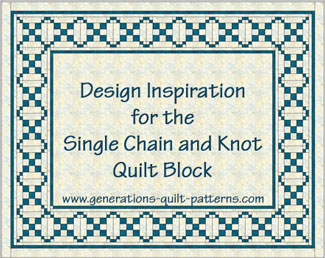 Tools to make quilt designing easier...
Click any image for more information, reviews, and pricing.
Straight Set Designs
for a Single Chain and Knot quilt

In a straight set layout of 5x6 blocks, this is the result using just two fabrics.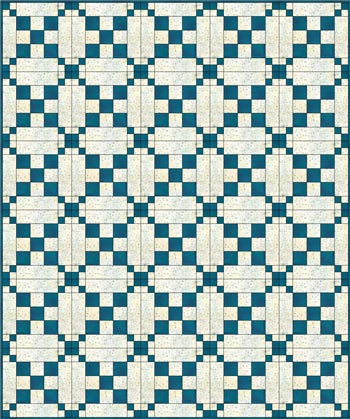 5x6
You can see that when the blocks are set edge-to-edge like this, it doesn't matter if you have odd or even numbers in the rows or columns. Both yield a symmetrical design.
Now use the same arrangement, a single background fabric and add a bunch of scrappy blues like this.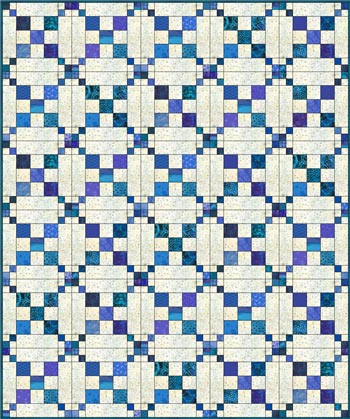 5x6
It's a much more vibrant quilt, don't you think?
Both have their place. It really depends on the effect YOU are after. Or perhaps you just want to do some stashbusting. The design choice is ultimately up to you.

Moving on, let's add solid sashing strips, colored cornerstones and keep the 'scrappiness'.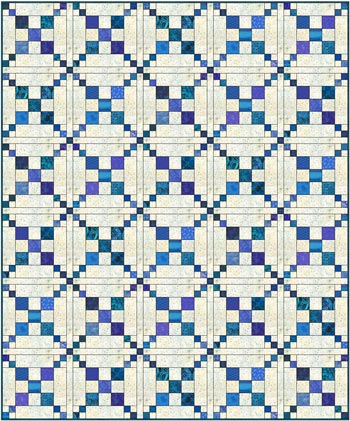 5x6
That colored cornerstone transforms our little four-patch corners into an 'X' shape. It repeats the X-shape formed by the nine-patches.
The chain pattern is strengthened and the overall look is a bit more 'airy' and open.

Finally, let's swap in solid alternate squares.
Perhaps you'd like to showcase some of your applique, free motion quilting or redwork—well, maybe bluework for this quilt. Now you've got the place to do it. An extra benefit is you've reduced your piecing time. (Go Team!!!)

In this first example, we return to a straight, edge-to-edge setting.
Notice that the design now is NOT SYMMETRICAL. To create symmetry, you need to have odd numbers of blocks in both the rows and columns.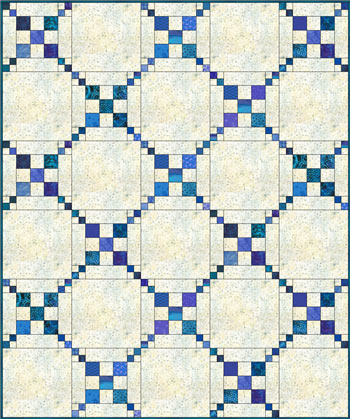 5x6
What happens when we add in the sashing and scrappy cornerstones we've previously used?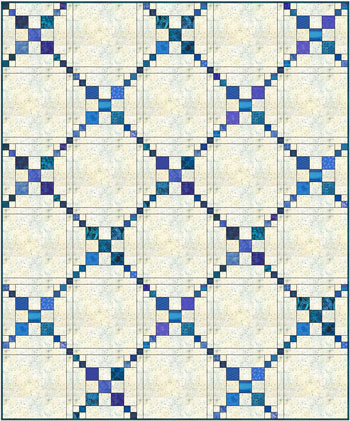 5x6
Nearly identical!
'Knot' much bang for the buck considering the extra piecing to do.
This technique would come in handy IF you needed just a wee bit more space in the alternate squares. An example would be if the perfect embroidery or applique pattern filled the alternate square to the very edge. The sashing would give it a frame—a bit of breathing room.
On-point Settings
for a Single Chain and Knot quilt

Arranging 2-fabric blocks in an edge-to-edge, on-point setting completely makes over our Single Chain and Knot quilt.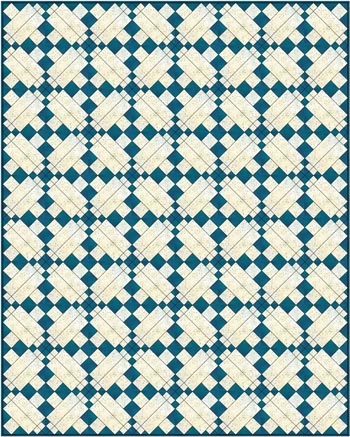 4x5
As expected, the quilt with its blocks set edge-to-edge is still symmetrical even with the blocks on-point.
Those triangles at the edge, with their changing sizes, add a dynamic pop to this patchwork pattern.

Now let's 'scrap-up' the blues.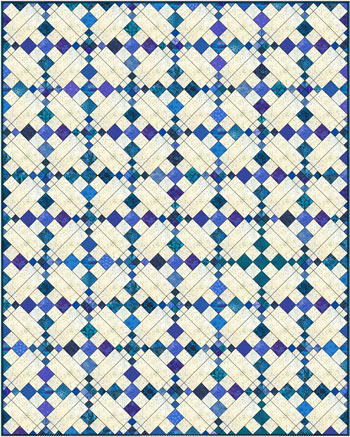 4x5
The many values of blue bring a new zest and lively energy to this VERY SIMPLE Single Chain and Knot quilt block.
Next, add a sashing from the background fabric and a scrappy blue cornerstone.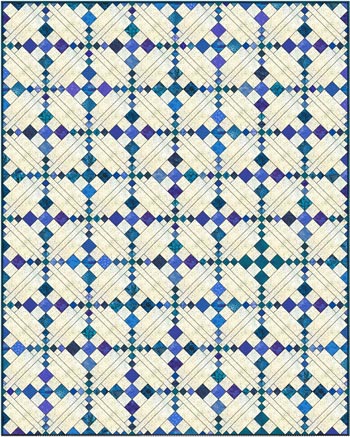 4x5
Swap in alternate blocks and keep the scrappy look and sashing/cornerstones.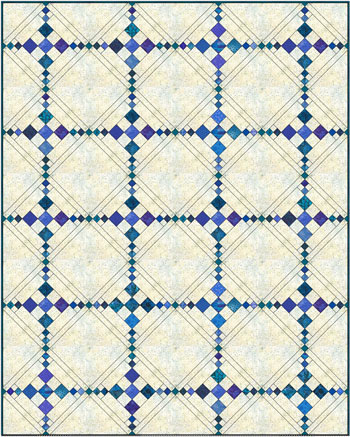 4x5
There's plenty of room for hand or machine work in those big open spaces. With this setting the layout is still symmetrical, too.

What happens if you replace every other block in every other row with a solid square?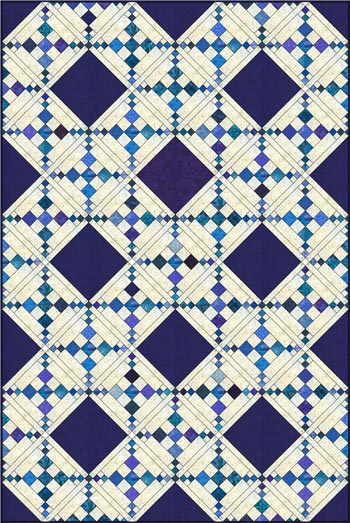 4x6
This time with a darker background fabric, we've really dialed up the drama! Another row was added to maintain symmetry.

Border Ideas
Using the Single Chain and Knot quilt block
This is what really got me excited about adding the Single Chain and Knot to our Free Quilt Block Library—using this block as a border unit. Every time I see it, it reminds me of cross stitch.

In this first example, the blocks are edge-to-edge.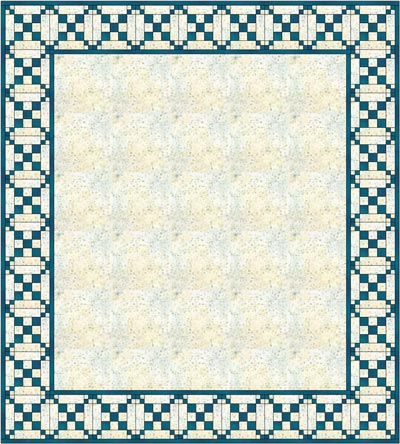 Single Chain and Knot, 9x10
Here thin, background fabric strips to are added to the inner and outer sides of the Single Chain and Knot blocks. The design created now floats between the dark inner and outer borders. An outer border of the background fabric is added to make the whole thing appear to float.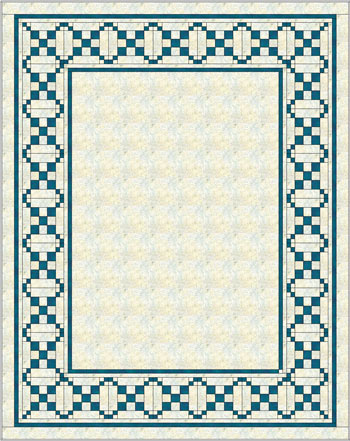 Single Chain and Knot Quilt, 7x9
Are you ready to make some Single Chain and Knot quilt blocks?
To find directions for three different sizes of blocks, just click here.
For more design inspiration, go to Quilt Design 101.

The newest quilt fabrics to tickle your fancy...
Click the images below to see the full collection. We share any commercial and/or free patterns that showcase them, too. (For inspiration, of course!)