Choosing Fabrics for Scrappy Quilts

The Fun is in the Fabric-Hunting Adventure!

Choosing fabrics for scrappy quilts is like going on a treasure hunt. You never know what you'll find or where you'll find it.
Scrap quilts are just like that.
Follow along with this method of making choices for a controlled scrappy patchwork design.
It just might surprise and please you.
Click 'Save' to Pin for later!
What are Controlled Scrappy Quilts?

Not every fabric in your stash or from your recent quilt store excursions will make it into this type of quilt. The goal is to have a quilt top with a unified color scheme. To do that, we...
Choose a Focus Object

It can be a swatch, a string of beads, an interesting picture...something with colors that please you. The subject of the object is irrelevant.
This is my chosen focus fabric.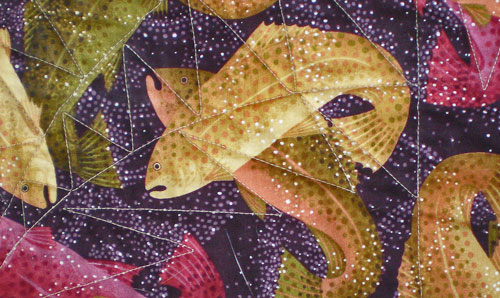 All the fabrics for the quilt were chosen with this fabric as a guide.
Now, I'm not a fish-lovin' girl in general, but this material caught my eye.
Always be on the lookout for "things" that are pleasing to YOUR eyes.
Understanding color theory is wonderful, but trust your instincts. They will serve you well.
The Hunt Begins

To join in the hunt, there is but one guideline...
...each of the fabrics in the quilt must be friends with this object...
What does that mean? "Candidate" fabrics:
Do not have to be an exact match in color
Do not have to be an exact match in brightness
May be any pattern...stripe, plaid, batik, reproduction, floral, etc.
When you lay these "candidate" fabrics next to the focus object, they play together nicely. They do not fight. An absolute match is unnecessary, and actually, rather boring. Be adventurous!
Trust your instincts.
Taking too long to decide if a particular choice is playing nicely? Then, clearly it's not. Listen to your gut here. No over thinking.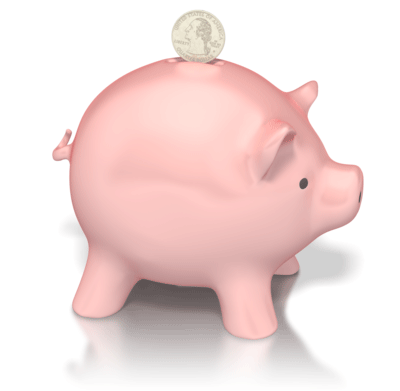 When you buy for projects like this, fat quarters and quarters are perfect...not too big, not too small.

Check out Green Fairy Quilts, Fat Quarter Shop, and Connecting Threads for ginormous selections of precuts at fabulous prices.

Playtime

I tried to gather equal amounts of all the colors in the focus fabric so my scrappy quilts won't have a particular 'color cast'. As fabric combinations evolved for each block, the working rule was each color group could only appear once in each block, i.e. no two greens allowed in a single block.
Putting the Pieces Together

With these simple rules, the piecing moved along. Choosing the fabrics for each block meant simply choosing one from each color pile. Different values (light, medium and dark) are used in each block.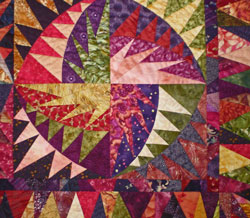 This is a block from the finished quilt
For the inner pieced border, it was purples and fuchsias all the way.
The rule for the outer border was that two of the same color couldn't be touching.
The rest was left to chance.
Interesting combinations happened in the blocks. Playing with scraps in a controlled manner will do that.

In fact, it took another two quilt tops to finish exploring these intriguing combinations.
Yep, they are scrappy quilts, too!
Sewing It Up

To make a controlled scrappy quilt use the following guidelines:
Choose a focus object of pleasing colors
Choose fabrics for the project stash that are friends, but not clones, of your initial choice
No fighting between choices (trust your gut)
Use simple rules to choose fabrics for each block such as each color can only appear once
If you want a certain 'color cast' to your quilt change the rule
Enjoy the process; revel in the new combinations this method brings you
Click here for more on choosing fabrics and colors for quilts.
The Finished Scrappy Quilt

This is it.
"The Fish Quilt" in all its glory. The only place that the fish fabric appears on the quilt is the binding and in a strip on the back for remembrance.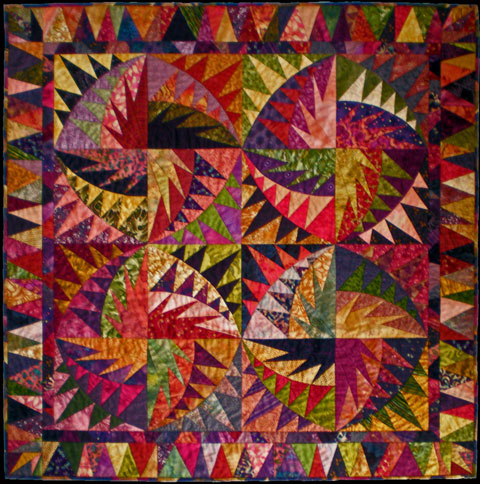 The Fish Quilt is pieced and quilted by Julie Baird
using the quilt pattern "Untitled' by Karen Stone.
Notice how the fabrics all play nicely together. Your eyes can't help but move around because there is just so much to take in.
The quilt has batiks, reproductions, cute little prints, regular quilter cottons, stripes, a plaid and polka dots, all playing happily together. No fancy quilting, just in-the-ditch.
The fabric is the star of this little scrappy quilt.
Now It's Your Turn!

Do you make scrappy quilts? Is it fun?
We'd love to see it! Please share your quilt pictures, your story and your helpful hints on using scraps in our Show and Tell.
NOTE: The quilt on this page is made with Karen K. Stone's pattern, 'Untitled'. Unfortunately, I'm no longer able to find a source for this pattern.