Snowman Quilt Patterns

Not just another pretty holiday quilt!
This post contains affiliate links for which I receive compensation.
I love a snowman quilt at the holidays. And afterwards, too!
Let's face it.
When January comes, there's nothing so sad as stripping away all the holiday decorations. Everything looks, well...
...just.so.bare.
Snowman quilt patterns are the BEST!
One way to remedy the emptiness is to do part of your holiday decorating with snowman quilts.

They fit right in as soon as it gets cold in your neck of the woods and right on through the Christmas holiday season.
And no one thinks they're out of place after New Year's!
Let's look at a few of my favorites.
Kisses from Heaven
---
This snow-rific pattern by Joann Hoffman just puts a big ol'grin on my face. There's nothing happier than a snowman!
This is available as a kit from Keepsake Quilting that includes the pattern and fabrics for the top and binding. You'll need to purchase your own batting and backing. 
Applique shapes are die cut with fusible already applied to the back. (What a time saver if you're trying to get this done for Christmas.)
If you'd rather choose your own fabrics (and if you've got stash, why not!) the pattern, itself, is available directly from Amazon.com.
Click here
for the Kisses From Heaven Quilt Kit (including pattern).
Click here for the pattern only.
Gone Sleeveless Support Rod
At 42" in diameter, this quilt may fit on your dining table. But, gee, I'm hesitant to put something this big where someone could spill on it.
If you'd prefer to hang it, you may want a support to keep it flat and round. Check out the Gone Sleeveless Support Rod (shown here).
This 'rod' is works for circular quilts from 31" to 45" in diameter. 
It attaches through the binding of your quilt. No sleeve required.
Wanna Build a Snowman?
---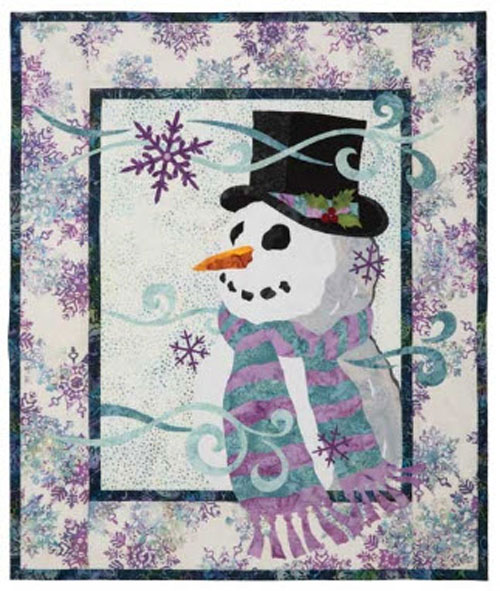 'Wanna Build a Snowman' by Dana Michelle
You'll only need batting and thread since this kit includes fabric for both the top and binding as well as backing. Sweet!
Using fusible applique, you'll have this 21" x 25" little quilt whipped up in no time!
Mr. Frosty
---
'Mr. Frosty' by Cynthia England
27" x 32" makes this right-sized for gift giving.
The kit includes full sized pattern printed on freezer paper, master pattern, complete instructions for Cynthia's 'Picture Piecing' technique. Fabrics for the top and binding complete the kit.
This quilt is the perfect example of 'perfect at Christmas' continuing through 'perfect for winter'. 
Christmas Flag
---
OK. I know there's presents and candy canes in this one, but isn't this pattern to die for!
Paperpieced to perfection—and Lord knows, during the Christmas season, the last thing I want to worry about is just how good my quarter inch seam is at 1 o'clock in the morning!
Now this quilt is definitely going to take longer to piece. It finishes at 80" x 52". But it is spectacular, isn't it!
This is a downloadable pattern so it'll be available immediately after purchase. 
Smiling Snowman Mug Mat
---
I've been a fan of Patrick's whimsical designs since forever. And this sweet little mug rug is no different.
The pattern for this 7-1/2" project is downloadable, available immediately after purchase.
Quick. Easy. And over the top A-dork-able!
This and a little homemade hot chocolate mix and you've got the perfect gift any teacher would love.
For more Snowman quilt patterns...
---