Courthouse Steps Quilt Pattern

A Fast and Easy Beginner Quilt Pattern!
by Julie Baird
This post contains affiliate links for which I receive compensation.

The Courthouse Steps quilt block pattern is a variation on a Log Cabin quilt block. And just like the Log Cabin, it's all squares and rectangles.
No bias edges to contend with.
No special rulers or tools to shot the lock off the ol'wallet for.
Strips are added around a central square.
They are added first to two opposite sides and pressed. Then another pair of strips is stitched to the remaining two sides.
Press again and the first 'round' of logs is complete. Repeat for as many 'rounds' as needed.
Every illustration on this page was created in Electric Quilt 7, the latest version of EQ's quilt design software program.
It makes drafting and coloring blocks fast and easy. Any change is simply clicks away!
Enjoy this easy Courthouse Steps quilt design.
It's faster to piece than any other Log Cabin design and offers its own unique design opportunities.
Let's look at a few now.
Courthouse Steps Quilt Block

---
The drawing (below, left) shows a center square framed by four 'rounds' of logs, added a pair at a time. Our center square is equal to the width of the strips.
Our blocks are draw on a 9x9 grid, but this may change as YOU add or subtract rounds to meet YOUR design needs.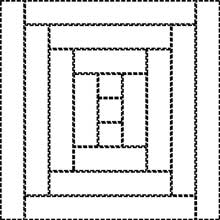 A line drawing...
...and with fabric
On the right (above), is a traditional coloring of this block—light fabrics on opposing sides and dark ones on the remaining sides.
Several ways to lay out this traditional block are shown below. All are straight sets without sashing.
These first two layouts look like strings of beads...
5 x 7 blocks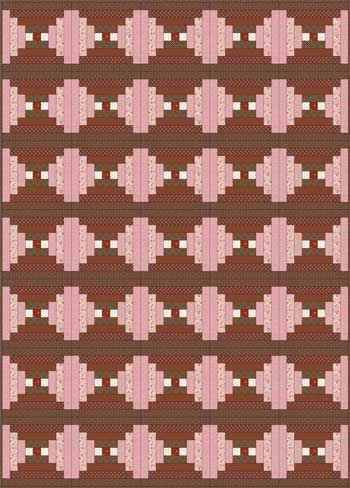 5 x 7 blocks
This next layout resembles Hour Glass quilt blocks...
5 x 7 blocks
This final setting reminds me of a Native American blanket...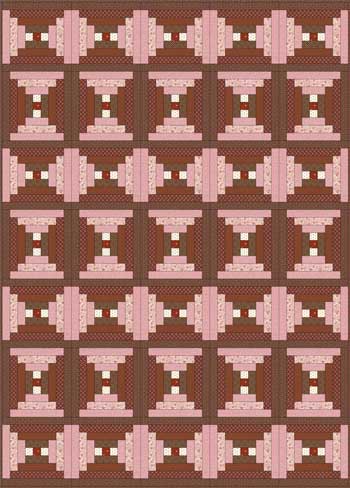 5 x 7 blocks
Courthouse Steps Quilt: Color Variation #1

I call this variation 'Concentric Squares'.
The quilt below is illustrated with just these two blocks. But don't let that stop you from making this totally scrappy. It's a great way to use up scraps or play with color.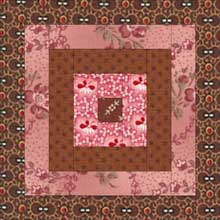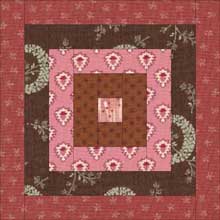 This layout is particularly effective when the outside round alternates between a light and a dark fabric choice. (We've used alternating pink and brown outside rounds in our example.)
This use of value creates more visual movement in the finished quilt.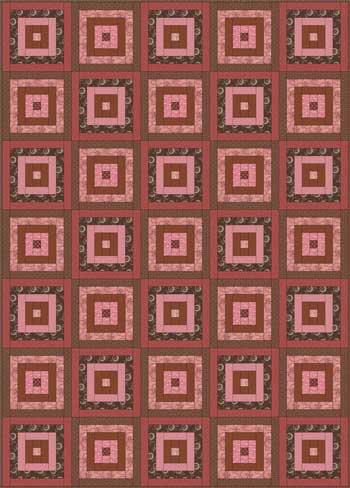 5 x 7 blocks
Fast and Fun Courthouse Steps Baby Quilt

The quilt below was made with 1930's reproduction flannels.
The center square is 4-1/2 inches finished to accommodate the cute machine embroidery designs. If you don't have access to an embroidery machine, you could easily substitute fussy cut squares or redwork.
The larger center square makes this quilt fast and easy to piece!
A small border of pink flannel frames the center blocks. More Courthouse Steps blocks, this time with only one 'round' were stitched to form the outside border.
Courthouse Steps Baby Quilt
Courthouse Steps Quilt: Color Variation #2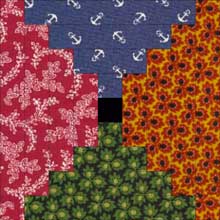 Each quadrant of this block is pieced with a different fabric.
The fabric choice for the center square is the same for all the blocks.
Now when these blocks are laid out, they form squares that appear almost woven together.
For the more adventurous, make this a scrappy quilt.
We recommend creating a map of the fabric placements. When I pieced a quilt in this pattern, I pieced only a block or two at a time.
Keeping your fabric strips organized is crucial to the successful completion for a scrappy version of this design.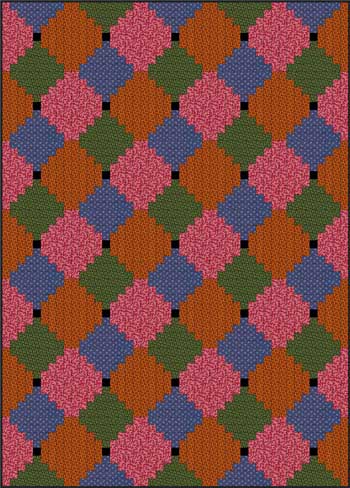 5 x 7 blocks
Courthouse Steps Quilt: Color Variation #3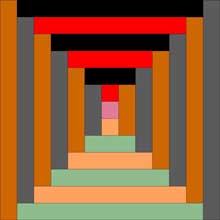 13 x 13 grid
This particular layout is from an antique quilt. The colors shown are reminiscent of the fabrics used in the actual quilt.
Honestly, I think this block looks ugly.
But...
A few extra rounds of strips have been added to increase the visual complexity of the design. The piecing isn't any harder, there's just more of it.
Each quadrant alternates strips of two colors.
Two opposite quadrants are the same fabric and color placements (the gray and the cheddar).
The remaining quadrants are each made from a different pair of alternated fabrics.
When laid out and rotated, those ugly blocks become a very dramatic quilt!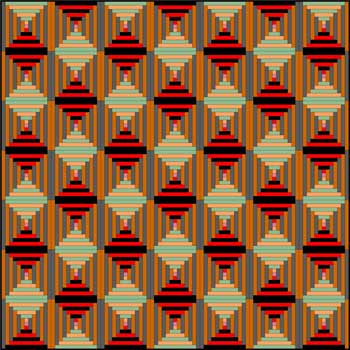 7 x 7 blocks
It's interesting to note, the diagonal lines of this quilt almost appear to curve.
But we know it's all made from rectangles and squares!
And one last example...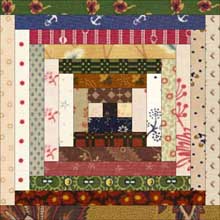 15 x 15 grid
A very scrappy Courthouse Steps!
It has a total of 7 rounds of strips and is drawn on a 15x15 grid. (Yes, more rounds means more piecing. But it's not any harder than any other quilt on this page.)
A traditional coloration—two opposite light quadrants and two opposite dark—set in an on point layout.
Now add an on-point layout and you create this beauty!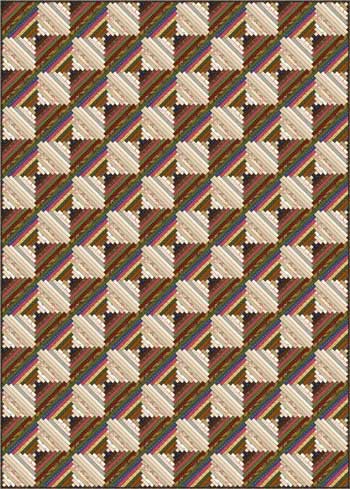 5 x 7 blocks
Now Make It Your Own!

---
The layouts we've suggested are just a starting point to get your creative juices flowing.
You can change the color and placement, the number of rounds of strips and even how wide the strips are, they don't even have to be all the same width in the same block. It's all up to you!
So...
...what will your Courthouse Steps quilt look like?
For more Log Cabin designs and their variations visit:
---