Log cabin quilt squares
When Making a Log Cabin square how wide should the strips and centre square be?



Reply
You are in the driver's seat on this one.
The size of your strips and centre square is all up to you, unless you are either:


Following a pattern with specific fabric requirements/placements, or...


If you are using precuts like Jellyrolls or Bali Pops. It doesn't make sense to me to cut these precuts down into smaller widths
The larger the strips and center squares, the faster the piecing will be because it takes fewer 'rounds' of logs to complete a block.
In my daughter's quilt (below), I embroidered the center squares of these
Courthouse Steps quilt blocks
with a collection of little kitties from a Cactus Punch embroidery disk. The centers are 3-3/4" square, finished. The logs were cut 1" and 1-1/2". The final block finished at 11-3/4" square.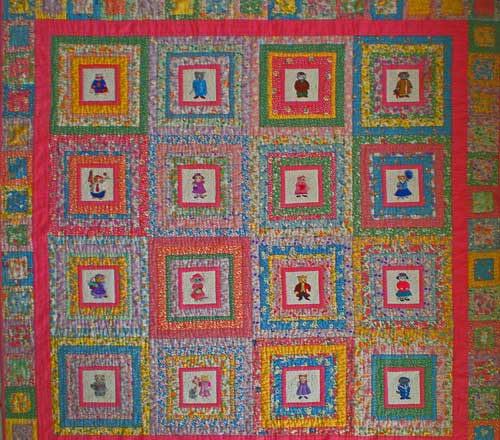 Kitties Quilt
Machine pieced and quilted by Julie Baird
In this stunning quilt by Linda Kenneday, the centers of the
Chimneys and Cornerstones quilt blocks
(another log cabin quilt block variation) are a quilt block in and of themselves.
Star and Logs, Machine pieced by Linda Kennedy
Long arm quilted by Nancy Mancke
If memory serves correct, the logs for Linda's quilt are cut 1-1/2" wide to finish at 1".
Wendy S. Popp outdid herself in this next example.
Excellent use of color. Beautiful quilt, right?!
Little Log Cabins, Machine pieced by Wendy S. Popp
Handquilted by Wendy S. Popp
But now look at it again knowing that the logs are about 1/8" wide!
Add to that, Wendy has hand quilted this piece. A truly masterful piece of quilting!
Those tiny logs take extra care to get them just right. (I have to admit that for the teeny-tiny like this, I will paper piece to get the accuracy that I desire.)
Personal Taste
In my own quilts, I like to use either 1-1/2" or 1-1/4"
cut
strips to build my log cabin quilt blocks when the quilt is made from mostly or all log cabin blocks.
The reason is twofold:


Using up stash. I have a rather large stash or 'fabric resource center' as I've been quilting for almost twenty years and sewing for at least another twenty-five. Thinner logs mean I get to use smaller pieces of fabric. It's satisfying to 'use up' a fabric down to those little bits. I also love scrap quilts. Smaller logs mean I can use more fabrics in a block.


This log size appeals to me aesthetically. Somehow, in my mind it looks 'right'.
And that brings us back to where we started. It all depends on what you find pleasing to your eye, how much time and how much fabric you have to give to a project. Do let us know what you decide.
And readers...I'd love to have your input on this. Please use the 'comments' link below to share your thoughts on just what size log cabin 'strips' should be.
Thank you for your question.
Piecefully,
Julie Baird
Editor
PS Another page that might be helpful to you is
How to make a Log Cabin quilt block in 3 sizes
.