Some of the links on this page are affiliate links. If you buy thru them, I receive a small commission—at no extra cost to you. This helps me provide all the free information on this site. To learn more, read my full Disclosure Policy.
Whirlwind Quilt Block Pattern


From our Free Quilt Block Patterns Library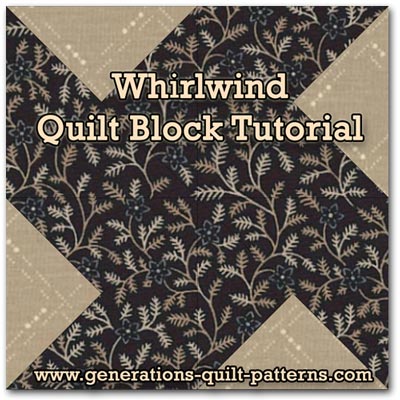 Skill Level:  Beginner
Grid:  2x2

The Whirlwind quilt block is a great block for a beginning quilter to practice making quarter square triangles. It contains four of them made from two fabrics.

Change the color placement or add another fabric and you can create a number of different pinwheel quilt block variations which you can see further below on this page.

This block is known by several other names including:

Modern Envelope
Pinwheel
Twin Sisters
Water Wheel
Windmill
This block, or one of its variations is a good choice for a baby quilt in pastels colors, or for a block exchange with your bee mates. Quick and easy with lots of design possibilities!

Constructions Instructions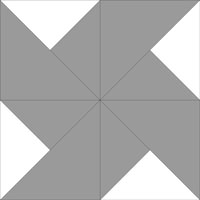 Block Size: 6"

Grid size: 3"

All seams are 1/4".

When you are instructed to press, first press the pieced unit flat to set the seam. Then open the patch, pressing from the front. Seam allowances are pressed to the dark fabric unless otherwise noted.

Click here for cutting instructions for additional block sizes.

Step 1: Cut the fabric patches
The example for this tutorial is stitched with squares cut 1/4" over-size—that is the number in (). After stitching, these units are trimmed down to 3-1/2" square.

Dark:
(batik print)

Background:


One 4-1/4"(4-1/2") square, sub-cut-twice for QST
Two 3-7/8"(4-1/8") square, sub-cut once for HST

One 4-1/4"(4-1/2") square, sub-cut twice for QST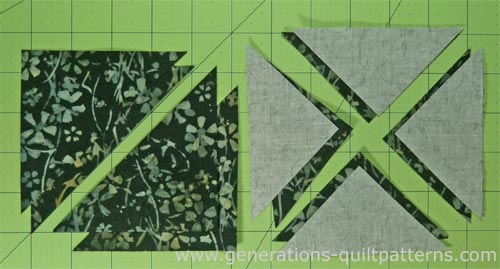 Step 2: Assemble the units
With RST, align the edges of one light and one dark QST patch. Stitch with the light patch on top; the blunt edge feeding into your machine first. That keeps the patches in the proper order.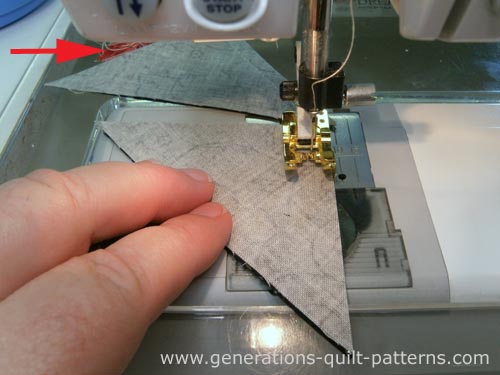 The arrow points to my anchor cloth.
Repeat for the 3 remaining pairs.

Press. First flat to set the seams. Then open, with the seam allowances towards the dark fabric.
Your units now look like this.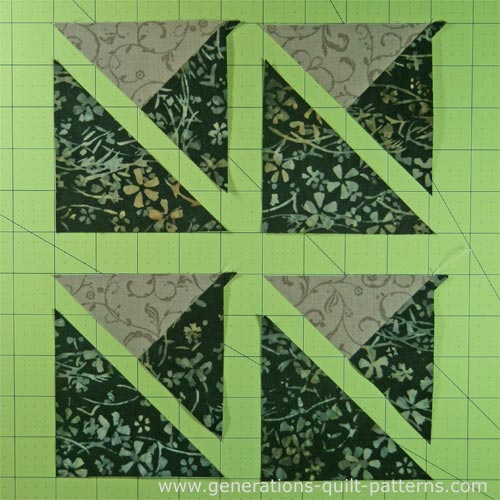 With RST, align the long edge of the pieced unit with one dark HST unit.

Stitch.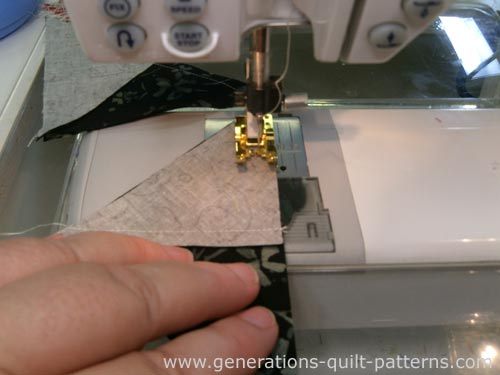 Press as before—flat to set your seam, then the seam allowance towards the larger triangle to reduce bulk.

If you used the exact size patches, measure your blocks to confirm their accuracy and trim off the dog ears.

If you cut over-sized patches, trim your QSTs to size. The midpoint measurement is 1-3/4". Click here for a review on trimming quarter square triangles if needed.

Step 3: Assemble the block
Lay out the units. There is one background triangle on each outside edge of the  finished block.

The diagonal seam allowances in the center of the block will nest to make it easier to match. Pin if needed.
Stitch the rows together. Press with the seam allowance towards the small triangle units (you can see this below in the picture of the finished block).
Twirl the seam allowance in the center to reduce bulk. You can see that all the seam allowances in the block are pressed clockwise.

The Whirlwind quilt block from the back. You can see the twirled seam allowance in the center
This is the finished Whirlwind quilt block.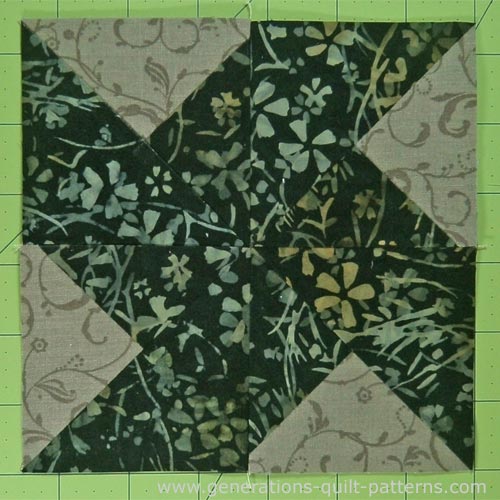 Cutting Chart for Other Block Sizes

The squares in the table below are cut to the exact size. If you'd like to over-size them (as was done in the tutorial) add 1/4" to each measurement.


Finished Block Size
Fabric
Qty
4"
4-1/2"
7-1/2"
9"
Sub Cut
Dark
1
3-1/4"
3-1/2"
5"
5-3/4"
Dark
2
2-7/8"
3-1/8"
4-5/8"
5-3/8"
Background
1
3-1/4"
3-1/2"
5"
5-3/4"
QST midpoint for
trimming
1-1/4"
1-3/8"
2-1/8"
2-1/2"
n/a
Grid Size
2"
2-1/4"
3-3/4"
4-1/2"
n/a
Common Variations
This Whirlwind quilt block is based on the quarter square triangle unit (below, left).
| | |
| --- | --- |
| QST for Whirlwind | Mirror image of QST for Whirlwind QST |
But reverse the drawing (above, right), add different color placements and this simple block morphs into something new.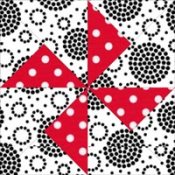 Turnstile
A two color block, but now the background is the dominant space.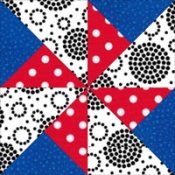 Whirlwind
Replace the smaller background triangle from the Turnstile block with a darker fabric and you have 'Whirlwind'.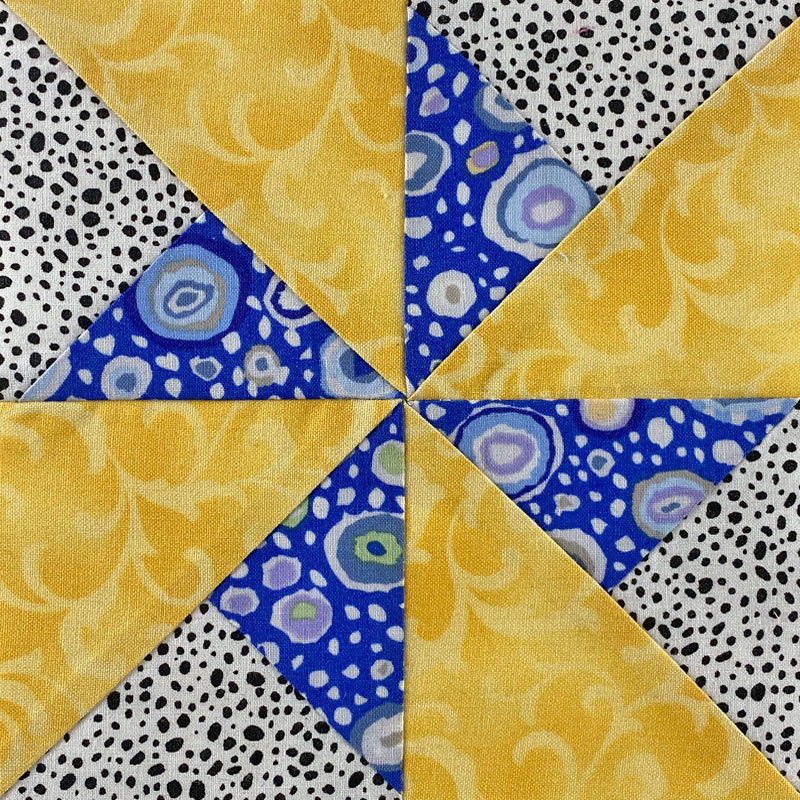 Double Pinwheel
In three fabrics with a light outside background triangle. The HST patches make a large pinwheel; the QST patches make a smaller one.

Whirligig
It varies from the Double Pinwheel in that only two of the outside triangles are background fabric.

Ready for more block?

If all these pinwheel quilt blocks have got your head spinning, never fear. There's plenty more to spark your creativity!
Just check out our Free Quilt Block Pattern Library to find blocks for your next quilting creation!


---
Return to the top of this Whirlwind Quilt Block Pattern tutorial

Go to the Generations Quilt Patterns Home Page