Oklahoma Twister Quilt Block
Oklahoma Twister Quilt Block: Part 2



The second of two variations...

This 3-color variation of our Oklahoma Twister quilt block gives it a more traditional feel.
For this variation, we'll use the quick pieced method for our HSTs and add another fabric.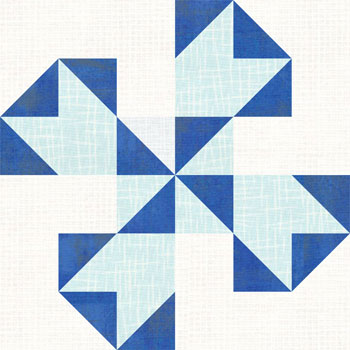 Oklahoma Twister - Variation #2
Everything else is the same.
Don't forget to download the coloring page to come up with your own variations!

Time to get back to work.
Step 1: Cutting this 3-fabric Oklahoma Twister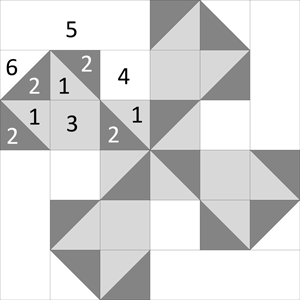 Oklahoma Twister variation
As with any 'pointy' design, choose fabrics with good contrast between all the choices. 
Complementary colors or fabrics without common colors in them provide the most contrast.
If you're uncertain, make a sample block to eliminate any uncertainty.
Label your patches.
Click here to download a coloring page for your Oklahoma Twister.
Cutting Chart for an
Oklahoma Twister Quilt Block Variation - 3 Fabrics

~Traditional Piecing ~


Patch
Fabric
Qty
Finished Block Size
6"
9"
12"
1**
Med
4
1⅞" x 1⅞"
2⅜" x 2⅜"
2⅞" x 2⅞"
2**
Dark
6
1⅞" x 1⅞"
2⅜" x 2⅜"
2⅞" x 2⅞"
3
Med
4
1½" x 1½"
2" x 2"
2½" x 2½"
4
Light
4
1½" x 1½"
2" x 2"
2½" x 2½"
5
Light
4
1½" x 3½"
2" x 5"
2½" x 6½"
6**
Light
2
1⅞" x 1⅞"
2⅜" x 2⅜"
2⅞" x 2⅞"
Unfinished Block Size
6½"
9½"
12½"
Grid Size
1"
1½"
2"
**I prefer to cut my patches extra large for HSTs, stitch, and then trim them to size. If you prefer to do the same, add a bit extra to the measurements for Patches #1, #2 and #6 above.

There is a chart further down in these instructions where you need it for trimming them to size.
Step 2: Assemble the units for your Oklahoma Twister
Two different sets of HSTs are needed to complete this version of the design. Both are constructed using the Quick Pieced method.
Click here for detailed instructions if you are not familiar with this technique.
HSTs #1/#2
Make 12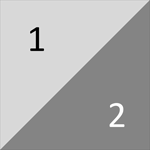 To start, on the backside of six of either the #1 or #2 patches draw a diagonal line between one pair of corners.
As always, mark whichever fabric is easier to see the lines on.
With your favorite quarter inch foot installed, stitch a 1/4" away from both sides of both lines on all six pairs of patches.
After stitching press all the pairs flat to set the seams.
Cut each in half along the drawn line for a total of 12 HST.
Press the units open with the SA towards the darker fabric. Set aside for now.
HSTs #6/#2
Make 4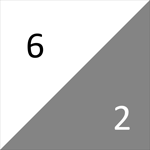 Draw a diagonal line on the back of either the two remaining #2 or the two #6 patches.
With RST layer the two pairs of #2 and #6 together.
Stitch a 1/4" away from the line on both sides.
Press flat to set your seams and cut in half on the original marking.
Press with SA toward the darker #2 patches.
Repeat for a total of four #2/#6 HSTs.
To complete the HST units,  trim all of them (the #1/#2s and #2/#6s) to size as needed.
Use the "Trim HST to..." dimension that corresponds to your chosen block size. For a 12" block it's 2-1/2" square.
HST Dimensions

Finished
Block Size
Trim HST to…
6"
1½" x 1½"
9"
2" x 2"
12"
2½" x 2½"
Quarter Blocks
A quarter block
Make 4
With RST, join a #1/#2 HST to both sides of a #3 square.

The #2 patch is in the lower left for both placements.
SAs are pressed towards the center #3 patch.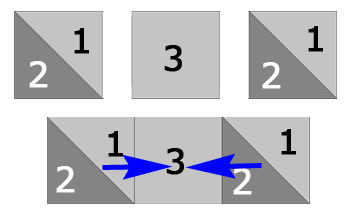 Press SA in the direction of the arrows
Repeat for a total of four units.
With RST, add a #2/#6 HST and a #3 square to each side of a #1/#2 HST. Note the position of the HSTs.

SA are pressed away from the center #1/#2 HST.
Repeat for a total of four units.
To complete the quarters, arrange the sewn and cut units into rows.
Stitch them together, pressing the SA out from the center (blue arrows).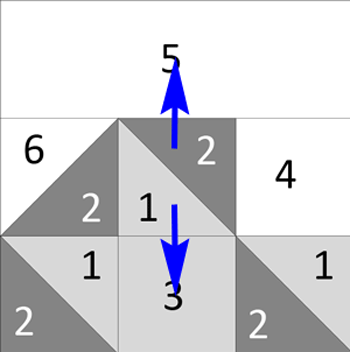 Step 3: Assemble your Oklahoma Twister quilt block
From this point forward, the construction is the same as for our original Oklahoma Twister.
Click here to return to the original Step 3.
Share your work to inspire other Quilters!
If you use our tutorials to make your blocks and quilts, there are some easy ways to share your creations so other quilters (including me!) can enjoy the fruits of your labor:

On Instagram please tag your blocks and quilts with the hashtag #GenerationsQuiltPatterns.
Visit our Show n'Tell page on the website. Click here to share photos and tell your own story, just start typing at 'The name of your quilt is...'. If you'd prefer to submit more photos than the form allows, simply email them to me at julie@generations-quilt-patterns.com.
I love seeing your work!
Our readers do, too!
For even more b
locks to make...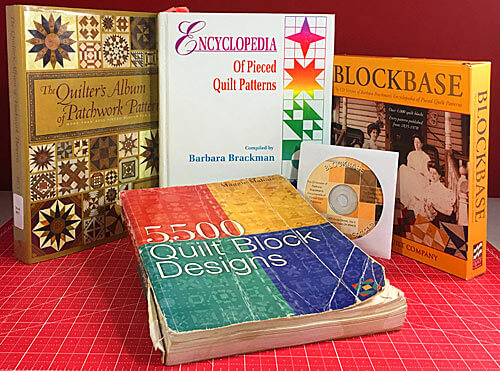 For you, are quilt block patterns like potato chips...
...you can't have just one?!!
Check the amazing resources I rely on for the majority of the quilt block designs you see on this website. 
To see if they're worthy of spot in YOUR quilting library, read about them HERE.

NOTE: All the attribution and alternate names shared in the Free Quilt Block Patterns Library came from these four resources.