Double Star Block Instructions, continued...
From our Free Quilt Block Patterns Library
by Julie Baird
This post contains affiliate links for which I receive compensation.

The basic patches for our Double Star block are complete. It's on to stitching up the main units.
And finally.
Assembling the block.
To complete the tutorial, you'll find variations on this design that are  more complicated to construct.

While y-seams aren't that big a deal to piece, they do take more time.
I don't know about you, but there's more quilts in my head than I'll ever have time to finish.
To provide a bit of inspiration ten sample layouts are shared so you can get a feel for what a quilt made with Double Stars will look like!
Let's get 'er done!
---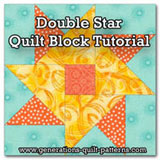 Looking for another Double Star design?
It's a popular name—there's several blocks called 'Double Star'. Check out this one.
---
General Instructions
---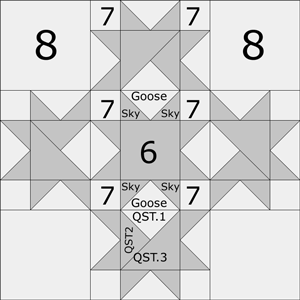 Double Star design
Several abbreviations are used on this page. They are:
RST - right sides together
1/4" SA are used through this tutorial. 
When instructed to press, first press the patches in the closed position just as they came off your sewing machine. This sets the seam, melding the fibers of the threads into the fibers of the fabric.
Then press the SA to the dark unless otherwise noted.
Try my favorite pressing technique if you feel your patches are lumpy. It's simple. No special tools. Your blocks will be hollering 'Uncle!' in no time. :D
Step 3: Assemble the Double Star units
Center
Make 1
Arrange two long borders, two FG and #6 center square as shown below.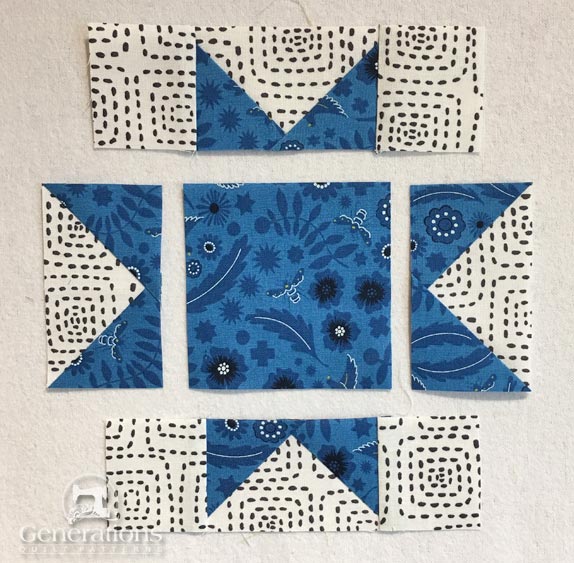 With RST, stitch a FG to opposite sides of #6.
Press with SA toward the center.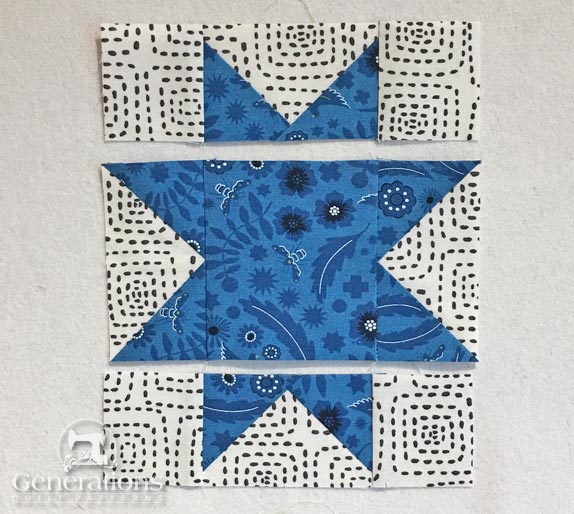 With RST, stitch the rows together. Follow the pressing directions indicated by the arrows below.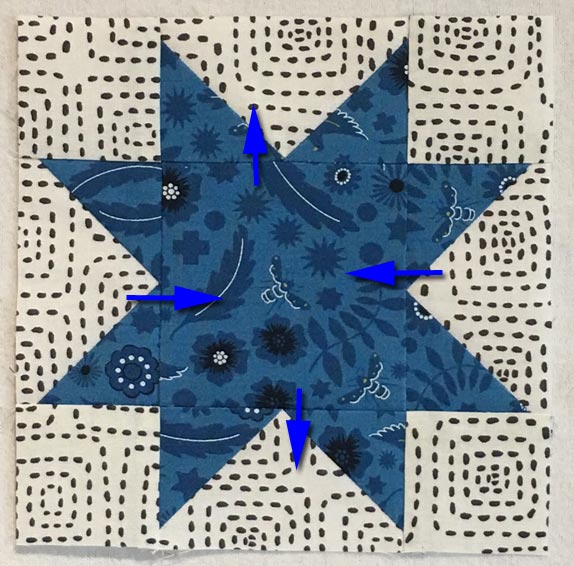 Use the table below to check the accuracy of your stitching. Make any needed adjustments.
Finished
Block is...
Center measures...
(from edge-to-edge)
10"
4½" x 4½"
15"
6½" x 6½"
20"
8½" x 8½"
Set aside for Step 4.

Partial Stars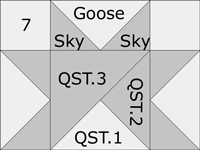 Make 4
Make 4

Each partial star requires a long border, two FG units and a 3P-QST. 
To begin, with RST sew a FG to the opposite, non-background sides of the 3P-QST.
Repeat 4 times
With RST and seams nesting, add a long border to the non-background side of the 3P-QST. Pin as needed.
Press in the direction of the blue arrow.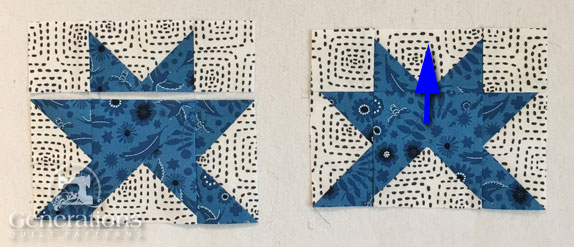 Check for accuracy using the table below.
Finished
Block is...
Partial Stars measure...
(from edge-to-edge)
10"
4½" x 3½"
15"
6½" x 5"
20"
8½" x 6½"
Step 4: Assemble the Double Star block
Arrange your sewn units and cut patches into the Double Star design shown below. The background side of the 3P-QST is toward the center.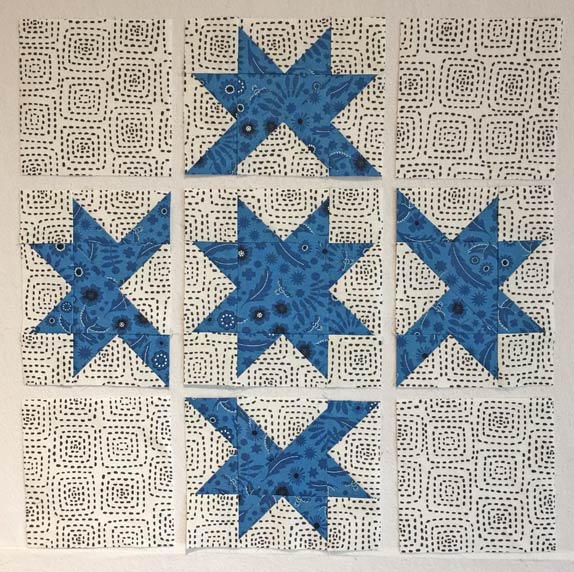 With RST, sew the units in each row together.

One of the benefits of paperpiecing these units is if you stayed on the sewing line, there's little worry about chopping off the points of the Flying Geese with your stitching line in either the top and/or bottom rows.
I encourage you to pin match the points in the middle row where the FG and 3P-QST points meet using this technique.
My favorite pins for this technique are here.
After stitching the patches into rows, press the SA in the direction of the arrows in the photo below.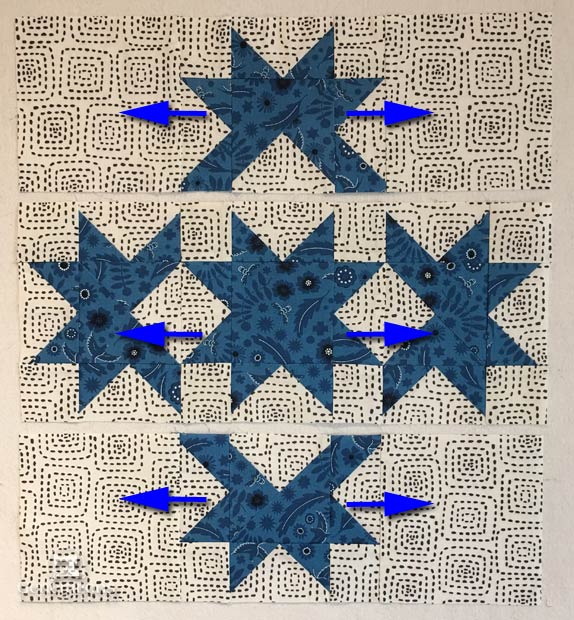 Finally, with RST, stitch the rows together using the same pin-matching technique.
One final session at the ironing board and our Double Star block looks like this...
Perfect. Pointy. Perfection.
Variations on a Double Star design
---
You can never have too much of a good thing, right? 
Other quilters thought so, too, because you'll find other patchwork designs similar to our Double Star.
'County Fair' or 'County Farm' quilt block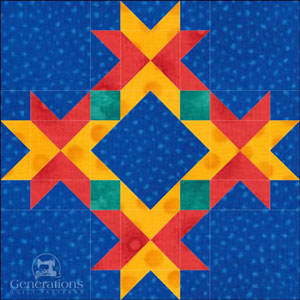 In this first variation, two-fabric quarter square triangles have been used in place of our 3P-QST. The center Sawtooth Star is gone.
A nice design with lots of movement.
Comparable piecing time.
'Stars and Cubes' quilt block
This patchwork designs ups the piecing time.
Y-seams are not my favorite. Not because they're hard, but because I don't regularly do them.
Lack of practice slows down the sewing.
What's next?
---
Why turning your Double Star blocks into a quilt, that's what!
Click here to see TEN different ways to set your blocks.
Which will you choose?
For even more blocks to make...

---
These are my go-to resources for quilt block ideas.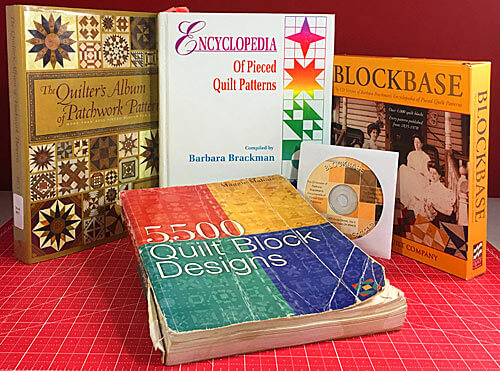 Can you see the library sticker on the spine of Jinny Beyer's book? Yep. I check this copy out of our local library every few months for research.
Maggie Malone's 5500 Quilt Block Designs is my all-time favorite quilt block resource!
Can you tell?
It's in color.
It's got a ton of blocks.
What's not to love?
Next on my 'must-have' list is Barbara Brackman's Encyclopedia of Pieced Quilt Patterns.
Unlike the Maggie Malone book, the blocks in this volume are hand-drawn and in black and white—no color—personally, I prefer colored drawings to work with.
This book is no longer in print.
If you can come by a copy expect it to be wickedly expensive. Once in awhile you can find it here on Amazon.com.
UPDATE: Electric Quilt, in cooperation with Barbara Brackman has announced they plan to republish the Encyclopedia sometime in 2020. 
However, all is not lost if you can't find a hard copy.
BlockBase is the computerized version of the Barbara Brackman's Encyclopedia of Pieced Quilt Patterns.
It contains designs for over 4300 blocks—pretty much every block published from the 1830's through the 1970's.
It can be used with Electric Quilt and is a Windows based program.
In fact, there are instructions included so that you can pull up the digital patterns within Electric Quilt (PC version for now) without having to open up BB program.
UPDATE: Electric Quilt has announced that they will be rereleasing the standalone BlockBase software for BOTH PC and MAC in 2020.
This is terrific news.
Finally there's The Quilter's Album of Patchwork Patterns by Jinny Beyer.

Lots of detail and in color, it is a beautiful volume. That said, I check it out of my local library on a regular basis instead of purchasing it—can you see the library sticker on it's spine. Yep, it's from the Plainfield Public Library.
Why?
Simply because I own the previous three references and find this the least user-friendly of the group.
And it does make a fabulous coffee table book!