10 Tempting Double Star Quilt Ideas
Sew you've made your first Double Star quilt block and lived to tell.
Maybe even liked it!
Or perhaps you saw the block and wondered if it was worth your time.
Jump start your creativity with a gander at these 10 different layouts.

We explore straight and diagonal layouts for our Double Star.
Alternate blocks.
Simple and pieced sashings.
All in the pursuit of the perfect Double Star patchwork design. 
Add in my recommendation for the best doggone quilting software around—a HUGE time-saver in the designing process.
Top it off with a link to a free download for setting triangles. Why fiddle with the math when you can focus on your creativity instead?
It's time to see the designs!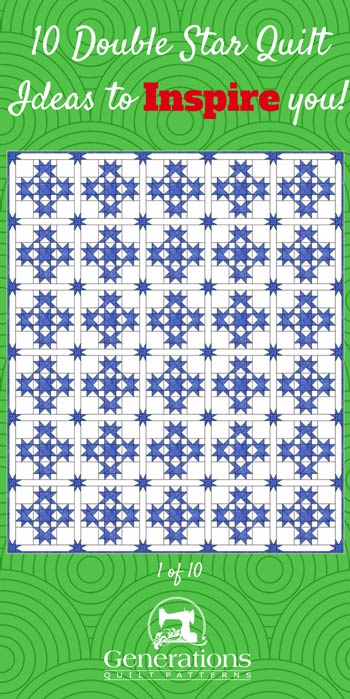 Don't forget to Pin for later!
My Favorite Quilt Design Software

All the free patterns and block/quilt illustrations on this site were created in either EQ7 or EQ8—my favorite quilt design software.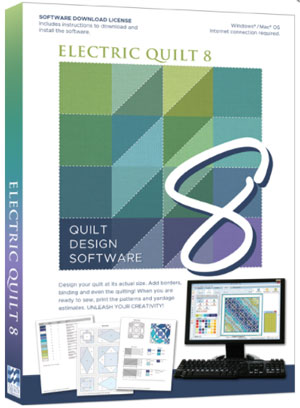 Click here to purchase EQ8 from Amazon
This program makes it so easy to audition different colors and values with just a few mouse clicks.

Rotate and flip the blocks with another series of clicks.
I can't imagine going back to graph paper and colored pencils.
Or worse yet—simply keeping my fingers crossed. Fabric is much too expensive!
The box contains a software download license—License ID and Password—and a booklet to get you through installation and get you started. There is no disk as in the past. 
Download the software onto your computer from the EQ website using the ID and password as directed. At the time of download you can choose either PC or MAC. 
I LOVE Electric Quilt!
I hope you do to.
Double Star Quilt Layouts
We'll explore this dynamic patchwork pattern in both straight and on-point or diagonal settings.
How much piecing, how much quilting you'd like to do is entirely up to you based on your design choices.
Which Double Star quilt do you prefer?
Straight Sets
The first four Double Star ideas are layouts of 5 by 6 blocks.
We start with a simple straight set layout where blocks are set edge-to-edge.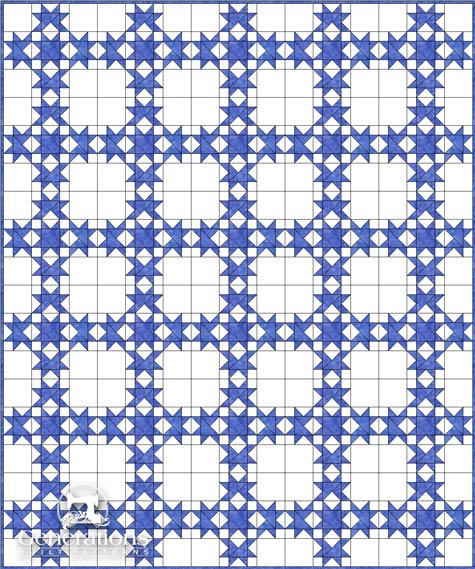 Remember that as you go through the design process that YOU ARE THE DESIGNER. How YOU choose to piece YOUR quilt is up to you. 

Not the quilt police!
In looking at the simple drawing above, there are a couple ways to simplify the piecing.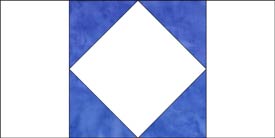 Substitute this Square in a Square unit for the Flying Geese at the edges of each block.
Instead of thinking of the units (the center and partial stars) of the Double Star as a whole block, think of them as the sashing.

Replace the space where four solid corners meet with a single cut square instead. That's a nice big open space for quilting—a shame to add seams to it.

For the spaced where two Flying Geese meet at the edges of the block, a square in a square unit with two borders would simplify the piecing and remove a seam AND insure pointy points that don't get cut off by accident.
All this and less piecing and cutting, too. 
Now THAT blows my skirt up!
Now let's add a simple sashing.
First up is one 1" wide for our 10" finished block.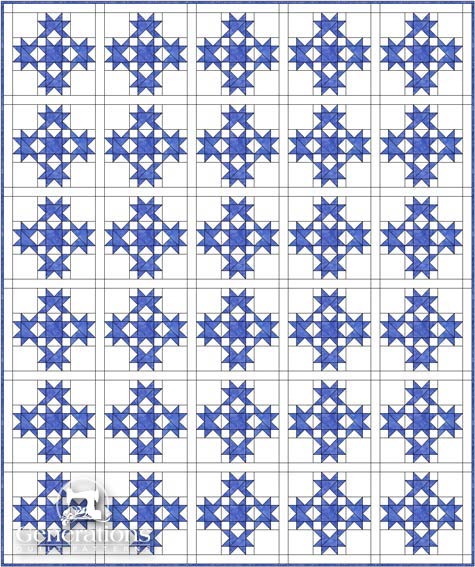 Double Star quilt with simple sashings and cornerstones
This adds a bit of space around each block and simplifies piecing. Now you only need to watch the points on one side. Nothing to match.

Adding a pieced sashing like the one below paired with dark unpieced  cornerstones the same color as the stars creates teeny little Sawtooth Stars between the blocks if we keep the same 1" finished strips.

The connector corners technique would make the piecing a piece o'cake!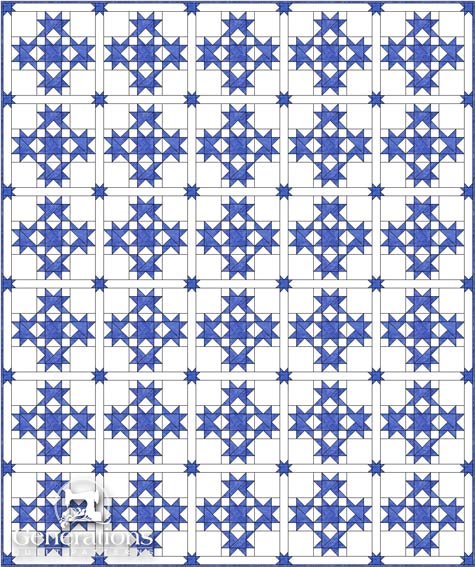 Double Star quilt with pieced sashings, solid cornerstones.
Rather elegant looking, don't you think?

Scale plays an important part in designing quilts. Below the width of the sash is doubled to 2" finished. The stars are more prominent and are now true Sawtooth Stars.
I've removed the piecing lines from the Double Star blocks themselves to make the pattern easier to see.
If this were the final design I settled on, I'd play a bit more with the width of the sashing strips to create Sawtooth Stars the same size as those in the Double Star block, itself.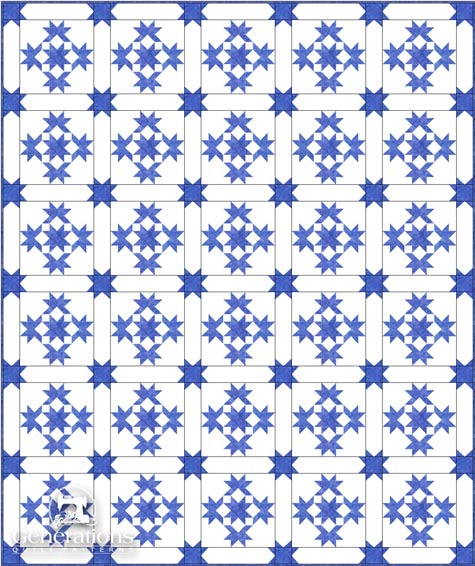 Which do you like better?

For this last straight set idea, the fabrics are reversed for a second block and then alternated. To keep it symmetrical, odd numbers of blocks are used in both the rows and columns.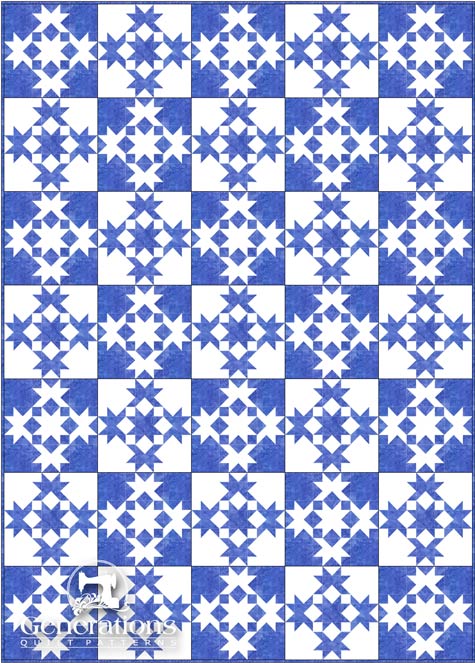 Lines within the blocks are omitted so it's easier to see the design.
If you don't like matching points to points, add a sashing between the blocks to create the illusion that each is floating in from the edge. 
Here is the split sashing used.
Add it between blocks with like fabrics touching. To jazz things up a bit, cornerstones are simple four-patches.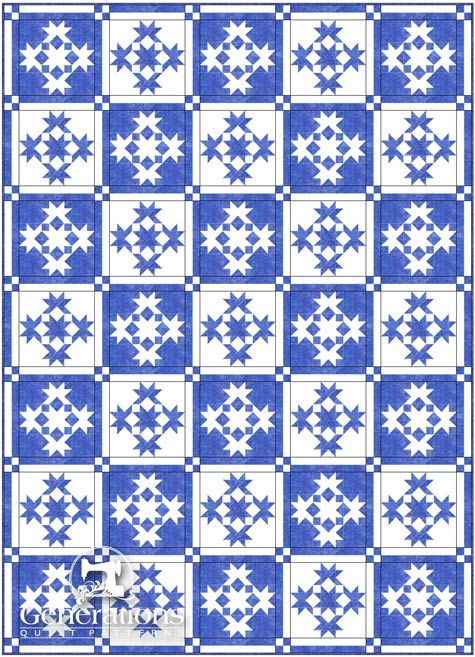 This last variation on this idea illustrates why EQ is such a valuable tool (your time is worth money isn't it?).

The pieced strips are now flipped. Everything else is the same.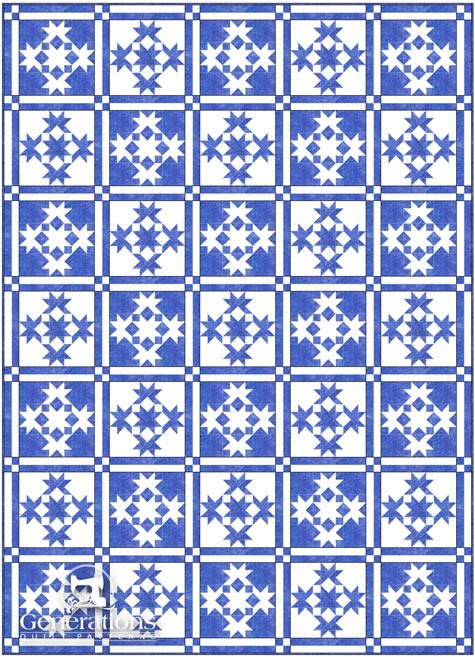 Subtle differences?

Yep!
What's important is what appeals to YOU.
Diagonal Sets
Diagonal sets add a bit of 'umphh' to quilt designs. The trade-off is there's either a bit more piecing or you've got setting triangles to calculate and cut.
Confused by setting triangles?
Click here to learn how to do the calculations or simply download our cutting chart with the math already done for you.
Our first example again has the blocks set edge-to-edge. I've removed most of the piecing lines, leaving only the block outlines in place.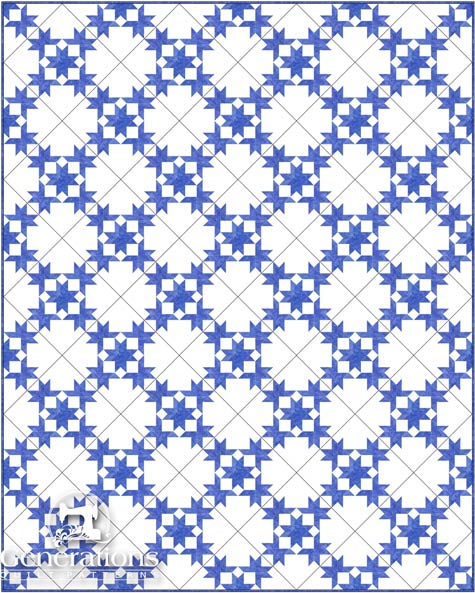 Now set edge-to-edge with solid alternate blocks for some spectacular free motion quilting.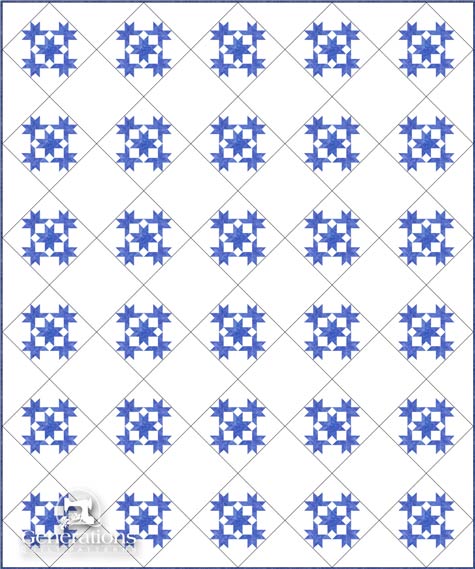 Do your knees knock at the thought of so much free motion quilting?

Again EQ to the rescue...
...adding some half blocks as setting triangles and replacing some of the alternate squares. 
Can you imagine how long this would have taken to redraft by hand?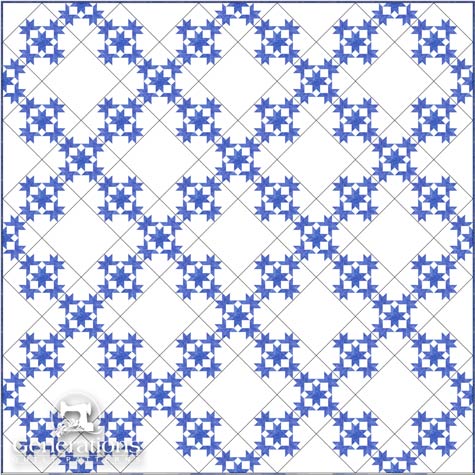 Even numbers in the rows and columns makes the symmetry possible.
Now, not as much free motion work. Still some interesting spaces to show off your quilting skills.

So which Double Star quilt would YOU choose to make...or where would you go from here?
Best Design Tip Ever
One of the best design tips I can give you is to keep playing. Don't stop after just one drawing.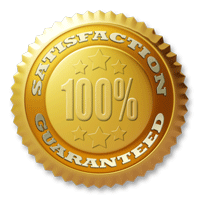 Play with the fabric placement.
Or gradations.
Repeat elements from the block in the borders or...
...as alternate blocks or...
...in the sashing or...
...in the quilting designs. 

Play 'til your brain hurts and feels like it might explode from so much quilty-goodness. 
That's where your truly great Double Star quilt design will come from.

They tell athletes, 'No pain-no gain!'. 
Well, creativity IS a muscle. The more you exercise it, the more it grows.
So enjoy!
And share your thoughts in the Facebook comments below. Or share your own Double Star quilts here.
Now go PLAY!!!
Or find more design ideas on our Quilt Designs 101 page.
There's quilting to be done!