Spread a Little Love with Comfort Quilts
Make a difference in a fellow wo(man)'s life, one quilt at a time.

Make simple, quick, stress-free comfort quilts to bust your stash with purpose and bless those in need with a quilter's touch.
In addition to helping your fellow wo(man), there are more benefits to making a comfort quilt than you might imagine. Obviously, you're reaching out to help someone in need.
That goes without saying.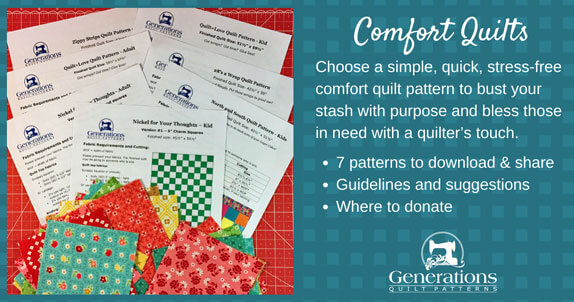 Remember to Pin this for later
You help yourself, too.

It forces you go through your stash—destashing with purpose
It makes you feel good to turn languishing fabrics into something useful
You can try out new fabrics or techniques in a smaller, doable  size. The project has purpose which means it gets finished. We learn more about our craft when we finish our own quilts.
Because the patterns are simple you can accomplish a lot in a short period of time. 
And finally. Giving just makes you feel good. And when you feel good...
Well, nothing's impossible.
Give love. Get love.
Let's make some Comfort Quilts!
On this page you'll find:
Patterns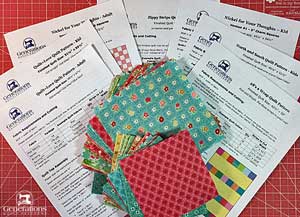 Seven comfort quilt patterns are available for you to use and download on this website. 
All are incredibly simple to cut. Quick to stitch. The perfect place for a beginning quilter to practice their craft; for the experienced quilter to bust some stash in a hurry.
If you're a 'leaders and enders' or 'bonus quilt' quilter, these simple patterns are perfect for creating a second, or bonus, quilt at the same time as you stitch your 'real' project. 
Choosing fabrics and construction for comfort quilts
Comfort quilts are perfect for stash busting! Especially when so many of us today have anxiety about how large (shall we admit, ENORMOUS) some of our stashes have grown to over the years.
Remember.
You've curated your stash yourself. Chock full of all kinds of goodies to share with others. The best quilt shop there is exists right under your own roof!
There are a couple of things to remember when choosing materials for these quilts.
They'll get washed...probably a lot
Particularly for someone in the hospital or hospice. Recipient organizations want quilts that are pre-washed without heavily scented soaps or detergents. No chemical or smoke smells. No pet hair either.

In fact, I read on more than one organizations' website that quilts that stink will get thrown out. ('Stinky' is in the nose of the beholder, in this case, the hospital employee.)
Directly from the Project Linus website (under the 'About Us' FAQs tab):
"Recent studies show laundering such blankets does not remove contamination, and in some cases can even make it worse. Again, if unusually strong smells due to chemicals used in detergents, fabric softeners and dryer sheets, mold and mildew or smoking products are apparent, most hospitals will discard the blanket rather than jeopardize the health of a patient."
I'd hate to see that happen to a Quilter when it's so easy to avoid.
No buttons, doo-dads, or the like
This presents a choking hazard for smaller children, as well as something to catch on in the washing machine and dryer.
100% cotton fabric is preferred
Hospital folk do mountains of laundry. They're not looking out for any 'handle with care' quilts. 
No glitter fabric
It's tempting to put in a child's quilt. It'd be SO CUTE! But...
...glitter, because it's applied and not a part of the fabric, can rub off and possibly get into a wound. Hospitals won't take that risk.
All those little dots in the chick fabric shown here are specs of gold glitter.
I thought this would be fabulous for a child's comfort quilt, but it's a no-no.
'Guess I'll have to wait for a grandchild!
No monofilament thread
Again, there's no one to watch out if the thread breaks during washing/drying/use. We don't want errant thread wrapped around a vulnerable infant's fingers or toes.
Rag and t-shirt quilts
While rag quilts are quilted-as-you-go, the 'raggy-ness' presents a problem for washing (possible lint build-up in the dryer) and a possible choking hazard for smaller children. They are generally not accepted for kids/adults in hospital situations.

No t-shirt quilts or re-purposed fabric quilts. Many of the recipients have immunity issues.
Tied quilts may also be considered a choking hazard.
Fleece
While soft on the skin, fleece has a tendency to create static electricity which can be a problem for hospital equipment.
Pins
Double, triple and quadruple check that all pins are removed.
It's one thing when you're family knows to look for these things. It's another for an unsuspecting hospital patient or employee.
My best advice...
Check with the organization you intend to donate the quilt(s) to. If you are a member of a Quilt Guild, check with your Philanthropy organizers for the specific guidelines they follow.
Many hands lighten the load
Some Guilds have longarm quilters who graciously donate their services. If you prefer to piece only, there may be someone willing to quilt it for you.
Check with your local guild to see if this possibility exists.
Comfort Quilt Sizes
While size does matter, there is a need for all sizes.
It just depends on where you donate your comfort quilts. Check with your local Guild or the recipient organization.
While you might expect a minimum size of 36" x 36" for an infant, you could be making much smaller quilts for babies in NICU care.
Or homeless adults.
Or a veteran.
It just depends on the need.
Organizations who accept Comfort Quilts
The list below is simply a start on where to donate and what the 2019 guidelines are.
If your organization accepts comfort quilt donations, please contact me at julie@generations-quilt-patterns.com. Please share:
Your organization's name
Website and FB (if you have one)
Basic sizes 
Any other information you deem pertinent.
Your email address
I'll be happy to add your specifics to the list below.
Quilts for Kids
Sizes: 38"-40" x 45"-46 a bit bigger/longer is okay because ages range from birth-22
Project Linus
For children 0-18
National policy is to accept quilts of all sizes. Check with the local chapter, though, they may have different requirements.
As small as 36" x 36", though most are approximately 40" x 60" or crib size. twin size for older children are also needed.
Quilts of Valor
QOV recommends an average finished quilt size of 60" x 80"—large enough to cover an average adult. The accepted range is 55"x65" to 72"x90".
It's time to quilt!
To start, simply choose a comfort quilt pattern from the next page to download and print, pull fabric from your stash and share your talents.
Bless you!