Some of the links on this page are affiliate links. If you buy thru them, I receive a small commission—at no extra cost to you. This helps me provide all the free information on this site. To learn more, read my full Disclosure Policy.
Free Pineapple Quilt Patterns

6" and 8" Finished Block Sizes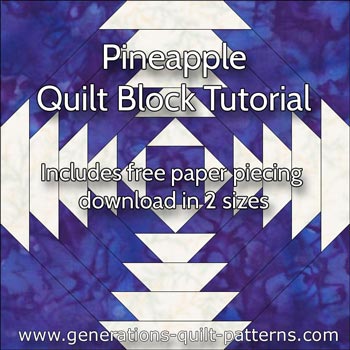 With all of those pieces, pineapple quilt patterns used to be a good test of a quilter's piecing skills.
In the good ol' days before computers and copy machines, a quilter needed to make templates to get the job done. Yuck and double yuck!

These days, we have the luxury of paperpiecing.
Suddenly, all those points don't look so daunting. If you can sew on a line, the blocks will be accurate. With a few blocks under your belt to develop a rhythm, you'll be cranking them out like nobody's business.
The only tradeoff for all that accuracy and efficiency is that the paper must be removed at the end.
Let's get started!

Construction Instructions
For paper piecing, set your stitch length to 1.5 and install an open toe applique foot if you've got one. If you find it difficult to remove the paper, change to a 90/14 needle.
Starching your quilt fabric ahead of time makes pressing your paperpiecing so much easier. It also saves time during block construction because you are able to fingerpress open seams and avoid jumping back and forth between the iron and your sewing machine.
The drawback to using starch is once your quilt is completed it should be washed to completely remove the starch.
If you choose not to starch your fabric, then every time you are instructed to 'Press', first do so with the patches right sides together (RST) and then press them open.  Check out our Best Pressing Technique for the most perfectly flat blocks you'll ever see. It's wickedly simple.
Step 1: Download paper piecing patterns
For each of the downloads, check to be sure that you've set 'Page Scaling' to 'None' or 'Actual Size' in your print menu so that the blocks print correctly.

Click on the finished block size below to download your paper piecing patterns.

Step 2: Cutting your fabrics
The patches that form an 'X' through the block are one value or color. The patches that form a '+' through the block are another value or color.
| | |
| --- | --- |
| Dark 'X' | Light 'X' |
In the stitched example below, I've used just two fabrics, but you could easily choose to make this a 'scrappy' block.

To create the bold graphic quality, there must be a clear distinction between the two colors or two values. If there is not, the resulting block is 'mushy' looking and all your piecing goes to waste.

Be mindful of using fabrics that contain both values. Our pineapple quilt block is all about pointy points. You may want to avoid fabrics with both colors/or values in it so that you don't lose points unexpectedly.


Finished Block Size
Sub Cut
Patch
#
Round
Fabric
Qty
6"**
8"**
Sub Cut
Center
--
A
1
1-1/2" x 1-1/2"
2" x 2"
--
2-5
1
B
4
1" x 1-3/4"
1-1/4" x 2-1/8"
--
6-9
1
A
4
1" x 2-1/8"
1-1/4" x 2-5/8
--
10-13
2
B
4
1" x 2-1/8"
1-1/4" x 2-5/8"
--
14-17
2
A
4
1" x 2-5/8"
1-1/4" x 3-1/4"
--
18-21
3
B
4
1" x 2-5/8"
1-1/4" x 3-1/4"
--
22-25
3
A
4
1" x 3"
1-1/4" x 3-3/4"
--
26-29
4
B
4
1" x 3"
1-1/4" x 3-3/4"
--
30-33
4
A
4
1" x 3-1/2"
1-1/4" x 4-1/2"
--
34-37
5
B
4
1-1/4" x 3-1/2"
1-1/2" x 4-1/2"
--
38-41
5
A
2
3-1/2" x 3-1/2"
4-1/2" x 4-1/2"
**To simplify the cutting for Patches #2-#33, cut two strips each from Fabric A and Fabric B. For the 6" block cut the strips 1" wide; for the 8" block cut them 1-1/4" wide. Subcut these strips into the segments listed above.

Step 3: Stitch the Pineapple quilt block patterns

Use a dab of Elmers Glue to adhere the wrong wide of the center square to the unprinted side of the pattern within the dashed placement lines.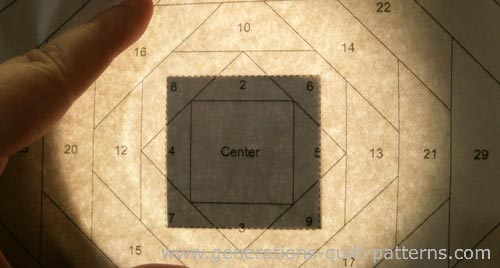 With RST align the edge of #2 with the edge of the center. #2 is just a bit wider than the center patch.
From the printed side, stitch starting about a 1/4" before and ending a 1/4" after the solid line between the Center and #2. (See the red arrows below)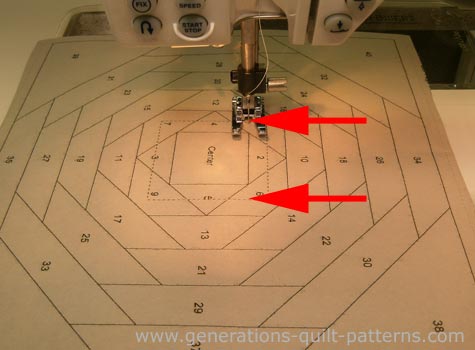 Getting at these first few patches can be awkward. If you need to pin, try using a Flower Head Pin
. It lays flat and can be pinned from the fabric side without distorting the pattern.
Repeat for #3 on the opposite side.
Press or fingerpress (if you used starch) the seams.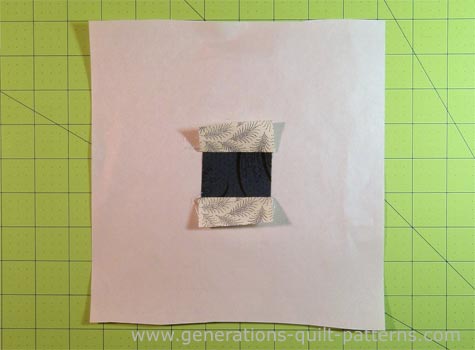 Now add #4 and #5, centering the each on the previously sewn patches.
Press.
In the photo below you can see the stitching lines from #2-#5.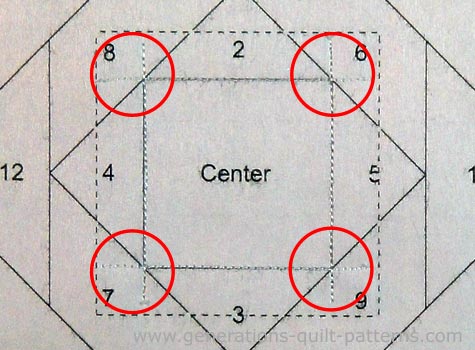 To trim in order to establish the next placement line, we'll need to pull the paper pineapple quilt pattern away from the stitches as shown below.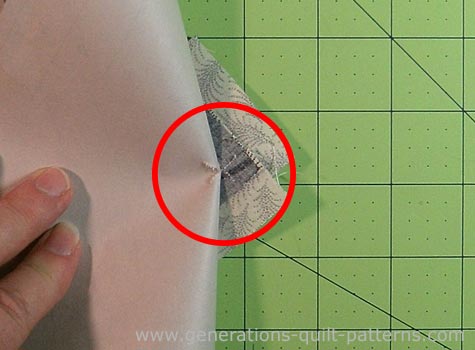 Lay your ruler on the solid line between Center and #2, creasing the paper with your finger.

Fold the paper back on itself.
Now align the 1/4" mark of your ruler with the folded edge and trim with your rotary cutter. This creates a quarter inch seam allowance.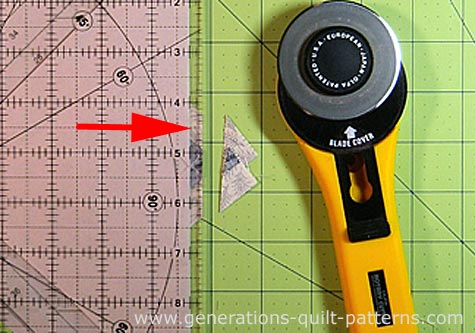 Repeat for the 3 remaining corners. Your block looks like this...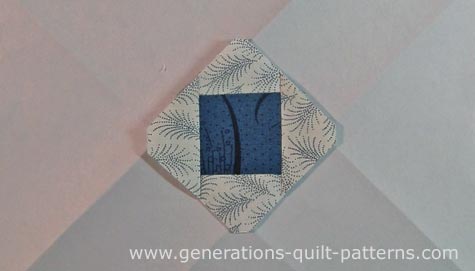 Add #6 and #7 in the same manner, making sure to center the patches on the previously stitched unit. Here #6 is centered RST with the sewn unit.
Press or fingerpress.
Add #8 and #9, still centering the patch on the sewn units. It looks a little strange, but as long as it's centered it'll be just fine.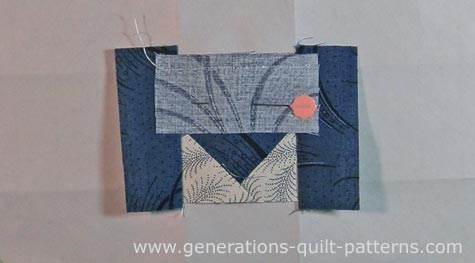 Press or fingerpress.
Trim as before to establish the next placement line.
You've now finished the first 'Round' of your Pineapple quilt pattern.
Up until this point, we've been adding patches to two opposite sides at a time and pressing in between pairs.
At some point in the remaining pairs, you'll be able to add all four strips of one color and size at the same time by pinning them in place. This is what your paper pineapple quilt pattern looks like when all four are pinned.

Sew the seams as always, starting and stopping before and after the solid line by about a 1/4".  Lift your presser foot to move to the next seam and stitch again, repeating for all four patches. This totally speeds up the process.
Press and trim as before.

Step 4: Finishing your Pineapple quilt patterns
For this final round, the width of #34-#37 is 1/4" larger so that there is enough fabric to trim. Add these patches in the same way as #2-#33.
Trim/press.
Align the bias edge of #38-#41 RST with the sewn units. To help line this up, the point of the patch kisses a corner of the first Center square like this...
After stitching all four corners, trim the block to size.
From the the pattern side, align the 1/4" mark of your ruler with the solid black outline and trim with your rotary cutter.
Repeat for the 3 remaining sides and remove the paper.

The Pineapple quilt block pattern looks like this...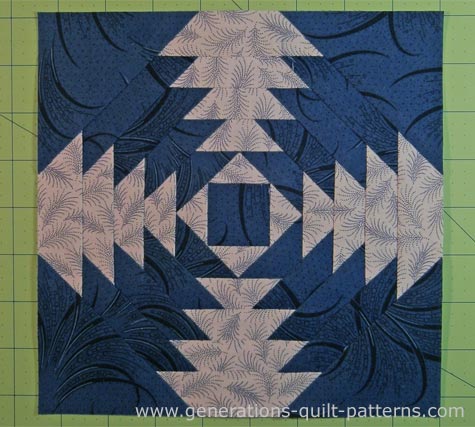 Perfect! Pointy! Pineapple Perfection!
More Pineapple Quilt Pattern Resources

There are more ways to make a Pineapple quilt block if paper piecing isn't your thing.
Several different methods and even some Pineapple rulers are below.

Learn More About Pineapple Quilt Patterns
If you enjoyed making this block, consider designing your own Pineapple quilt pattern. Start with the following pages for inspiration:
Ready for More Blocks?!!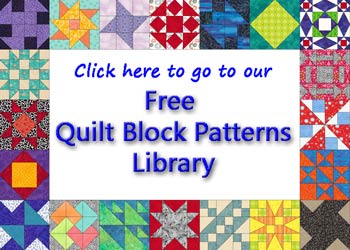 Return to the top of this Free Pineapple Quilt Patterns page