Free Printable Quilt Patterns and the LeMoyne Star Shape Collection

Part 4 of our Linda Franz Interview
How to Print on Fabric
with Inklingo
Free printable quilt patterns and a shape collection are just what you need to get started with Inklingo. Our interview with Linda concludes as she describes the free goodies she has on her website for you!
Generations Quilt Patterns (GQP):  What beginning project would you recommend to a new Inklingo user?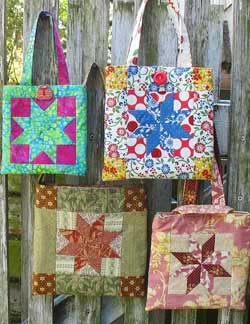 Linda Franz:  Tilde's Tiny Totes is a great first project with Inklingo, and the free printable quilt pattern and shapes collection.
You can order and download them in a matter of minutes, and sew your first Inklingo shapes right now. (After you read this, of course.)
**NOTE from GQP:  Linda has several other free printable quilt patterns on her Inklingo Getting Started page.
It is all explained in the Quick Start Guide under the Support tab on the web site. It walks you through printing your first sheet of fabric with the free shape collection.
The free collection includes diamonds, triangles, and squares which are perfect for LeMoyne Star, Lone Star, Carpenter's Wheel, and many other blocks. Visit the Inklingo Projects Blog and the Inklingo Sampler Blog for inspiration.
When you know what shapes you want to use, find them in the Index of Shapes (also under the Support tab).
Order, download, print, and sew!
GQP:  You give a free download to get quilters started. First off, let me thank you for that. I've tried it and it's wonderful!

Can you describe for our readers how it works?
Linda:  It is simple to order and download several free PDFs from www.Inklingo.com.
The Quick Start Page
The Quick Start Guide under the Support tab walks you through printing your first sheet of fabric.
The shape collection is FREE, but it is a normal ordering procedure. I felt it was important to make it just the same as the paid collections, so you know what to expect when you decide to buy.
GQP:  I am impressed. You've included an amazing amount of support on your website (both written and video) for both the new and seasoned Inklingo user. Where's the best place to find "help" on your website?
Linda:  The web site is getting huge but we try to make it easy to get around.
Generally, if you are looking for information, lessons, or tips, the best place to start is the Support tab. I wish I had named it something more exciting like "hidden treasure" or "best stuff," because that is what is there.
The other tabs are all obvious—depending on whether you are looking to buy something, or are interested in Machine Piecing, Hand Piecing, or Applique.
The individual pages for each book or shape collection under the SHOP tab contain many useful tips and links.
FREE STUFF! You will want to order the Design Books for Double Wedding Ring, Dresden Plate, Storm At Sea, and Winding Ways. They are great download-able books, worth at least $20 each, but they are free—at least for now.
They are under the "SHOP" tab because the procedure is the same as if they were paid collections. (There is a strict privacy policy, so your email address is safe with us.)
GQP:  If our readers have specific questions about Inklingo, where can they get them answered?
Linda:  If you have questions, you can always email me or ask in the Inklingo Yahoo group. It is a very friendly place, and there is always someone around with good advice.

I love hearing from quilters, but there is also great info on the web site, including the FAQ, and an Inklingo Quiz, which is fun.
GQP:  What's coming up next for you, Linda?
Linda:  I am filming new video for Inklingo in July, and releasing new Inklingo shape collections every few weeks. Inklingo is keeping me so busy that I am not accepting invitations to teach or travel for at least another year.
I wonder how many quilters read this far! It is easy for me to go on and on about Inklingo!
Linda:  Thank you, Julie, for this interview. It is very good of you to help spread the word about Inklingo. Monkey sends a smooch!
GQP:  Right back 'atcha, Monkey!

And thank you, Linda, for being my very first interviewee! It has been my pleasure.

You are an utter delight to work with and an amazing quilter!
TO OUR READERS:  Whether you're a hand or machine piecer or an appliquer, Inklingo is an amazing product! With all the support and free printable quilt patterns and shape collection to get you started, why not go to Linda's website right now and start your downloads!
Thank you for reading and Happy Quilting!
Back: Interview Part 3
How to Print on Fabric
with Inklingo