What is a Fat Quarter? Is it a better deal than a 1/4 yard?
'Fat quarter' is quilt-speak for a slightly rectangular, pre-cut piece of quilt fabric, measuring 18" on the selvedge edge and 20"-22" on the adjacent two edges.
While it's a groan of a private joke among quilters, a fat quarter IS NOT a body part. If you need reminding, you can find mugs and shirts and memes (like the one below) to remind you.
Nor is a fat quarter a tchotchke (pronounced CHäCHkə)--a weird-looking word that's fun to say and means a small decorative thingy that needs to be dusted.
Bundled groups of fat quarters deserve to be taken apart, cut into patches, and sewn into quilts.
Why spend time dusting fabric when you could be sewing with it, don't you think?
You'll find these handy precuts at your local quilt stores, at big box stores like Joann's and online.
In brick and mortar(B&M) quilt stores, there's usually a nice inventory of individual fat quarters already cut, whispering sweet nothings in your ear, tempting you to grab a few and take them home.
Your local quilt shop frequently cuts the fabric at the end of the bolt—a single yard wrapped on the cardboard bolt looks a bit sad, doesn't it—to make room on their shelves for the new goodies. 
Quilt store etiquette
If you're interested in a FQ cut on demand from a bolt, ask at the cutting table.
Some stores will cut them, others will if the store isn't busy, and still others won't cut them from bolts. Period.

Online sales are more likely to be for some sort of bundle rather than single fat quarters.
This is a business decision made by the store owner, based on business considerations. Once the decision's made by the business owner, my experience is it's pretty much cast in stone.
This color coordinated FQ bundle contains prints from 6 of Art Gallery's basic collections.
Online and sometimes brick and mortar stores carry bundles of complete fabric collections assembled by the fabric manufacturer.
Some manufacturers—Art Gallery Fabrics comes to mind—curate groups of fat quarters from across collections, shown here.

Both online and B&M stores may also carry unique bundles curated in-store from their individual inventories, mixing fabrics across collections, color families or themes, though this is more common with online stores.
What is a fat quarter?
Note: For the purposes of this article, assume that yardage is 44 inches wide.
A fat quarter is a rectangular shape piece of quilt fabric measuring 18" along the selvedge and 20"-22" along the cut sides adjacent to the selvedge. It is probably the most popular pre-cut fabric there is. It was the first.
NOTE: 'Pre-cut' meaning it's cut before you even enter the store. No need for you to wait. Just grab, pay, and go.
This pre-cut can vary in size for a couple of reasons:
Your favorite quilt stores cut a bit wider than 18" to ensure you get the full width—LOVE THAT!
Some quilt fabrics were never 44 inches wide to begin with
What is a fat quarter bundle?
It's a handy way to purchase fat quarters that instantly go together.
All the major manufacturers assemble fat quarter bundles for their new fabric collections that include one of each print. It's an extremely efficient way to add to your fabric stash.

Occasionally, the bundle includes a panel if there is one in the line — read the fabric label to know for sure.
Fun Fact
Fat Quarter bundles are unique among the pre-cuts. They include only one of each print. Jelly rolls, layer cakes, honeybuns, etc., frequently include more than one of each to meet a 'number' requirement.

How to cut your own fat quarters
When unfolded, a yard of fabric measures 36" along the selvedge edge and 44" along the cut edges, i.e., between the selvedges. 
To cut it, fold the yard in half, matching the selvedges.
Exactly one yard of fabric.
My favorite shop usually adds a bit extra. I hope yours does, too!
Now cut in half to create 2 pieces measuring 18" along the selvedge. At this point, you have two half yard cuts.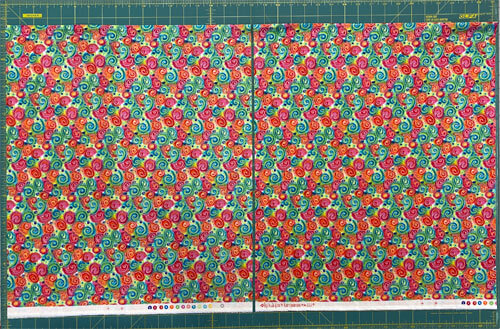 One yard cut into two 18" halves
With the selvedge edges aligned, cut each in half along the fold. Our original yard is now in four pieces; each is called a 'fat quarter'.

Two fat quarters (left) and 2 quarter yard pieces (right) cut from one yard of quilt fabric.
If you cut your two half yard segments in half to create four 9" wide pieces, then you'd have 4 quarter yards, but for this example I cut 2 fat quarters and 2 quarter yards of fabric.
You can just make out, at the top left, the wee bit where I sliced away the fold with my rotary cutter and ruler.
Fun Fact (while you're cutting)
If you cut a FQ in half— and it can be either parallel or perpendicular to the selvedge— you now have 2 Fat Eighths.
Why would you want to cut fat quarters?
Simple.
They're fun to swap with your quilting buddies. The more, the merrier.
They're easy to cut.

As shown above, you just need your standard rotary cutting mat, ruler, and cutter.

Three cuts, and you've got four of the little beauties.

Exactly how much fabric is in each—One fat quarter vs one quarter yard of fabric
The math is simple.
To find the square inches of each, multiply length times width, or
Fat Quarters: 18" x 22" = 396"
Regular quarter yard: 9" x 44" = 396"
Each cut has 18" of selvedge area that we won't use.
Remember, selvedges are more tightly woven than the rest of the yardage, which causes them to shrink differently when you wash the fabric.
We don't need that problem in our finished quilts, so we quilters never cut a patch out of the selvedge area. This is one of only a handful of real 'rules' in quilting.
So, the total size in square inches for both is equal.
Are fat quarters more expensive?
Since their total size in square inches (396 inches/sq) is the same, you'd think that a fat quarter and a quarter yard of fabric would cost the same, too.

Are fat quarters more expensive?
Right?
Ideally, a fat quarter cost should be the price per yard divided by 4.
Right?
It's the same square inches as a standard 1/4 yard, right?
We proved that.
If quilting fabric costs $12-$13/yard, a quarter yard is 9"x44" of quilty-goodness for $3-$3.25.
No premium, just the cost divided by 4 or $12-$13 ÷ 4.
Shouldn't a FQ cost the same?
Let's look at two real-world examples
The quilter faces two possibilities.
1. In the brick and mortar quilt fabric stores.
All those individual fat quarters sit just tempting you to buy them, kind of like candy racks in the grocery store checkout line.
They're usually NOT marked. The price is the same, whether it's a batik, a print, or a solid. It just doesn't make sense for the store owner to tag each one individually.
Besides, most quilters aren't too keen on the adhesive that a label may leave behind.
What you're faced with is a single price for fat quarters, regardless of the price per yard marked on the bolt.
You must decide whether the convenience outweighs the extra hit to your quilting budget.
Here in Illinois, pricing in my area is $3.50-$4 a FQ.
That's a 25¢ to 75¢ premium on each one based on our $12-13/yd cost. (2022)

2. With bundles assembled by the manufacturer.
Again, you encounter a premium pricing.
Take the recently shipped Peacock batik collection from Anthology, shown here. Beautiful, isn't it?!!

There are 12 fat quarters in the group for $40.98.
That's $40.98 divided by 12, or $3.41 for each fat quarter.
The yardage in this collection is $11.98/yd.
$11.98 divided by 4 is $2.99 for each 1/4 yd.
That's a premium of 42¢ per fat quarter, or 29%.

For the bundle, 42¢ premium is multiplied by 12 for $5.04.
Hey, you or I could buy a latte for that!
When is the additional cost worth it?
Don't get me wrong.
Fat quarters provide benefits. In fact, I can think of at least 6 reasons why the extra cost might be worth it.
How much weight you put on each depends on your current circumstances. Be prepared for those circumstances to change from project to project. These reasons are:
Short on time. You go running into the quilt shop between errands or appointments and just don't have the extra time to wait at the cutting table or to hunt for the bolt.
You can't find the fabric at any store on the bolt. Anything is better than nothing.
You want the whole collection. Quilt shops carry what they believe their customers want. Maybe it's not the full collection. Every so often, they purchased the entire kit and caboodle, but your fellow quilters already wiped out some prints. Bolts generally contain 15yds these days. That's not a lot if even one person wanted it for backing or borders.
You're working with a FQ Friendly quilt pattern and really do need the 18 inches of width.
It's a quick way to build up a new group in your stash. You're working out of your comfort zone, in a type, design, or color that you don't have much or any of in your current stash. This way, the quilting fabrics you have will go together without much effort.
Backgrounds for applique projects. If you need a background piece cut less than 18 by 22 inches but greater than 9", a FQ does the trick. Otherwise, you'd need to buy 1/2 yards and even with the premium FQs are the cheaper option.
3 options to help you avoid the premium and save money
There's always more than one way to do things in quilting. Dealing with FQs is no different.
Here are three ways to avoid paying a premium—I've saved the best for last! ;)
Sales
What quilter doesn't love a good sale? Online sources have them all the time.
If you're in the market for fat quarters, it's a good idea to check these sources out first. Free money is free money.
Occasionally, your favorite local quilt shop will have a special sale on fat quarters. As quilt fabric has gotten more expensive, these sales happen less often. Signup for your LQS's newsletter or like/follow their FB page to receive notice ahead of time.
Buy halves with quilter friends and split them
Cutting them in half takes less than a minute.
If you don't mind a bit of frayed edges, you could even nip and rip in the car before leaving the parking lot. :D
And you didn't pay a premium for the privilege!
My favorite hack...
A quilting buddy of mine (Sandy P., if you're reading this, MANY THANKS.) turned me onto buying 1/3 yards. It's a 12" x 44" piece that's 528 square inches (12×44).

Third yard (left), quarter yard (right)
Consider between choosing between the two if the patches you need are less than 12" in one of the dimensions.
If you have no idea what you'll use the fabric for, i.e., you're simply in a stash-building state of mind, then 1/3 yds are a terrific solution to avoiding that premium.

Going back to our Peacock batik example. A FQ was $3.41.
A 1/3yd of that $11.98/yd fabric would run you $3.99 ($11.98 divided by 3).
That's 33% more fabric (528 sq inches divided by 396) for 17% more ($3.99/$3.41).
That'd be a deal for most quilters. Wouldn't you agree?
What does 'Fat Quarter Friendly' mean on a quilt pattern?
Along with the quilt patterns I share here on the website, you'll find this icon if the pattern is FQ friendly. 


Look for this icon
In your stash of patterns, if you see 'FQ' in the fabric requirements, that indicates the pattern, for that particular fabric, is FQ friendly.
The cutting instructions for that fabric selection assume you are cutting from a FQ, NOT a 1/4  yard of cut fabric.
Before substituting a standard quarter for a fat quarter...
...you need to:
Open the directions
Locate the patches cut from that fabric
Determine if any dimensions of the patch are wider than 9".
If they are, you must purchase a FQ as instructed.
EXAMPLE: Your pattern directs you to cut a background patch that's 12½" square.
It's impossible to cut that from a 1/4 yard of fabric (9" x 44"), but easy from a FQ (18" x 22"). 
Now that you know what is a fat quarter, click here for some FQ Friendly quilt patterns to make.
There's more fabric pre-cuts to explore
Now that you know the answer to 'what is a fat quarter', let's move on to the other popular pre-cut pieces available to you for your quilting projects.
Jelly Rolls—2-1/2" strips by the width of the fabric
Fat Eighth—9" x 20"-22" or 18" x 10"-11"
Mini-Charm Squares—2½" x 2½"
Will these precuts find a place in YOUR stash?
One last Fun Fact
Out of all the pre-cut fabrics, the fat quarter is the only one with the same name across all manufacturers.