Quilt design: I need inspiration!
by Elaine DeFoor
(Stuart, Florida)
Phil & Malinda's Wedding Quilt

Click on any thumbnail below for a larger image


I need an idea for a quilt for my daughter's 25th wedding anniversary.

She liked the one I made for her brother and I have included pictures (shown above) so I don't want to make the same for her.

She does not like "quilty quilts" which I take to mean traditional blocks. I would like to do a black to grey with occasional purple and some silver for the 25th.

I saw a log cabin monotone one using beiges to whites with brown and unless one looked closely it was hard to distinguish the blocks. But I don't know how to begin or I need a new idea.

Any help would be appreciated.

I have gotten much help from this website. It is incredible.

Thanks!


Reply
I'm blushing...I'm so glad this website has been helpful to you! Thank you for the compliment, it really means a lot to me.
Now to the business of your next project!
Quilt blocks that don't look like quilt blocks...
I love this quilt pattern,
Candy Queen
by Lori Allison of Allison Quilt Designs.
It's got that log cabin feel to it (a chevron or half log cabin-like design), yet the blocks don't really stand out from each other. The use of color kind of 'smushes' them together...it's all about color, value and stash.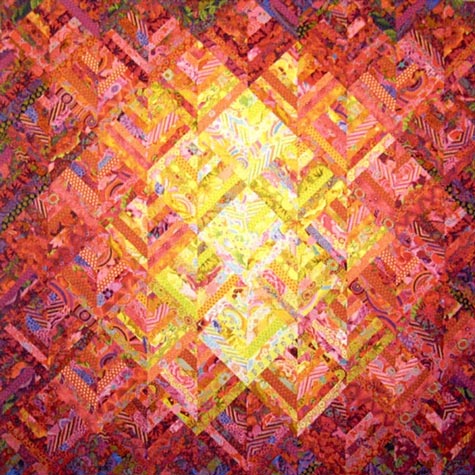 "Candy Queen" by Lori Allison
Photo Courtesy of Allison Quilt Designs
To see more of Lori's designs please visit her website at:
www.the-sampler.com
.
Next up is...
Sanctuary Squares
by Cindy Lammon.
Yes, the blocks really do stand out, but it's got a modern feel to it. Clean and graphic. (Notice the simple lines of quilting that Cindy has used...excellent execution in my humble opinion!) This quilt, too, would be a wonderful color study.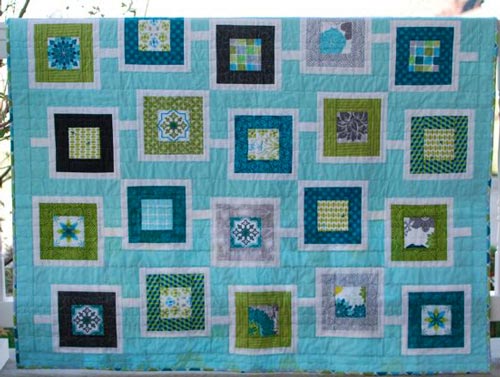 "Sanctuary Squares" by Cindy Lammon
Photo Courtesy of Hyacinth Quilt Designs
The instructions for this quilt are on a
free pdf download (click here)
on Cindy's website
www.hyacinthquiltdesigns.com
.
You might also enjoy Cindy's blog found here...
http://hyacinthquiltdesigns.blogspot.com
...it's a great source of inspiration.
And finally...
This last quilt is one that I've made over and over again. (Yes, you're right, it's not quilted yet!)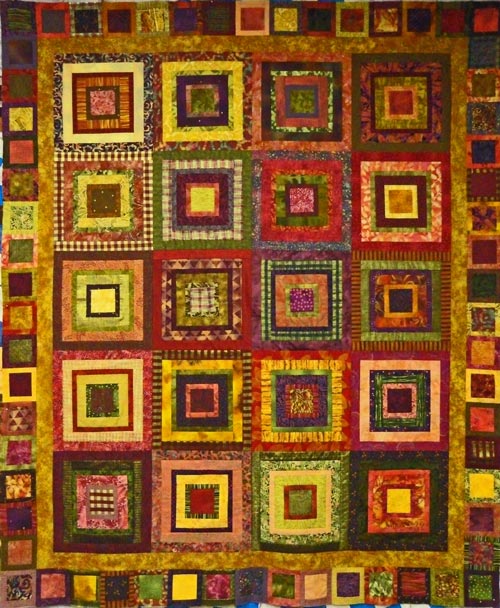 "Concentric Squares" by Julie Baird
Generations Quilt Patterns
It is a
Courthouse Steps quilt pattern
that creates 'concentric squares'. The centers are cut 3". The first and third round of logs are cut at 1"; the second, fourth and fifth rounds are cut at 1-1/2".
Click here to find rotary cutting directions for these 'Concentric Squares' Courthouse Steps quilt blocks here.
The gold border is constructed from strips cut 2-1/4" wide. The outer blocks are made with center squares cut 3". The single row of logs around these squares are sewn from strips cut 1" wide. A 'piano key' type of border would work just as well.
While the blocks are clearly evident, the color pull really makes it. Just find a focus fabric that you (or your sister loves) and pulls fabrics that go with it. Perfect matches aren't necessary. Just find fabrics that play nicely together. (This quilt top is based on the same set of fabrics that I used in my 'Fish Quilt'. I describe how I pulled the fabrics here on a page called
Scrappy Quilts
.
Elaine, I hope this gives you some ideas. Let me now what you decide to create. I'd love to see pictures of the quilt when it's finished!
Piecefully,
Julie Baird
Editor