An Interview with Linda Franz

Part 1 of our Interview
Inklingo: Everything
Old Is New Again
Linda Franz is an amazingly gifted, prolific and generous quilter, designer, teacher and author.
Now, that is saying a mouthful!
Her first hand pieced bed quilt was entered into the 2000 AQS show in Paducah...
...and won first place! How cool is that?
In March of 2002, Linda self-published her first book, "Quilted Diamonds: Jane Austen, Jane Stickle & Friends". Since that time she's continued to write and has authored these titles:
Quilted Diamonds Vol 2
Jane Austen's Writing Table Quilts
The Inklingo Handbook
Jane Austen Patchwork Mystery
Lucy Boston Patchwork of the Crosses
She's appeared on Simply Quilts (Episode #837), has videos on QNNTV, and is a Charter sponsor of Quilter's Club of America.
Always on the cutting edge, Linda was one of the first to use CD's and DVD's to present her patterns and instructions. In 2002, she was the first to offer quilt block patterns in the EQ (Electric Quilt) format to accompany a book. She continues in this green trend today by producing over 20 downloadable shape collections since the start of 2009.
It's my pleasure to present this interview to you.
Let's meet Linda!
Generations Quilt Patterns (GQP):  When did your love of all things Jane Austen begin?
Linda Franz:  I fell in love with Jane Austen when I saw the six-hour BBC version of Pride and Prejudice in the early 1980s. I had read the books as a teenager, and studied them in University, but that six-hour presentation brought it alive for me.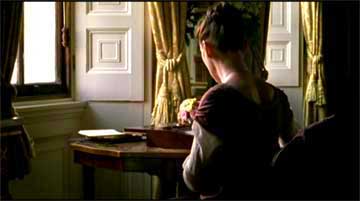 The video starring David Rintoul and Elizabeth Garvie is the best by far, and true to the book. (I have never been able to enjoy the Colin Firth wet-shirt-spin-off of the story, but if you can't say anything nice, don't say anything at all. Monkey says that's a secret, okay?)
I tend to be very critical of the movies, but I like the new DVD biopic "Miss Austen Regrets."
I visited the house in Chawton a few times before I was a quilter and started collecting literary criticism of the novels, the movies, and books about her. You might like to see the photos on my web site, under the Jane Austen tab.
Jane Austen has affected the way I think about many things, not just quilting.
GQP:  How did you become interested in Lucy Boston?
Linda Franz:  I was lucky to find a copy of Diana Boston's, The Patchworks of Lucy Boston. That's all it took.
Diana's book is one of my all-time favorite quilt books even though it doesn't include patterns. I was thrilled to obtain Diana's permission to write a pattern book for The Patchwork of the Crosses (POTC, for short), Lucy Boston's most famous quilt.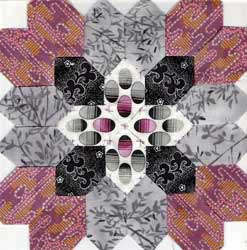 The Lucy Boston "Patchwork of the Crosses" quilt block
When I published my book, Diana also reprinted her 1995 classic, so both are available now. Kathy Timmons and many other Inklingo quilters are making POTC blocks. They are inspired by Lucy Boston, so they fussy cut the fabric.
Lucy Boston was a fascinating lady.
She designed and made at least twenty amazing patchworks, but she is more famous as the author of the Green Knowe children's books, for her ancient manor house and garden near Cambridge in England, and for her long, creative old age.
She was still quilting in her nineties and lived to be 98. If you read Diana's book, you will be inspired too.
GQP:  Are you all hand piecing, all the time? What about machine piecing and applique?
Linda Franz:  My mother understood that it is easier to get a child interested in sewing by machine than by hand. I learned to love sewing by machine when I was too young to go to kindergarten, and I have never stopped sewing. I started making my own clothes when I was in public school, and have also done upholstery, drapery, and soft furnishings. I love my sewing machine, and anything to do with fabric.
In 1998, I was influenced by a dear friend to start hand piecing, and it was at exactly the right time for me, when we were looking after my Dad, who had Parkinson's Disease. I would not have been able to sew at all, if not for hand piecing.
When I was designing and sewing Quilted Diamonds blocks, I discovered all of the benefits of hand piecing and Monkey became a hand piecing snob. His Top Ten Reasons for Hand Piecing are on the web site.
I'm glad you asked this because some quilters assume that because I enjoy hand piecing, I must dislike other methods. I love it all, and I've done more sewing by machine than by hand.
GQP:  Monkey is featured prominently on your website. Where did he come from and how did he get to be such a hand quilting fanatic?
Linda Franz:  Monkey makes everything more fun and he loves posing for photos. He always looks in the right direction, and can look serious, or puzzled, or happy, or confident—anything at all.
Monkey is a great little guy. In the early days in the Dear Jane group, when there were a few netiquette issues, Monkey could say things that no one else could, and calm things down. He is a hand piecing snob, so maybe that is why some quilters think I am too.
GQP:  Is Monkey your alter ego?
Linda:  An alter ego is "a very close and trusted friend who seems almost a part of yourself," so yes, he is. We never argue. I wonder if he thinks I am his alter ego. Did you ask him?

NEXT: Part 2
Inklingo: Everything
Old Is New Again