Learn to Make a Flying Geese Quilt Block

Technique #5: Paper Piecing

Paper pieced Flying Geese are perfectly accurate, because after the stitching is complete, they are trimmed to size.
Are they more work?
Yep, sure are!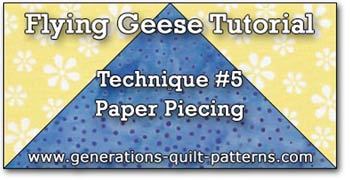 But perfect units make assembling ANY BLOCK so much easier, so much faster.

And we've added placement lines to the free patterns for you to download to speed up the process to maximize YOUR piecing time!

Let's get started!
The newest quilt fabrics to tickle your fancy...
Click the images below to see the full collection. We share any commercial and/or free patterns that showcase them, too. (For inspiration, of course!)
The Technique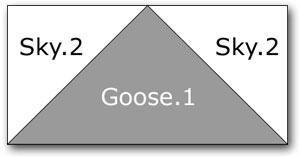 The patches for this Flying Geese technique are cut amply over-sized so that piecing is wickedly foolproof—you won't be spending time un-sewing misaligned patches and shredding your pattern.
I suggest that you make several of these blocks using our dimensions. THEN decide if you need to adjust the size of the patches. What's important is that the patch size works FOR YOU and maximizes YOUR quilting time!

Step 1
Use the chart below to choose the size that you need.
Download and print the corresponding pattern. Each sheet contains 4 units since most blocks require multiples of four Flying Geese for symmetry.

You'll need the most current version of Adobe installed on your computer to download the pattern.
On the Adobe Print Menu page, under 'Page Size and Handling' set 'Custom Scale' to 100% before printing for accurate results. Click here to see what it looks like on the Print Menu page.
After printing, use the 1" square graphic on the printed pages to confirm they are printed accurately.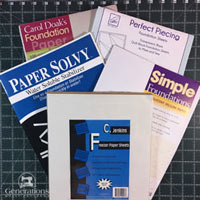 Not sure which paper to use?
Take a look at my review of several of the most popular brands available to us quilters on the market.
You want a super-easy paper to tear away—less stress on the stitches. 
The quantities below are to make four units.
If you need only one Flying Geese, reduce the quantity of Sky.2 from 4 to 1. You will then have 3 leftover Geese quarter square triangles.

The dimensions are for squares, i.e. for a 2" x 4" unit, from your Goose.1 fabric cut one 5-5/8" x 5-5/8" square. Then sub cut it twice on the diagonal.
Cutting Chart for a
Flying Geese Block

~ Paper Piecing ~
Makes 4


Patch
Qty
Finished Block Size
¾" x 1½"
1" x 2"
1¼" x 2½"
1½" x 3"
2" x 4"
Goose.1*
1
3⅛"
3-5/8"
4⅛"
4-5/8"
5-5/8"
Sky.2**
4
2⅛"
2-3/8"
2-5/8"
2-7/8"
3-3/8"
Unfinished unit measures...
1¼" x 2"
1½" x 2½"
1¾" x 3"
2" x 3½"
2½" x 4½"
Grid Size
3/4"
1"
1-1/4"
1-1/2"
2"
*Subcut twice on the diagonals
**Subcut once on the diagonal
Step 2
Cut out the patterns just outside the dashed line. Won't worry about being neat, we'll clean up things in Step 4.

Use the tiniest dab of Elmer's Washable Glue Stick (goes on purple dries clear) to glue the wrong side of a Goose.1 triangle to the unprinted side of the pattern.
The bias cut edges meet the dashed placement marks; the straight of grain edge extends past the outside dashed line (on purpose!)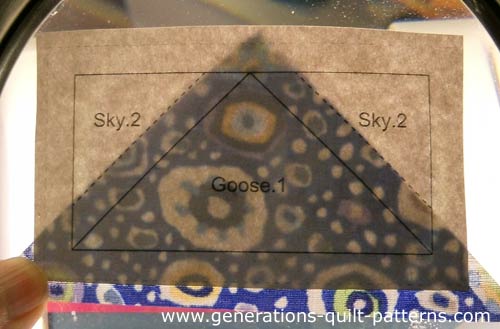 Step 3
To add a Sky.2, with RST, match the bias edge of one with a bias edge of Goose.1.
It doesn't matter which side goes first, though I suggest you be consistent. That way, if you are making a number of these, they can be chain pieced efficiently.
YES! You can chain paperpiece if the line of stitching runs from edge to edge of the paper pattern.
Set your stitch length to 15-18 stitches/inch. Install an open toe applique foot if you've got one (makes seeing where you're sewing so much easier!)
Stitch from the printed side, starting and stopping outside the outside dashed line (see arrows).
No need to backstitch. Just like a regular block, subsequent piecing secures the thread tails.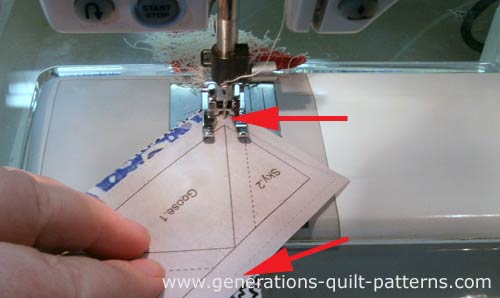 Press.
Repeat for the second Sky.2.
Press again. Here it is in all its untrimmed glory!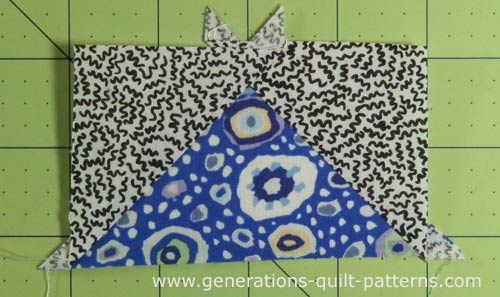 Step 4
Trim to size by aligning the 1/4" mark of your ruler (see arrow) with the solid outside line. Trim with your rotary cutter.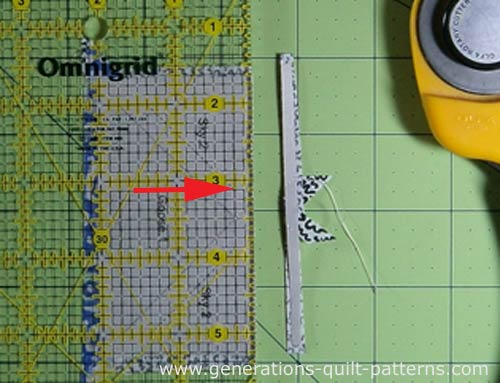 Repeat for the remaining sides.  Your thread tails are all automatically trimmed because all the lines of stitching began or ended outside the unfinished edge of the block.
Remove the paper and give your Flying Geese unit a final press.
This is your finished Flying Geese unit!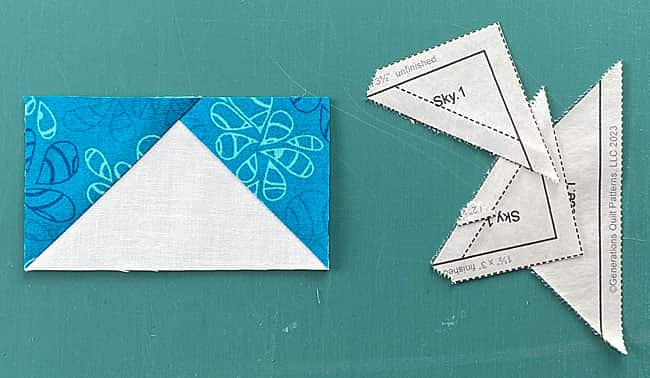 Perfectly accurate and ready to be pieced into your next quilt or quilt block.

Sweet!
There's more than one way to cook a 'geese'?!
Click here to find them under Flying Geese (naturally!) in our Beginner Quilt Block Pattern series.
There you'll also find a variety of tried and true methods for making half and quarter square triangles, Square- and Triangle-in-a-Square quilt blocks, Rail Fence units and several other of the basic building blocks of quilting.
You're sure to find a method to suit your needs and skill level!
When you're ready, move on to our Free Quilt Block Patterns Library where you can put your newly polished skills to good use.