To use the automatic thread cutter for quilting...or not?
Jocelyne asks:
After using the automatic thread cutter, a tangle forms at the beginning of the next seam.
How can this be avoided when the bobbin thread is too short to be brought up? I am sewing on a demo Viking Sapphire 930.
Reply
I'm not quite sure if you're talking about the piecing or the quilting activities so I will address both. I hope you don't mind.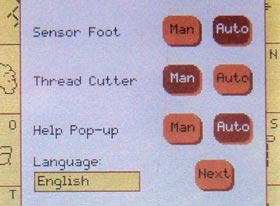 For those of you with older machines (i.e. my circa 1992 Viking #1+ didn't have the automatic thread cutter but my 2001 Designer I does), you engage the thread cutter with a push of a button and a cutter in the bobbin area slides across to cut your threads. It's a really nifty feature and does save time. While the machine is cutting, my hands are free to align the next patches for stitching.
There is a downside, at least on my 10+ year old machine. The cut isn't flush with the fabric. It leaves a thread tail of 1-1/2" to 2" long. Personally, I go back and trim them with a scissor when I get to a good stopping point.
For piecing...
I usually disengage the feature and use an anchor cloth instead (some people call them 'spiders' or 'bunny tails'— there's probably some other cute names, too...)
An anchor cloth is merely a scrap of fabric that you start and end stitching on
before and after
your actual patches. They save time and money because you don't have the longer, wasted thread tails.
To the left is a heavily used one.
I keep them around until it's a problem getting the needle through them or I've accidentally dropped one on the floor and I need another one...pronto!
All those corners you trim off from the connector corners technique now have a purpose!
Below is a picture of it in use at the start of some piecing. You'll see them in use frequently in the instructions for the
Free Quilt Block Patterns
on this website.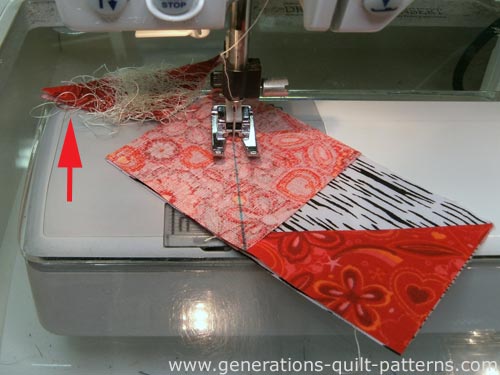 For machine quilting...
Again, I disable the function for machine quilting by setting it to 'manual'.
I don't want any thread tangles on the back of my quilts so I'm quite diligent about pulling the bobbin thread to the top. I use both micro stitching and hand knotting to tie off. The short tail left by the cutter just isn't long enough for either.
So I just don't use it.
The same goes for the 'fix stitch' or the automatic knotting that newer machines have. I think the knot is unsightly on the back of my quilts. I'm also not convinced that those machine tied knots will stand up to the wear and tear that so many of mine are destined for. Again, I prefer micro stitching or hand knotting to secure my stitching lines.
So when DO I use the thread cutter
I love this feature, particularly when I'm piecing something that will be cut down to size— that means both paper piecing and a lot of the
basic units that I make that go into a quilt block
. All the extraneous threads at the edge of the block or unit get trimmed when I cut the block with my rotary cutter. The shorter tails left by the auto-cutter don't get in the way during piecing. It's use pretty much speeds up the piecing process.
Other topics that may be of interest to you:
Jocelyne, I hope I've addressed your question completely. Always remember to do and use what
WORKS FOR YOU
. That's the important thing. Take the ideas you see and modify them to fit
YOUR STYLE!
To our Readers, if you have an opinion or experience you'd like to share, we'd love to hear from you!
Just use the 'comments' link below to join in the conversation. Thank you!
Piecefully,
Julie Baird
Editor