Quilting in general - lots of questions
by Selina Kuyp
(Victoria, BC, Canada)
I have been quilting for about 3 years - obsessively.

More than 40 quilts now under my belt and not a single class taken....Internet is a wonderful thing.

I've just upgraded to a Janome 7700 Horizon from a 45+ year old Elna Supermatic. Yes...it's been a leap in technology.

These are my questions:


With the new machine, I am having issues with thread and even stitches. On my old Elna, I could use ANY thread for anything (piecing, embroidery, free motion quilting) and it was quite 'even'. I keep hearing about Isacord, but I cannot afford to spend so much on thread (fabric costs enough as it is). I piece and free motion all my own quilts. I would LOVE some recommendations on cost effective threads that will do the trick (cheap stuff no longer works....)


Feet - I never would have guessed there were so many different FEET to use.... I'm having issues with bulky seams (while using QST to make Chevron pattern). The corner seams are so bulky and my new amazing machine does NOT like them. I've searched and searched for tricks or tips as I have always done in the past, but nothing comes up. Again, on my old Elna, 'she' would grumble a bit with the bulk but she got the job done. Is my new machine just finicky?


Batting - I've tried many different kinds from the Warm Company and Hobbs. I LOVE the weight and feel of Hobbs 100% Cotton with scrim, but it is very flat. Is there a recommendation for a batting that would give me some half decent loft without layering it multiple times? I'm not ready to start trapunto work, but would like some loft on some quilts that I make....flatter ones are great too depending on the design.
Thank you very much for any and all suggestions.
Selina
Reply
Hi Selina!
Your questions made me smile! The gusto you have for quilting is totally coming through. :D
I'm going to group 1 and 2 together...
I suggest that you take any and all classes that are offered with the machine where you bought it. Some of the information will be pretty remedial, BUT there'll be tips and tricks that the teacher shares along the way...at least that's how it's always been with the classes that have come with my Vikings. For a 7700 I'd be surprised if there weren't classes.
As far as thread goes...
...I confess. I'm a thread snob!
I like my Aurifil and Masterpiece (fine, 100% cottons) and then Superior Threads' Bottom Line (a 60wt polyester - that may be blasphemy for some - oh well!) for piecing. I'm big on YLI monofilament and then any other glamorous thread I can get through my needle...but all are name brands...I don't use any of the cheap stuff. Over time I've found that it SAVES ME time...less shredding and breaking, etc.
I teach machine quilting locally and at one point early on, I compared the price of Aurifil with the Gutermann and Mettler sold in the big box stores here (Joann's, Hancock's and the like).
I don't remember the exact numbers, but I was really surprised. One of the orange cones of Aurifil...even at $9 something a spool (back then) was more economical than the other stuff. I'd been thinking all along that Aurifil was so MUCH MORE expensive. $9 for the spool was a lot for a single spool...but you can use the same color for lots of piecing as long as you match the value of the color of thread to the value of the color of the fabric.
I now buy my Aurifil, Masterpiece and Bottom Line on the biggest spools I can find...it is way more economical over time, though the initial cost is higher.
If you've pieced and quilted 40 quilts...you're a Quilter...you're not going back...so a thread stash isn't going to go to waste. I hope that doesn't sound glib. Quilting stuff is expensive, but the larger quantities do generally save a nice chunk of change.
All those feet
They've all got a purpose, don't they. (I'm chuckling to myself because I probably own most of the feet made for my D1.)
These are my 'go-to' feet: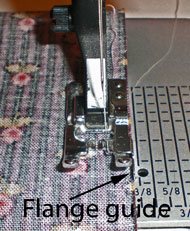 Edge Stitching Foot
This is the one I use for piecing. Between
starching my quilt fabric
and the flange to guide my stiffened fabric along, piecing is a breeze!

Open Toe Applique Foot
This is perfect for the
invisible machine applique technique
that I love so much--like results are indistinguishable from handwork--and it's perfect for paper piecing, too.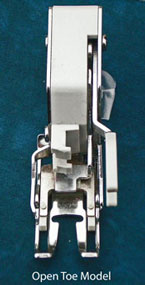 Walking Foot
Open toe is the best because you can see where the needle hits the ditch. I admit, I don't use this as much as I used to, instead I do a lot of my ditch quilting with my...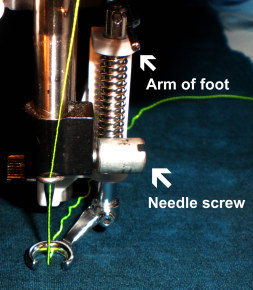 Free Motion Quilting Foot with an offset shank
Thank goodness this is a cheaper foot, because I wear them out. The thin metal 'arm' eventually breaks...the price of loving to quilt!
While having the shank offset doesn't look like it'd be a big deal, it made a HUGE difference in my free motion quilting. You can see so much better.
The rest of the feet are just fun to have...I suspect that you'll find the same thing with the feet that Janome offers. Given what I know now, if I didn't need one for a specific project, I'd wait to buy the 'fun' ones when there's a coupon or sale.
Batting...
...since you're committed to quilting, when you go to one of the bigger shows, you'll find batting companies there with sample packs. The pieces are usually 18" square...plenty to make a practice sandwich (or pillow) and test them out for yourself.
My favorite cotton is Quilter's Dream Request, the thinnest loft in their line.
But when I want loft, my favorite is Hobbs Heirloom Wool...it's what we use in our feathered quilting designs. Where there's a lot of stitching, the batting smushes (wow-that's a technical quilty term!) down to nothing...and still stays very supple. It doesn't get stiff like a Warm and Natural would when there's a lot of stitching.
Where there's no stitching...like in the center of the feather...the batting poofs right up. Many confuse quilts quilted with this batting as being trapuntoed...they're not...it's just a feature of the batting.
The other nice thing about this washable wool batting is that you can block your quilt at the end. If you've used uneven quilting across your patchwork, you can block out the unevenness...totally cool!
I hope this helps to answer your questions.
Readers, do chime in using the 'comments' link just a few lines down. It's fun to share your ideas and experiences with other quilters!
Piecefully,
Julie Baird
Editor
PS I've got a suggestion for those bulky seam allowances, but I've got to write the page first...I'll put the link here as soon as it's ready! It's a slick trick that uses a technique that tailors use for wool? No special tools or anything to buy! It shouldn't take more than a day.
UPDATE:
As promised this is the super-de-duper pressing technique for the flattest blocks:
The Best Technique for Pressing Quilt Blocks