Quilting feet for a beginning quilter
by Mari
(United States)
My Singer sewing machine manual has a list of feet that are available, including a "quilting foot" and a "walking foot".

The Singer website says the quilting foot (or 1/4" foot) provides a 1/4" seam allowance and only allows straight-stitch seams. From my understanding, a walking foot only allows straight-stitch seams, but the seam allowance needs to be measured.

Are there any other differences between the two?

I'm new to quilting and I've only seen quilters use 1/4" seam allowances, but they've all used a walking foot.

If a quilting foot is available and provides an accurate 1/4" seam, why wouldn't a quilting foot be used?

Is one better than the other?

Which is a smarter investment?


Reply
Excellent questions!
If you plan to piece on your sewing machine you will need a quarter inch foot.
If you plan to do the quilting yourself on your home sewing machine (and it's a lot of fun to do and very satisfying!) you'll need a walking foot, and possibly a darning foot.
I think the biggest problem is that the names of the feet are very confusing. Different manufacturers use slightly different names. So it can be a bit bewildering when quilters talk about their presser feet.
A quarter inch foot...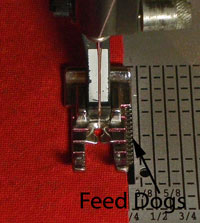 Quarter Inch Foot
...is what you'll need for piecing.
I prefer one with a guide (as shown to the right).
It is really helpful on those days when I have the time to quilt, but my head's not quite in the game for accuracy.
Click here for more ways to create the perfect 1/4" seam allowance.
A walking foot...
...in essence, puts a set of feed dogs on top of the quilt sandwich. They work in conjunction with the feed dogs under your throat plate to help evenly pull the quilt through your sewing machine and create a uniform stitch length. It typically is the most expensive foot that you'll buy for your machine...and it can wear out after a lot of use.
My preference is for an open toe version. That way there's no metal piece between your eyes and where the needle pierces the fabric. A great feature for when you're following drawn design lines to quilt.
If you tried to use a regular presser foot (like the 1/4" foot) to quilt with, you'd find that the presser foot pushes the top layer of your quilt ahead of the foot. The result would be a lot of tucks and uneven stitches in your quilt. Not good.
Click here to learn more about walking feet.
A free motion foot
Just so you know, if you choose to quilt your own quilts and you want to do free motion quilting (that's how all the fancy stuff gets done) you'll also need a free motion quilting foot, sometimes called a darning foot or a hopping foot.
With it, you drop or lower your feed dogs. YOU are in control of moving the quilt through the machine and creating the stitches. It takes some practice to do, but it well worth your time. Again, it's a lot of fun to do and can be rather addictive.
When you purchase these feet you'll need to have your Singer model number handy to identify whether you'll need high- or low-shank or snap-on versions of these feet.
Click here to learn more about free motion quilting feet.
I hope this information has helped. Let me know if you have any other questions.
Piecefully,
Julie Baird
Editor