Quilt block is too small...
by Dianne
(Washington State)
I'm a relatively new quilter. I've made a couple of table runners and wall hangings.

This is my first real bed quilt. The pattern is fairly simple. I stitch two tall triangles (not equilateral) together to create two 5" by 9 1/2" tall rectangles. Then stitch two rectangles together to create a 9 1/2" block.

Some of my blocks are perfect 9 1/2". But some are 9/14" by 9 3/8".

Does this never happen to others? I cut the templates so carefully.

I suppose I could cut all the blocks down to 9 1/4" then increase the border to compensate, but I'd like to know what experienced quilters do to avoid this in the first place and fix it in the second.

Dianne


Reply
You have several good beginning quilting questions. I'll take them in order.
Does this happen to others?
Absolutely! You are not alone. And it happens not only to beginning quilters but intermediate and advanced too. Some days, no matter what I do, I just can't seem to sew a good seam. Those are the days I force myself to clean something...I hate cleaning.
How to avoid the problem in the first place
Click on the underlined links below in you need more information. Use your back button on your browser bar to return to this page.
First do a sewing test to evaluate your
quarter inch seam allowance
.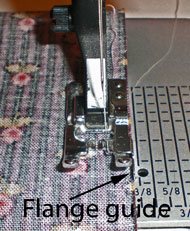 My favorite foot to use for piecing is an edge stitching foot that has a guide on the right side of the foot as you sit facing your sewing machine. The cut edge of your fabric patch rides against this guide and helps you sew a consistent seam allowance. You need to be able to adjust your needle position for this use of the foot.
I also like to
starch quilt fabric
before cutting out my pieces. Starched fabric is easier to cut, stitch and press. Starch, however, must be washed out at the end of the project. Since it is typically made from corn, it can attract critters like silverfish if left in the fabric.
I also measure units as I sew them. For your blocks, after you stitch the first two triangles together, measure to confirm they are 5" x 9-1/2". If they are off at this step, adjust your seam allowance. This seam is on the bias, so do take care not to handle the cut pieces too much before stitching. Bias edges have a lot of stretch in them.
Since you mention that some of your blocks are exactly 9-1/2", I believe it is probably getting the seam allowance just so on the bias edges. Starch (before the pieces are cut out) will go a long way to fixing this problem for future projects.
How to fix the problem now
If you cut all your blocks down to 9-1/4", you will lose points on your triangles.
So instead, check and adjust the seam allowance joining the two sets of two triangles that make the block.
If your blocks are no more than 1/4" smaller, you should be able to ease the blocks together as you piece the quilt.
To sew 2 two-triangle units together:
Mark the centers of the edges to be sewn together with a pin.


With the longer unit on the bottom, match the ends of each unit and pin.


Match the pins in #1 above and pin the centers together.


Add additional pins if you need them.


Stitch the seam. By placing the larger piece on the bottom, your feed dogs will help to ease in some of the fullness.
Use this same technique to ease together any seams, whether on the bias or not, where one piece is larger than the other.
If you are sewing two patches together and one has a bias edge, put the bias edged patch on the bottom. The feed dogs will help control that edge as you stitch.
Because of the easing, your top will not lay
perfectly
flat, but quilts are three dimensional, and with batting and quilting, this easing should not be noticeable.
As you make more quilts, you'll find working with bias edges to be easier and easier.
Remember, "perfect" is overrated. Just enjoy the process and be proud of yourself!
All the best,
Julie Baird
Editor
P.S. Do post your
quilt pictures here when you are finished
, we'd love to see your quilt and cheer you on!