Q: What is this quilt block's name?... A: Glorified Nine Patch
by Sue
(Osborn, Mo)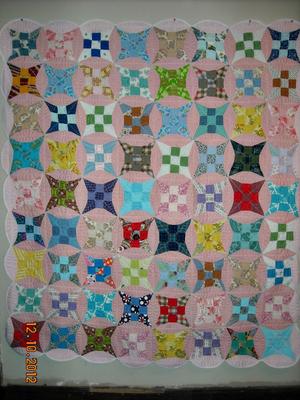 Glorified 9-patch quilt

Click on each thumbnail below for a larger image


I have a quilt top that my Grandmother pieced about 30 years ago. It is beautiful, but I can't find the name of it anywhere.

I have looked in books, on websites, asked quilter friends, including my Mom, and can't find it anywhere.

My Grandmother is long since deceased, so I can't ask her. My uncle had the top stored in a closet or somewhere since Grandma's death. I finally EARNED it by quilting a different top for him for free. I have quilted and finished the quilt and it is a scrappy, stunning, heartfelt, heirloom that I am giving to my Mom for Christmas.

My Mom didn't get any of Grandma's quilts because my Uncle sold the finished ones and kept the rest. So I'm hoping that this means as much to Mom as it means to me to be able to give it to her.

It would really be cool to be able to tell her the name of the block also. (Though, just a bonus!)

Thank you for any assistance you can give.


Reply
Happy to oblige! Your mom is so lucky to have you and I'm sure she will treasure this most heartfelt gift!
The name of the quilt block is 'Glorified Nine Patch'. You'll sometimes see it referred to as an 'Improved Nine Patch'.
What's interesting about this block is that it is classified as an uneven 9 patch and then drawn on a 5x5 grid.
This is the underlying structure of the patches.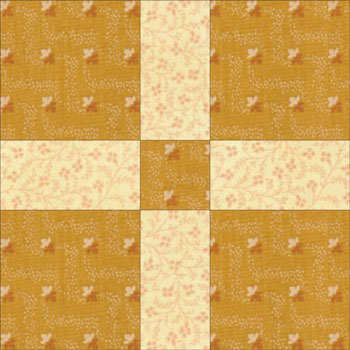 You can clearly see the uneven 9-patch.
And then the curved patches are added to finish the block.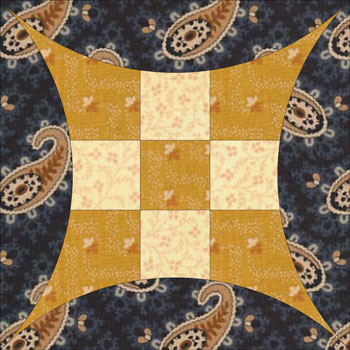 Those curves would be gentle enough to piece by machine. If you wanted to have it go faster, then I'd probably use this
invisible machine applique technique
to add the curved sections.
It's a fun quilt, and even better that it spans three generations!
Thank you for your question and sharing your pictures. It was fabulous to see.
Piecefully,
Julie Baird
Editor
Other blocks you may enjoy:
Just click on the image for the instructions.