On-point rotary cut squares?
by Christine
(Leonay, Australia)
Christine wrote...
I have a pattern that has asked me to cut a strip 5 inches x WOF, then it has asked me to subcut 3 1/2 inch squares, cut on point. I am not sure how to do this.
Can you help please.
Julie replies...
I have to admit I am as perplexed as you are. I would love to see the directions to see if there are any other clues.
Taking the instructions you shared literally, the only thing I can think of is that the designer wants the straight of grain of the fabric to run through the square from point to point to stabilize the quilt. It might make sense if this quilt is intended as a wallhanging.
If that is the intent, then to cut the squares, you'd first make a cut at a 45 degree angle to the long cut edge. This cut is on the true bias.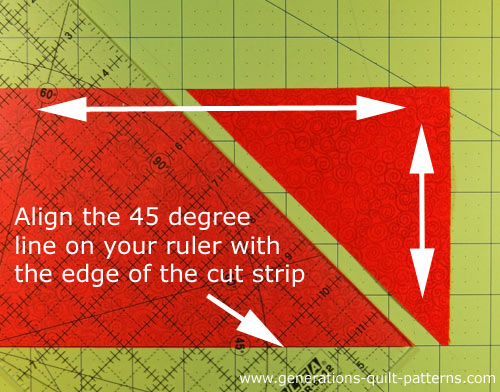 The next cut is parallel to the first and 3-1/2" away. Finally, cut this diamond down to a 3-1/2" square. Continue cutting in this manner until you have the required number of squares. The white arrows show the straight of grain lines in the cut square.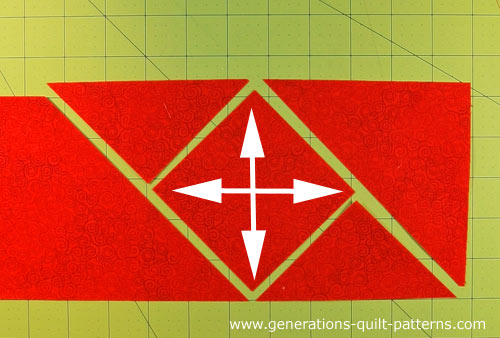 The reason that I think this might be a possibility is because when I use the Quilter's Magic Number, 1.414, (
click here to learn more about it
) to find the diagonal of a 3-1/2" square...
1.414 X Length of a Side = Diagonal of a Square

or

1.414 x 3-1/2" = 4.949"
...that's awfully close to 5"—the width of this strip.
If this is truly the intent of the pattern designer, I would strongly urge you to
starch your fabric
for these strips. The starch will help to tame those bias edges during construction.
But again, I'd feel much more comfortable making this recommendation if I could see more of the instructions and any diagrams. In particular, I'd be looking for a place where the designer is using the waste triangles created by this method of cutting.
I wish I could be of more help.
Piecefully,
Julie Baird
Editor