This post contains affiliate links for which I receive compensation
Ohmygosh Supersized
by Linda Glover
(Ontario, Canada)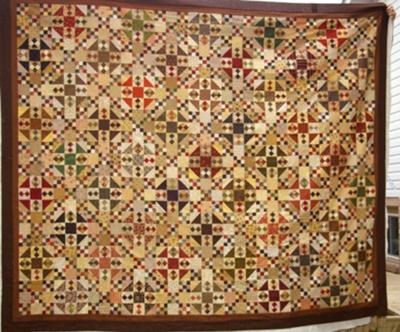 Ohmygosh Supersized
I saw this quilt hanging on a wall in the background on a quilt website...and spent the next three days searching for the pattern name and order info.

I was able to purchase the pattern while on a trip to Shipshewana, Indianna (Lollys Fabrics).

However, after reading the pattern instructions, I thought this is too small for me to work with...so... to the drawing board I went...

My 9 patch strips are 1.5", and each square is 3.25" x 3 = 9.75". I believe each block is a finished 8.5".

I must say that after quilting for the last 15 years, this is my finest piece. There are 4067 pieces in this quilt, and yes I would make it again...playing with the size of the squares...and maybe try it using the same background fabric throughout the quilt.

Although I have shied away from time consuming quilt projects or tedious ones, in the past...This quilt has created an addiction to intricate quilts... with lots of pieces...maybe I can start to deplete my ever growing mounds of material in my closet...

Thanks Sue for a great pattern...
Linda Glover
Canadian quilter

Click here to see Ohmigosh! made at the size as called for in the pattern by Sue Garman.