My "Oh My Gosh" Quilt
by Julie
(IL)
I pieced this quilt right after I had made The Birthday Quilt. The Civil War Reproduction fabrics I'd pulled were still singing for me, and it didn't seem like I had gotten making teeny-weeny nine patch quilt blocks out of my system yet.

The nine patches that create the chains are 1-1/2" finished, as are the half square triangles. The little four patches on point are 1" finished. I know that seems awfully small, but once you start stitching and settle into a rhythm it's a really nice place to be.

There's an interesting story there. I had finished piecing the quilt--borders and all--and was really stuck for how I was going to quilt it...so I figured, what the heck and emailed Sue Garman, the designer herself...I mean, what did I have to lose?

Now, I'd sent that email about 10:30 at night.

Wouldn't you know it!

The next morning there was an answer with a diagram from Sue, herself. Now how cool is that!

For the outside border, I used a printed cotton that has a nice diagonal line...took the time to match the pattern at the seam lines and then quilted along the pattern of the fabric. Easy!

So if you see that pattern in a store, it's called "Omigosh". Perfectly named, because that's exactly what everyone says when they see it...


"OH MY GOSH!!!!!!"
My secret weapon to make all the cutting manageable...
There's a ton of rotary cutting with this quilt, I admit.
I'd had the June Tailor Quarter Cut Ruler laying around for the longest time, and really thought it was a crummy ruler. (I don't fold my fabric in quarters to cut strips...too many dog legs!)
But for this project, this ruler was PERFECT for cutting the strip sets down into one inch units. I found I could stack quite a few of them under the ruler and then slice away. I can't recommend this ruler strongly enough if you plan to make an Ohmigosh!
Some additional detail pictures...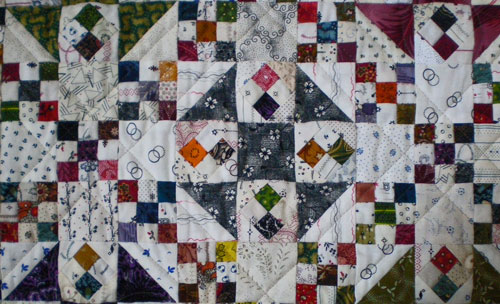 A close-up of the two blocks: Double nine-patch on the left, Churn Dash Quilt block on the right.
I matched the pattern in the border fabric so that I could use the lines of the fabric design for my diagonal quilting.
Now if itty-bitty-teeny-tiny pieces don't blow your skirt up, check out Linda Glover's
Ohmygosh Supersized!
. Love it!
Julie says...

If you've enjoyed this quilt...
Do let the quilter know!

To share your comments...
Just use the link below!