Fussy Cut for Effect
Make Your Quilt Fabric Do the Work!

This post contains affiliate links for which I receive compensation
To fussy cut simply means to cut to capture a certain design or motif in your quilt fabric instead of simply cutting your shapes from straight grain strips and letting the fabric design fall where it may.
It's not hard to do...

...it just takes a bit of planning.
And a willingness to cut a perfectly good piece of quilt fabric into Swiss Cheese!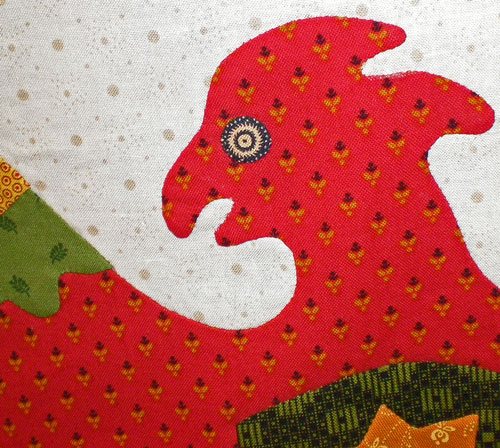 Fussy cutting the eye for this eagle eliminates the need for hand embriodery and adds interest. It was centered using 'Perfect Circles' by Karen K. Buckley.
Other than that, there's nothing to it!
On this page you'll find examples of how fussy cutting is used to add interest to a simple block and detail to a more complex one, to maximize your fabric and to help you avoid marking quilting lines.
And finally there are links to several tools to help you with your own fussy cutting adventures.
Why Bother to Fussy Cut?
There are many reasons to manipulate your fabric this way, starting with the most obvious...

...because you can!
One of the nicest things you can do for someone who makes the effort to take a closer look at your quilt is to reward them with a surprise.

The 'Birthday Quilt' (below) offered the perfect opportunity for this technique.
Each nine patch block is 1-1/2" finished as are the alternate setting squares of shirtings and other light colored fabrics. The blocks are set on point and then quilted diagonally, in both directions, through all the 9-patches and setting squares. This quilting produces a 'circular' feel, though all the quilting lines are, indeed, straight.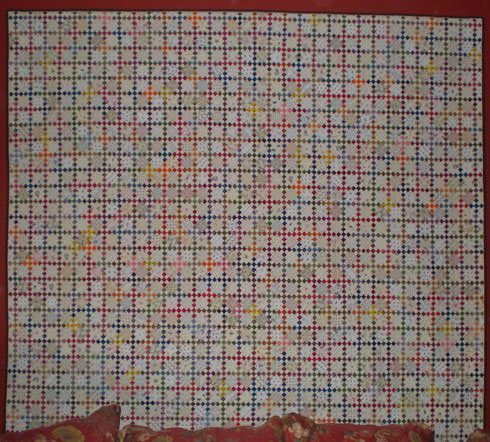 From a distance this is a very appealing, very graphic quilt.

But wait! There's more!

For the interested visitor who steps in for closer inspection, there are...
...bees buzzing...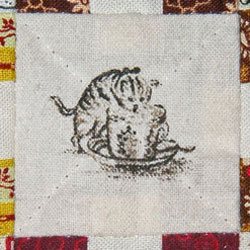 ...kitties cavorting...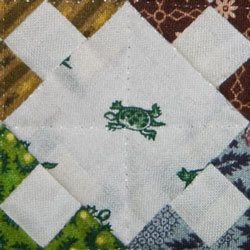 ...teeny-tiny terapins...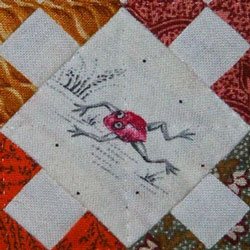 ...froggies frolicking...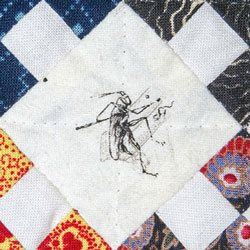 ...and of all things, crickets playing pool!
All sorts of surprises are there in the alternate squares for the curious viewer. All cut from conversation prints collected through the years, a quarter yard at a time.
Each motif was centered in a 2" cut square with standard rotary ruler.
And there are more reasons to fussy cut your quilt fabric!
...to multiply your fabric stash
Again, with the 'Birthday Quilt' as our example, the nine patch blocks were stitched from fabric strips cut 1" wide. Careful cutting of the striped fabric yields at least two different fabrics from each one.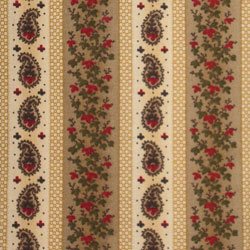 Three completely different strips cut from the same fabric.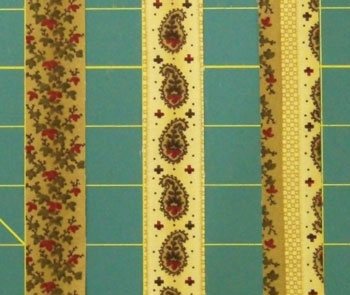 If you needed cut strips wider than 1" you probably wouldn't have used the strip on the far right. But for squares that finish 1/2", it provides a third fabric from one fat quarter. Love it!

...to add detail to applique
In the center medallion of 'Mary Brown' (quilt pattern designed by Pat Cox, stitched by Trudy Wasson), check out how the appliquer made the fabric do the work in the flower petals.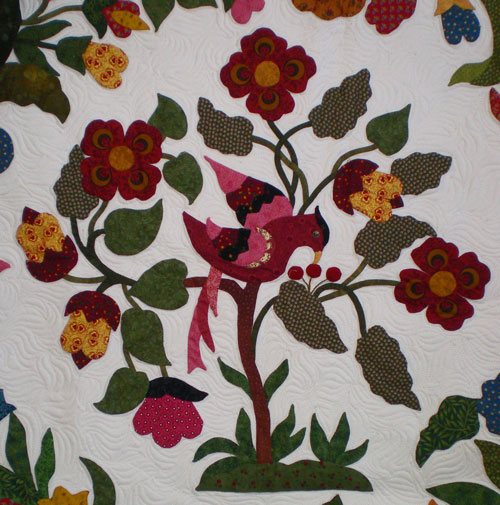 And a close-up of a flower...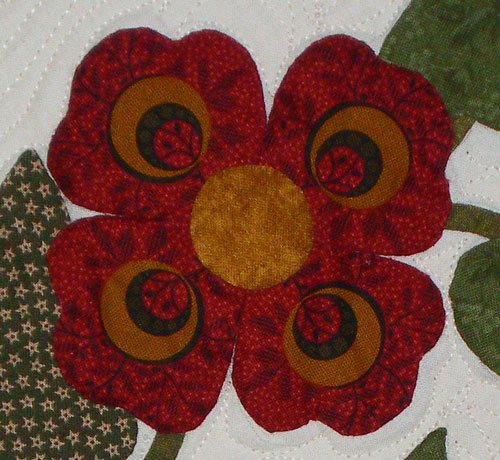 Purposefully positioned on the applique template
In 'My Roseville' below (quilt pattern designed by Maggie Walker, stitched by Trudy Wasson) many of the leaves are fussy cut from a variety leaf fabrics to add more realism to the still life vases.
Again, for the viewer that merely passes by, this is an attractive quilt.
But for the one that steps closer to admire, there is so much more to see!
A close-up of the leaves...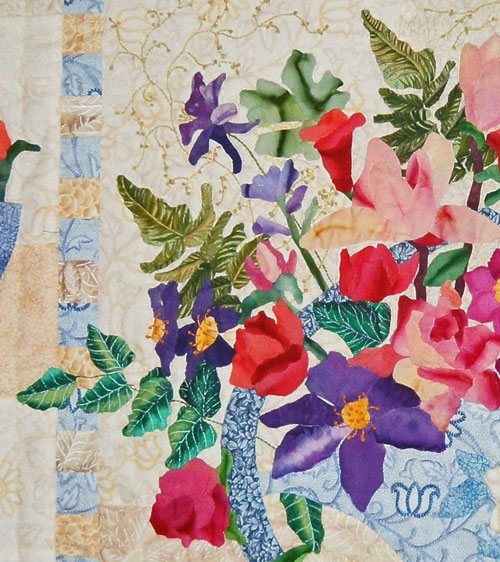 This next quilt block (from the quilt pattern "Gingerbread Joy" designed by Sue Garman) is chock full of appliqued circles.
Half and three-quarters inch circles stitched with invisible machine applique.
Karen K. Buckley's quilting tool, 'Perfect Circles', was used to make each one.

They definitely add flair.

Fussy cutting adds that 'something extra'.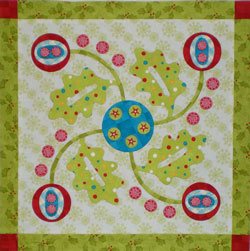 ...to avoid marking quilting lines

Fussy cutting fabric can be as simple as carefully cutting to be able to match, say a stripe, or pattern in the fabric.
The border fabric for my "Oh My Gosh" quilt was cut so that that geometric pattern would match. This eliminated the need to mark any quilting lines in the border. Slick!
While it's hard to see, diagonal lines from lower left to upper right are quilted parallel to the upper left side of the gold diamonds in this print.
It eliminated the need to mark quilting lines completely.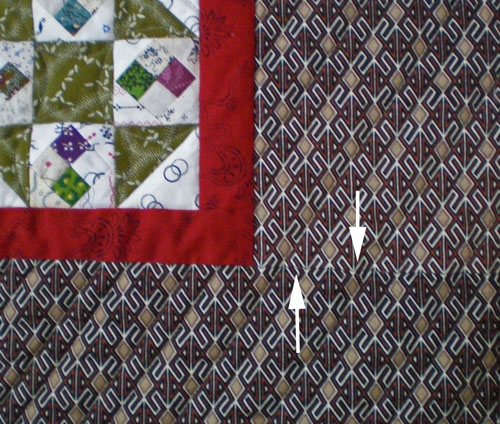 The white arrows point to the matched seamline.
Other quilt patterns that use this technique include...

I-Spy quilts: Each patch contains a different image for the child to 'spy'.

Stack n' Whack: Typically a single fabric is used to create an entire quilt top. By fussy cutting the blocks, many unique, kaleidoscope like blocks are created from one fabric.
One Block Wonders: Again, a single fabric is used to create all of the blocks in the center of a quilt
Just One Teensy Thing to Remember...
If you fussy cut patches for piecing there's a good chance that some or all of a patches' outside edges are on a bias grain.
Bias stretches.
Handle carefully and as little as possible until all the edge are stitched to another patch. And consider starching your quilt fabric. This adds stability, but you will need to wash out the starch once the quilt is finished.
Now Sit Back and Enjoy!
After your quilt is finished, be prepared for the inevitable question...
"Did you fussy cut that?"
Now while a truthful answer of "Why yes I did!" always works, why not have a little bit of fun like I do.
When asked that question, I simply smile and say, "Why no. I'm just lucky I guess!"
It works for me! What about you?