How to Print and Use Free Quilting Templates
Easy to Use. Fast to Print. Always Accurate.

Free quilting templates are provided whenever they are needed to create one of the many quilt block patterns on the Generations Quilt Patterns website.

Follow this quick guide to insure they are printed and cut so that your patches are exactly the right size.
You'll learn about the template material I use, how to print and how to cut using these free printable templates.
Let's get started!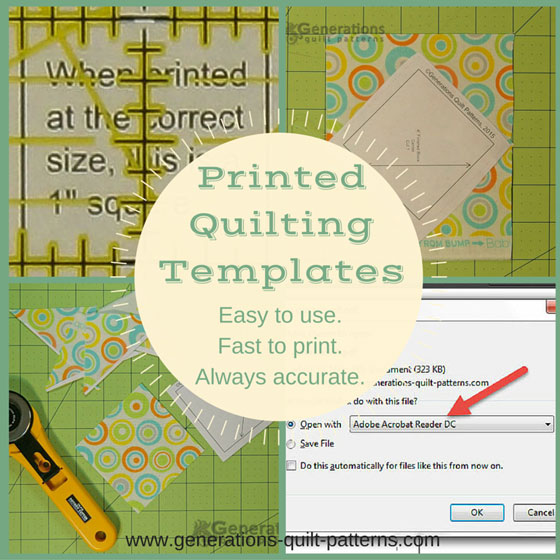 Remember to Pin It for later
Paper for Printed Quilting Templates

Regular old printer paper is all I use. Nothing special.
Since we'll be using our rotary cutter, there's no need for thicker or sturdier templates. If one gets messed up, simply print another.
If you find you do need a sturdier template, try using a card stock—usually the 67lb weight from the office supply store.
If you'd like templates with their own 'stick', try a printable Freezer Paper like the one from C&T Publishing (right).
It's pricey, but it's already cut to 8-1/2" x 11" and is flat—something that your Reynold's on a roll isn't. It comes 30 sheets/package.
C. Jenkins offers pre-cut freezer paper
in two sizes: 8-1/2"x11" and 12"x15".
You MUST use an inkjet printer because it doesn't make heat. NO LASER or LASERJETS! 
Lasers create heat to set their toner. That heat melts the plastic coating on the freezer paper, messing up the inside of your printer.
No heat equals no melting. It's as simple as that!
Printing Free Quilting Templates and Patterns

Always, always, always use the free Adobe reader program to print the quilting templates and paper piecing patterns. (Click here to get your free download of it if you don't have the latest version already.)

While I create the PDF files in a program called 'Nitro Pro' and I have PDF opening/printing capabilities in my wordprocessing software, ONLY ADOBE consistently prints the pages correctly. Below is what a messed up one looks like—ugh! All that work for nothing...unless you use Adobe.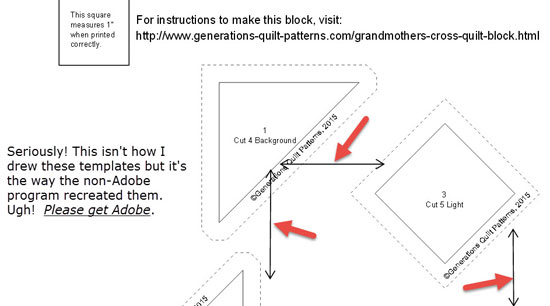 A partial screenshot of a template page printed with a program other than Adobe. The red arrows point to mistakes caused by the non-Adobe reader.
I add grainline arrows to the quilting templates when it makes a difference in the final block.
The grainline arrows show the direction the templates should be laid out on the fabric. The arrow should always be parallel to the selvedge. On templates with two arrows, just choose one. The other will, by default, be on the crosswise grain, just as it should be.

Patches cut on grain create blocks whose outside edges are stable and less likely to stretch throughout construction. (Click here for more information on grainline and why it's important in our quilts.)

Only in Adobe do those arrows print correctly. Period.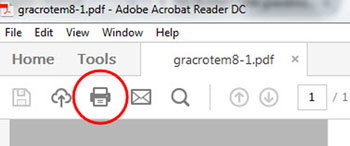 Select the print icon in the top bar
In other programs they are either positioned completely wrong (as shown above) or they've disappeared.
After you've opened the PDF quilting template file in Adobe, click on the print icon in the top bar.
This brings you to the Print screen.
Go down the left side until you come to 'Custom Scale' under 'Page Size and Handling'. Set it to '100%'.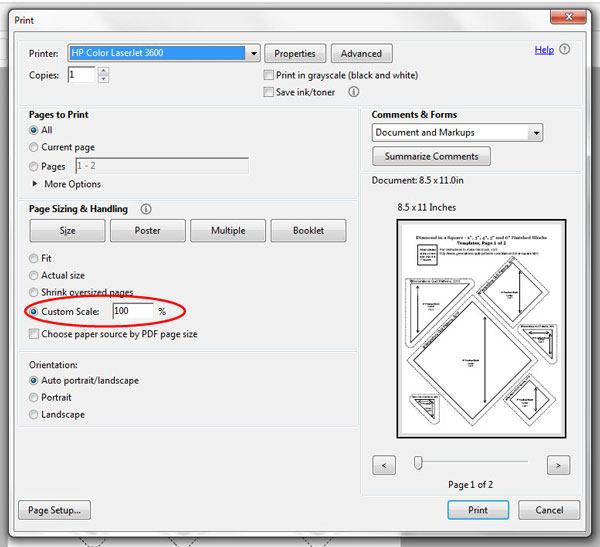 Page Preview in the Adobe Print menu
In the preview page above you can see the grainline arrows ARE in the correct position—inside the solid stitching lines.

Fill in the number of copies you'd like at the top and click print.

On PDF template and paper piecing pattern pages printed from the Generations Quilt Patterns site, you'll always find a small square on the page (below, left). This square measures 1" exactly when it's printed correctly (below, right).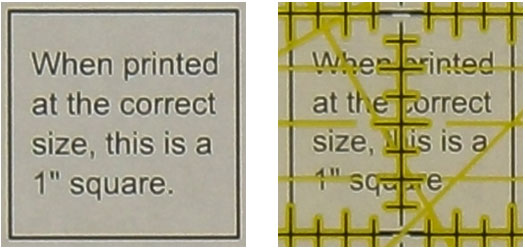 The 1" square--larger than life. Perfection!
Take the time to measure it with your ruler.
Smart Tip!

To conserve paper, print one copy. Check the 1" square for accuracy. If you're right on, print as many copies as you'd like.

Cutting Patches with Templates

All the free quilting templates on this site have a solid black stitching lines  just like the templates for the 4" Finished Diamond in a Square block that is shown in the following example. (Click here to print a copy for yourself.)

If you look closely you'll also see faint dashed lines a quarter inch from the solid ones. This is ideally the cutting line for the patch.

Whenever possible, I prefer to cut the patches with my rotary ruler for speed and accuracy.
Follow these instructions for patches with straight edges.

With a scissor cut around the template shape just past the dashed line. Don't bother with being exact. You just want to remove the excess paper, leaving the solid stitching line intact.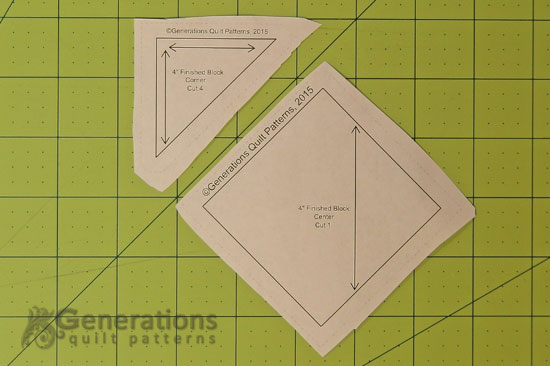 Nothing fancy about this cutting!
Next lay your template printed side up on the right side of your fabric. Align any arrow so that it is parallel to the selvedge edge or lengthwise grain of your fabric.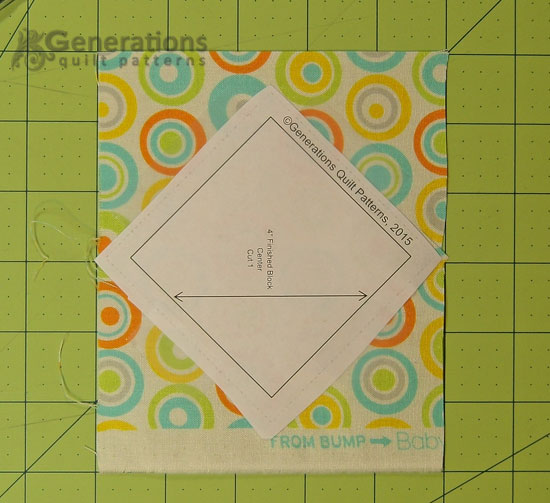 The template sides are taped down--you can just barely make out the tape.
I like to use a bit of Scotch® Brand Magic™ Tape to tape the template to the fabric. It won't move around when I'm cutting. This type of tape doesn't leave behind any residue.
If you printed yours on printable freezer paper, iron them to the right side of the fabric with a dry iron.

Lay the 1/4" line of your ruler directly on top of the solid cutting line.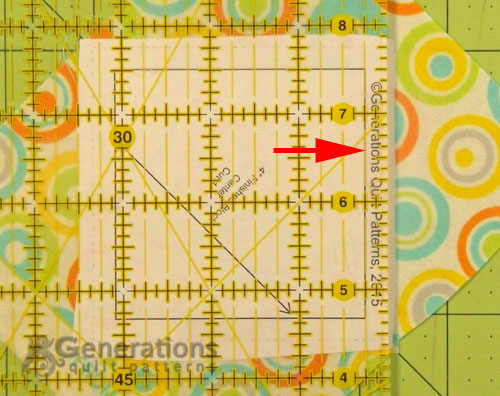 It's much easier to see the stitching line and add a 1/4" seam allowance than try to line the edge of the ruler up with the light dashed cutting line.
Trim away the excess with your rotary cutter.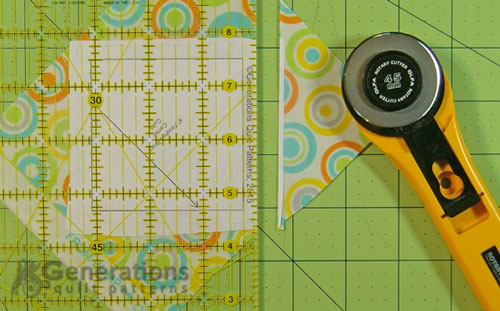 Turn the mat to the next side. Repeat until every side is trimmed.
Smart Tip!

A smaller mat or a rotary mat (my favorite) are perfect for cutting quilting templates. You move the mat and not the fabric. It makes for more accurate cuts and virtually no re-positioning of the templates.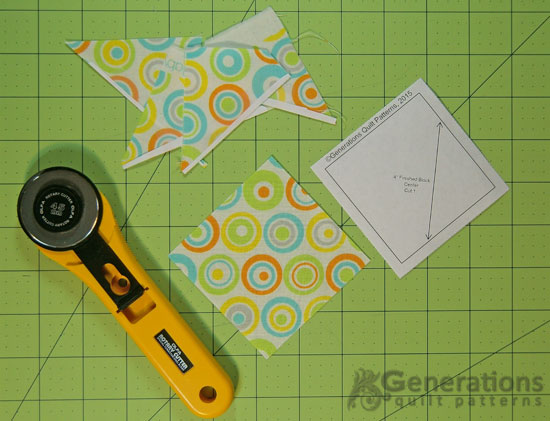 The center of our Diamond in a Square unit has the grainline running straight from point to point. You can see that the excess paper is attached with our Magic™ Tape. There is tape on the template and none on the fabric patch.

F
AQs
How many layers of fabric can I cut at one time?
This depends on you. You'll be most accurate with just one layer.
For perfectly sized patches it's important that the fabric doesn't shift during cutting. If you can cut up to four layers at a time without shifting, that's good.

Smart Tip!

To help hold the layers together, press the them together with your iron. Cotton wants to stick to itself. The pressure and heat of the iron encourage this tendency.

Can I print at 'Actual Size'?
Yes, you can. Print one copy, confirm it's the proper size and then print as many copies as you need.
For me, it's too easy to click the wrong button and end up with 25 copies the wrong size. I'm much better if I have to remember to type in '100%'.
Use whichever method works best for you—just be consistent!
Do I always need to follow the grainline arrows?
Having the lengthwise grain run in the same direction through your block and, in particular, having the outside edges of your blocks onthe straight of grain make for more stable, less stretchy blocks.
But the choice it ultimately up to you. You may not have enough fabric to use the grainlines. You might want to fussy cut a particular patch. There may be other reasons you choose not to use the arrows. Just make an informed decision that works best for you.
After all, this is YOUR quilt!
If you find that there's all sorts of bias edges in the patches, I suggest using a liberal dose of fabric starch. It will help minimize the stretching.
Click here to learn more about starching your quilting fabric.
Dorothy asks...
"If your seam allowance is 1/4" why can't you add it to the template once instead of guessing 1/4" on each piece of fabric like it says on all directions?  I guess there must be a reason since they all say to add it to fabric, but wouldn't be easier to add it once on the template?"
Great question, Dorothy!
I'll address each instance where quilting templates are used. (Note: I'm going to use the abbreviation 'SA' for seam allowance.)
Applique templates can be used with several different techniques. For fusible applique, you don't add any SA. For needleturn applique, you do add a seam, BUT...
...depending on your skill and confidence level, you may be adding anywhere from a scant 1/8" (for teeny shapes or curvaceous shapes) up to a good 1/4". So adding a SA to the template would actually make for more work.
Think of a daisy shape with many petals, all cut as a single patch. If those petals are close enough together, adding a seam allowance to the template may obliterate the space between the petals. The appliquer is left wondering where exactly to stitch. She'd have to go back to mark the stitching line. Extra work without any gain.
For hand piecing templates, the quilter traces around the quilting template with a pencil and then cuts—with a scissor or rotary cutter—a 1/4"(or so) past the drawn line to add the seam. The 'exactness' of the SA isn't important. It needs to be big enough so that the SA is stable and won't pull out. The quilter is actually matching the drawn line of one patch to the drawn line of the second and intentionally stitching directly on that line.
A hand-piecer doesn't have a quarter inch guide like a sewing machine does. She'd have to go back and measure and mark the stitching lines. Extra work without any gain.
For the machine piecer, yes, having the SA added to the template would make it easy...accept for one thing.
It's much easier to add a SA with your rotary cutter and ruler, than it is to line up the edge of that same ruler with a solid cutting line—particularly if you're cutting many, many of the same template shape.
Now on the free quilting templates available on this website for pieced blocks, because I drawn them using the EQ7 software, they are printed with the 1/4" added. You can see this on the templates for the Carolina Lily quilt block.
However, for applique blocks like the Magnolia Blossom, no SA is added. Click here to see those templates.
Even with those SA automatically added, I cut my shapes with templates by aligning the quarter inch mark on my ruler with the solid black stitching line.
I believe this makes for more accurate cuts and shapes. It's simply much easier to see. Furthermore, it's no extra work, I'd still be cutting the patch with my rotary cutter and ruler.
Dorothy, I hope this has helped. If not, please let me know using the form below. It's good to ask questions when you're not sure of the 'why'.  And it helps others out, too!
~~Julie Baird