Free Motion Quilting: Hard to move the quilt sandwich
by Lorna Huggett
(Sarnia, ON, Canada)
When trying to move my flannel quilt under the presser foot it does not move easily like regular cotton fabric.

What can I do to make it easier

Reply
There are two parts to this reply—the physical and the mental—we'll start with the latter.
The Mental Part
If you quilt on a home sewing machine like me, there is a certain amount of dread when you get to the machine quilting part if the quilt is anything bigger than small. There's SO MUCH quilt to move...right?
Not really.
There's clearly more to manage...but just like a smaller quilt, the only part you need to move is that which fits between your hands under the needle. You want to keep the rest of it supported so that it doesn't move on its own.
Once I accepted that when I'd quilted what was between my hands I needed to stop and reposition, it became easier to quilt. (I still don't like having to stop, but it's now just part of the process.)
The Physical Part
A flannel quilt is going to be bigger than the same size in quilter cottons. The fuzzy nap has more surface area, and therefore I think, would cause more friction making it more difficult to move that portion between your hands. There are several simple things that you can do to help yourself.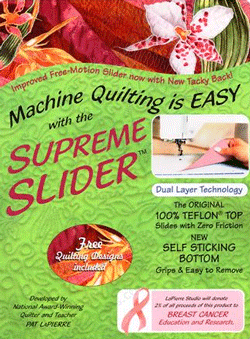 Clean the bed of your sewing machine with a clean rag and warm soapy water. It doesn't take more than a drop or two of soap. Wipe down the bed and dry it to remove any oils and dirt that have accumulated there.
To make the bed of your machine even more 'slippery', try a Supreme Slider. This is a teflon sheet that lays on the bed of your machine. For my 'regular' quilting, I don't use it, but when I'm doing the really tiny stuff I recommend it in combination with
Machingers quilting gloves
.
Click here to learn more about this fabulous quilting tool.
If you don't like using quilting gloves, then I suggest you try a dab of Neutrogena hand lotion. It's not greasy, but gives your hands a slight tackiness that helps you control your sandwich if you're quilting with your fingertips. (And it keeps your hands moist—mine get awfully dry during quilting.)
And speaking of fingertips, if you move it with your hands on top (not grasping) make sure you ARE on your fingertips. It's unbelieveably easy to forget and try to move the sandwich with your palms flat on the quilt. Not good! That larger surface area creates MORE friction making it harder to move.
Try a different hand position. Grasping your quilt in your hands to move it is another option.
Honestly, I feel like a monkey when I first use this technique in a quilting session, but it is
way easier
to manuever. (I do prefer my fingertips for the small stuff.)

There are also quilting aids like the Quilt Halo by Sharon Schamber. I've got one, tried it and don't care for it. (I prefer to have my hands directly on the sandwich.) But there are many quilters that swear by it. The good thing is that, in quilting, there is room for all opinions!
Finally, it sounds like you're already layered and basted. In the future,
try starching your backing fabric before sandwiching it
. The starch helps the fabric slide across the bed of your machine. The only drawback is that you're going to have to want the quilt at the very end to remove the starch. (The starch is usually made from corn which makes it food for creepy-crawlies...wash it away and there's no problem.)
Lorna, I hope this has given you some ideas to make your free motion quilting experience easier.
Readers, your ideas and experiences are always welcome. Please share using the 'comments' link just below.
Thank you.
Piecefully,
Julie Baird
Editor