This post contains affiliate links for which I receive compensation
Finding a star quilt block pattern
by Nell Mathern
(Jacksonville, OR)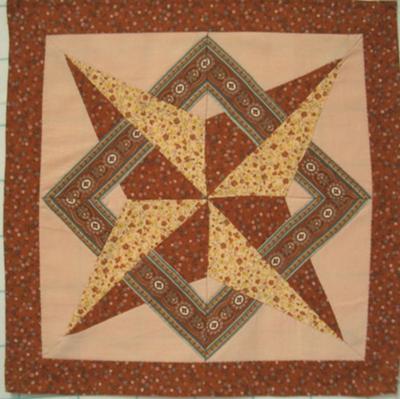 Starbound Rust and Peach 14.5
Recently I sent in photos of a quilt block I was trying to identify and find a pattern. You were able to send me a wealth of information on the pattern and to provide me a pattern with EQ7.

The saga of the mystery block continues since you sent me the information. I had an opportunity to go through a huge box of quilt blocks, (over 150) hoping to find the two blocks that I had photos of. This huge stash of blocks were made by members of my quilt guild many years ago. I found the two blocks, and they are both made in 1987, hand pieced.

The name on the back is "Starbound" from Quiltmaker Spring & Summer 1987.

Both blocks measure 12 inches without the border. Both are hand-pieced. The Rust and Peach measures 14.5 inches finished with the mitered border.
The Blue one measures 15.5 inches with the mitered border.

The blue one is very wonkie. The rust and peach is more true.

I'm going to make up the 8" block that you create with EQ7 and see how it goes. I can't wait to try this block!

Thanks again.

From the Editor: This was so much fun to work on, Nell, kind of like being a quilting 'Sherlock Holmes'!

For those of you that would like to read the beginning of this mystery, you can read about it here on our page, Star Quilt Block Pattern.

If you're interested in the free downloadable paper piecing patterns for this block, visit our page named appropriately Nell's Star Quilt Block Pattern. You'll be able to print the patterns from there. The page also contains suggestions for fabric choices, cutting and piecing. Enjoy!

~ Julie

P.S. Note to self...quilt labels come in really handy 20 years down the road!!!