Star Quilt Block Pattern
by Nell Mathern
(Jacksonville, OR)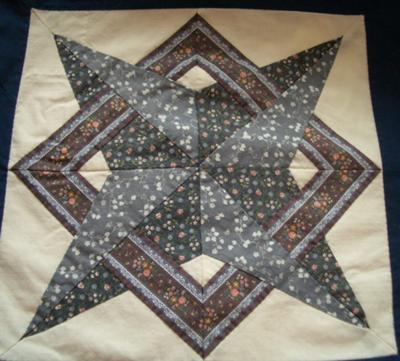 Click on a thumbnail below for a larger image


I have a photo of a star quilt block that I would love to identify.

I've tried searching for "Star" blocks, but nothing comes up that looks like my "Star" pattern.

The fabric in my photo looks 80's, so it's not a new pattern.

Any help would be appreciated. I'd like to make this block.




Reply
UPDATE: February, 2014
I believe it's important to properly attribute original work to it's source and designer.
I am happy to let you know that I have received confirmation that this quilt block is, indeed, 'Charleston Quilt' designed by Judy Martin © 1990, from her book
Scraps, Blocks and Quilts: Patterns and Techniques (Judy Martin's ultimate series)
. Used with permission.
I am a huge fan of Judy's and enthusiastically own and recommend two of her most recent books,
Judy Martin's Log Cabin Quilt Book
and
Stellar Quilts
.
Wonderfully written patterns and sources for inspiration!
---
My original response:
I've found two star quilt block patterns that are close relatives of this block.
The first is in the book
"5500 Quilt Block Designs"
by Maggie Malone on page 123.
Block 1642 is named "Starbound", an original block design by Judy Martin, ©1987, first published in Quiltmaker and then republished in Quilter's Newsletter in 1990.
This is what it looks like: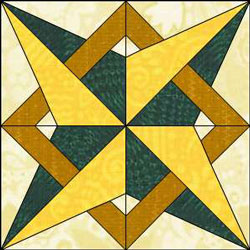 I found another variation of this block in Jinny Beyer's
"The Quilter's Album of Patchwork Patterns"
on page 160.
It's called simply 'Star' and appeared in "The Perfect Patchwork Primer" published in 1973. As you can see below, the square is on point behind the star and does not weave through the star points. It looks like this: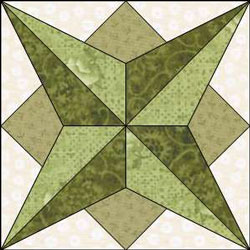 Notice that in both blocks above, all the points touch the outside edges of the block.
However, in the pictures you've provided, only the points of the square touch the outside edges. The star points do not.
So I have drafted the block in EQ7 from your pictures (by the way, I LOVE EQ) and this is what it looks likes: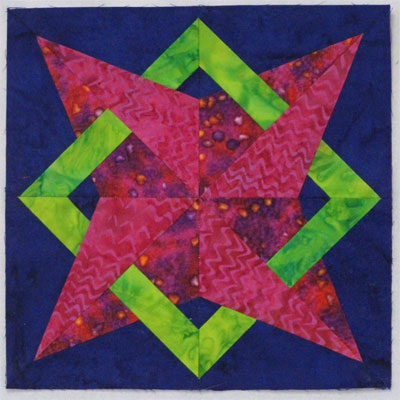 I have posted paper piecing patterns for both an 8" and 12" version of this block - Click here
.
Thank you for your question. I hope this helps...if you need a size other than 8 inches, do let me know through the 'comment' link just below.
Piecefully,
Julie Baird
Editor