Do I really need both a walking foot and a darning foot?
by Bernarda
(Guanajuato, Mexico)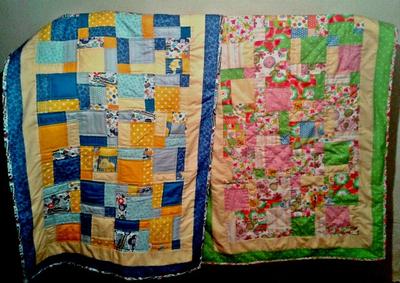 My first two quilts
Bernarda asks:
Is it better to use a walking foot for a beginning quilter instead of the darning foot?
I'm a very, very beginner and I've been practicing my free motion quilting with the darning foot, but I'm too bad really.
I've already made two quilts for my niece and nephew. These I made it with the regular foot (I don't know the name) but I'd got many bulks...after this I've decided to hand quilt the other one and so I did it but not a very professional quilting, only wide stitches made by hand and the finish result wasn't very nice...haha...but I'm happy.
Besides that I just want to know if it's a good investment to buy this walking foot, since it's got feet dogs up and down, I don't have to care about being precise about my foot and hand rhythm.
What do you think?
P.S. I have a basic Singer machine (the best gift ever!)
Reply
I love your first quilts and am
SO HAPPY
that you shared them with us. You go, Girlfriend!!!
I am of two opinions on this question...
Once quilters start with the walking foot (or even feed foot) so many times they then become nervous about later dropping the feed dogs and controlling stitch length and speed all by themselves. That can stop a lot of people from really getting into machine quilting. And that's a
total
shame, because it's so much fun to do.
The learning curve to use a walking foot is almost nothing, just install it and start quilting. You'll find it takes a wee bit of practice to stitch in the ditch and some days truly are better than others. (This is from personal experience!) With it, you're quilting your own quilts right away.
The darning foot, as you've already experienced, takes more time to get comfortable with. The only way to get better is to practice. On real quilts that someone will use and on little practice quilt sandwiches made from leftover scraps.
The danger is quilters will practice forever because they lack confidence in their skills. (Been there, done that!)
To get over that feeling of inadequacy, do what I did!
Quilt the living daylights in the borders of quilts that are made from busy fabric. No one will ever see the stitching and you'll put in the necessary practice time. This simple, paper pieced Halloween quilt is an example of this.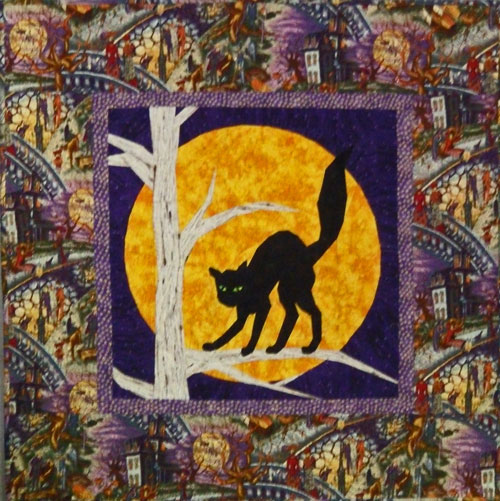 In this Mariner's Compass quilt, the background is heavily free-motion quilted. Whatever fell out of my brain landed on the quilt.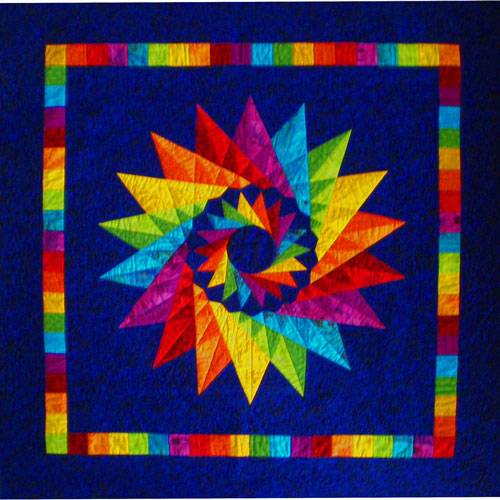 Even though I used a particularly fabulous metallic thread, you don't see much of the stitching unless you get right up to it because it matched the mottled blue fabric.
In fact, when it was hanging in our local guild show several years ago, I happened upon a woman telling her friend that 'the quilter' had used 'pre-quilted' fabric in it.
Wow!
Nobody ever told me that while I was quilting it! (giggles!)
My advice...
If you need to get quilts quilted NOW, then get a walking foot for your machine.
But if you have plenty of time to practice and projects to practice on, spend your efforts on the darning foot. Everything you can do with the walking foot, you can do with the darning foot, it just takes longer to learn and build your confidence. Once you have the skill, you don't lose it!
And once learned, you have more freedom—you can quilt in direction at any time. At this point in my quilting career, it is my foot of choice.
For more information on both feet, check out:
Thank you for your question, Bernarda. It's a good one!
Readers, do chime in with your thoughts and experiences on the topic by using the 'comments' link below. Thank you!
Piecefully,
Julie Baird
Editor