Some of the links on this page are affiliate links. If you buy thru them, I receive a small commission—at no extra cost to you. This helps me provide all the free information on this site. To learn more, read my full Disclosure Policy.
Jacob's Ladder Quilt Block Pattern

From our Free Quilt Block Patterns Library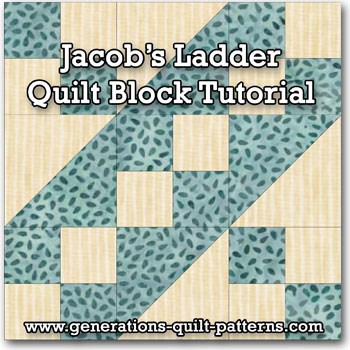 Skill Level: Beginner

Grid: 3x3
The Jacob's Ladder quilt block is characterized by strong diagonal lines running in both directions through the block.
Four patches fill the corners and center of this variation on a nine-patch pattern, with half square triangles completing the design.

This block goes by a number of other names including:
Going to Chicago
Golden Stairs
Off to San Francisco
Railroad, Road to California
Susie's Fancy.
Further below you'll find cutting instructions for 5 block sizes, a number of variations based on this patchwork design, and finally a look at a few other blocks that carry the 'Jacob's Ladder' moniker.
Visit our page Jacob's Ladder Quilt Design and scroll down to the 3x3 Grid section to jump start your idea factory on what to do with all the blocks you'll make.

Let's get to our Jacob's Ladder!

Construction Instructions
Block Size: 6"(6-1/2" unfinished)

Grid size: 2"

All seam allowances (SA) are 1/4".

When you are instructed to press, first press the pieced unit flat to set the seam. Then open the patch, pressing from the front. Seam allowances are pressed to the dark fabric unless otherwise noted.

Click here for cutting instructions for additional block sizes.
Step 1: Cutting
Light
(goldy/green)

Dark
(black print)

Two 2-7/8"(3-1/8") squares**
One 1-1/2" x 15-1/2" strip

Two 2-7/8"(3-1/8") squares**
One 1-1/2" x 15-1/2" strip

Patches for the half square triangles are marked with '**'.
I prefer to make my HSTs larger and trim them down to the actual size after stitching. The patches in this tutorial where cut at the number in () to accomplish this. The Quick Piecing method is used to make them.

And these are the cut patches...

Step 2: Piecing the units
Half Square Triangles
Our Jacob's Ladder needs four HSTs.

With a pencil, draw a diagonal line on the back side of the two 2-7/8" squares.

With RST, layer one marked light square with one dark 2-7/8" square. Stitch a quarter inch away from the drawn line on both sides. Repeat for the second pair of squares.

Arrow points to anchor cloth.
Cut on the drawn line to create two units from each pair of squares.
Press.

Trim the four resulting HST patches to 2-1/2" square.

For more detailed information on this HST-technique, click here.
Four Patches
Our Jacob's Ladder quilt block needs a total of five 4 patch units.

With RST, align the edges of the light and dark strips. Stitch the long edge with a quarter inch seam.

Press.

With your rotary cutter, straighten one short edge of this strip set. Now cut it into ten 1-1/2" segments that look like this.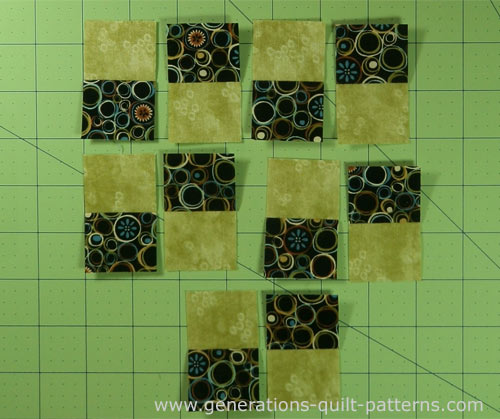 Each segment measures 1-1/2" x 2-1/2"
Alternating light and dark fabrics, stitch pairs of these segments together to create five 4-patches that measure 2-1/2" square.

Press.
To reduce bulk at the center of a four patch, I like to twirl or pinwheel the seam allowance. It looks like this (below, right).

Step 3: Assemble the block
Lay out your sewn units in rows. It is REALLY easy to get the patches discombobulated! (Ask me how I know!) Just remember that the triangle squares border the light diagonal chain of squares.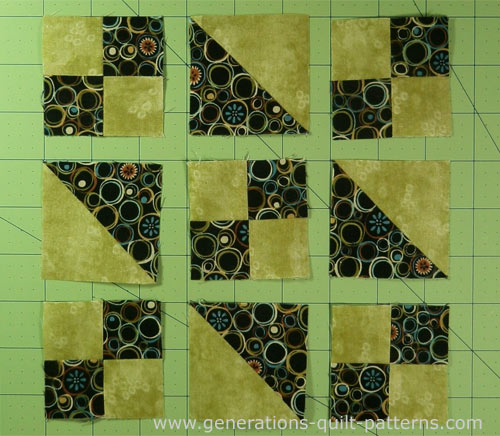 Stitch the patches into rows.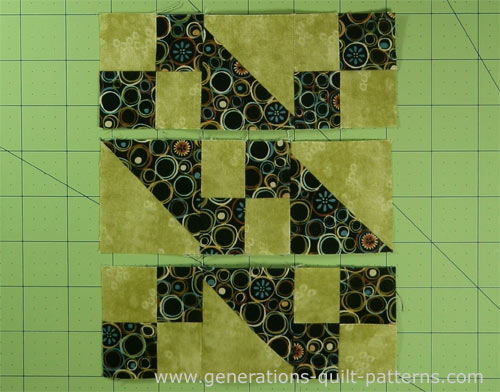 You can press in either direction—towards the 4-patches or towards the HSTs—just be consistent. That way your seams will nest which makes matching them so much easier.
Stitch the rows together. After a final press your Jacob's Ladder quilt block looks like this.

Now what?


Your blocks are finished.
What to do? How to arrange them?
Click here to find layout ideas for the Jacob's Ladder block to spur your creativity!

Common Variations

Play with the number of fabrics and the units and you've got a multitude of Jacob's Ladder quilt block based patterns at your fingertips.
Blue Chains
A third fabric is added that changes the color placement.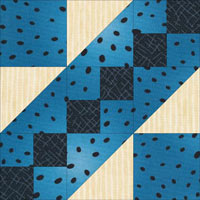 Road to the White House
Two of the corner four patches are replace with solid squares.
The second diagonal disappears when this block is set edge to edge.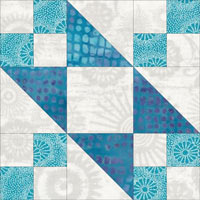 Tail of Benjamin's Kite
The center four patch is replaced with a solid square.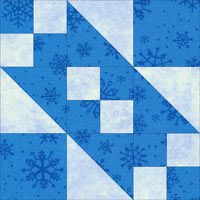 Rocky Road to California
Back to the two fabric block, four patches are changed or removed.
Click here for instructions to make this variation.


Wagon Tracks
The second diagonal is completely gone.
Also known as Pacific Rail Road or Road to Arkansas.
Click here for instructions to make this block.

In these next variations, the half square triangles are inline with the dark diagonal chain and form, well, 'bats' for lack of a better word.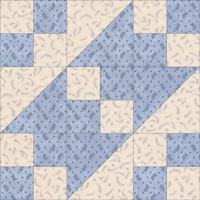 Road to Arkansas
Still the exact same units as the original Jacob's Ladder, just rotated for a totally different looking block.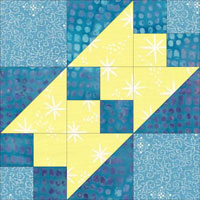 Broken Sugar Bowl
Corner 4-patches are gone. Three fabrics.
This block is also called Road to the White House.
Click here for instructions.

And last, but not least...
Buckeye Beauty
The block drawn on a 2x2 grid instead of our 3x3. Great for scrap quilts!

Also know as: Double Four Patch, Gay Scrap Quilt, Going to Chicago, New Four Patch, Railroad, Railroad Crossing and World's Fair.
Click here for instructions to make this block.
Cutting Chart for Other Block Sizes
If you'd like to over-size your half square triangle patches, they are marked with a **.

Finished Block Size
Fabric
Qty
4.5"
7.5"
9"
12"
Light**
2
2-3/8"sq
3-3/8"sq
3-7/8"sq
4-7/8"sq
Light
1
1-1/4" x 13"
1-3/4" x 18"
2" x 20-1/2"
2-1/2" x 25-1/2
Dark**
2
2-3/8"sq
3-3/8"sq
3-7/8"sq
4-7/8"sq
Dark
1
1-1/4" x 13"
1-3/4" x 18"
2" x 20-1/2"
2-1/2" x 25-1/2
Trim HSTs to...
2"
3"
3-1/2"
4-1/2"
Grid Size
1.5"
2.5"
3"
4"
Same name, different block...
I've found three 3x3 grid blocks that are also named 'Jacob's Ladder quilt block'. The first two look like variations of the same idea--more like a 'Wild Goose Chase' in my humble opinion.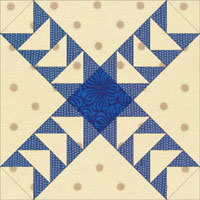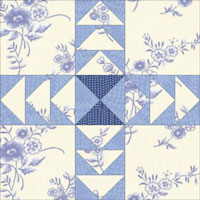 This third one mimics the feel of the original Jacob's Ladder with the same strong diagonal line, but it is accomplished with smaller triangle squares.
A wee bit more scrap friendly because the patches are smaller.

Ready for More Blocks?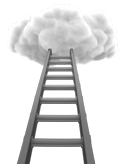 Climb the ladder to quilting success!
Just check out our Free Quilt Block Pattern Library to find more blocks for your next quilt project!
Step by step and you'll be finished in no time!
For more Jacob's Ladder ideas...

There's also a Jacob's Ladder children's toy in the list below. It'd be fun to include it with their new quilt, don't you think?!

Return to the top of this Jacob's Ladder quilt block tutorial
Get inspired! Check out our Jacob's Ladder design page