Some of the links on this page are affiliate links. If you buy thru them, I receive a small commission—at no extra cost to you. This helps me provide all the free information on this site. To learn more, read my full Disclosure Policy.
Brave World Quilt Block

From our Free Quilt Block  Patterns Library
The Brave World quilt block—a variation of a Pinwheel— is a three fabric patchwork design made from one unit repeated four times and rotated a quarter turn as it makes its way around the block.
Skill Level: Confident beginner

Grid: 4x4

Technique: Foundation Piecing

It is common to a number of other blocks (none of which look anything like a Pinwheel) including...


| | | |
| --- | --- | --- |
| Aunt Dinah | Morning Star | Album |
'Brave World' is also known as 'Brown World'.
For this block, paper-piecing instructions and their corresponding downloadable patterns are supplied in three different sizes.
Let's get busy quilting!

Construction Instructions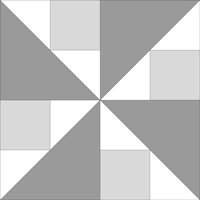 Block Size: 6"(6-1/2" unfinished)

Grid size: 1-1/2"

When you are instructed to press, first press the pieced unit flat to set the seam. Then open the patch, pressing from the front.
I do not use steam for paper piecing. Instead I like to use our Best Technique for Pressing Quilt Blocks. The results are the absolute flattest (even with the paper) that you'll ever see. And that's a promise!

Click here for cutting instructions for additional block sizes.
Step 1: Download paper piecing patterns
You'll need Adobe Reader (the latest version is recommended) installed on your computer in order to open and print these quilt block units. Click here to get Adobe Reader (a new window will open so you can download it without leaving this page) if you need it.

Click here for our free downloadable pattern for the 6" finished block.

In order to print, open the downloaded file, and select the "Print" option.

Remember, you must set 'page Scaling' to 'None' in your printer's setup menu to ensure these blocks print at the proper size.

Other Sizes to Download (finished block sizes)


Step 2: Cutting
Our fabric choices for this Brave World quilt block sample are in ().

Fabric A
(medium-turquoise)

Fabric B
(light-black&white)

Fabric C
(dark-red print)


Four 2-1/4" squares


Four 2-7/8" squares, cut once on the diagonal


Two 4-3/8" squares, cut once on the diagonal

Step 3: Create the units
Cut the pattern into individual blocks. This is a rough cut, don't worry about cutting exactly on the line. You'll do that when you trim your blocks to size.

Use the dashed lines inside the block to position Patch 1 (turquoise). This positioning automatically creates a quarter inch seam allowance—perfect for positioning #2 (black&white).
I use a little dab of Elmer's Glue Stick (the kind that goes on purple and dries clear) to hold the #1 in place.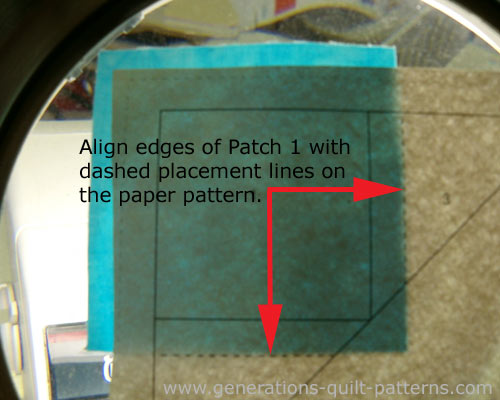 If you think the image is curved a bit—you're right—this patch is on
top of my lighted magnifying glass so that you can see the fabric! :D
With right sides together (RST), layer #2 with the cut edge of #1, aligning the edges as shown below.

Stitch starting before and ending after the solid stitching line. These stitches will be secured by the next line of stitching that crosses them.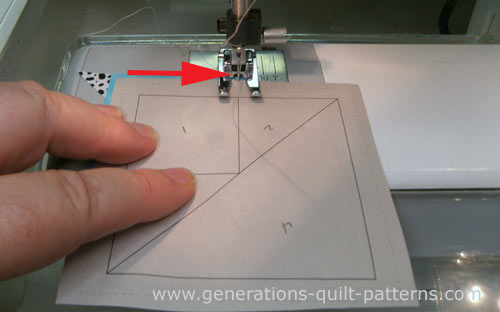 Press. Repeat for Patch #3 (black&white).

Press.
Now we'll trim the diagonal edges to create a line to align our next patch  with.
Match the edge of your ruler with the solid, diagonal line separating Patch 4 from the rest of the block.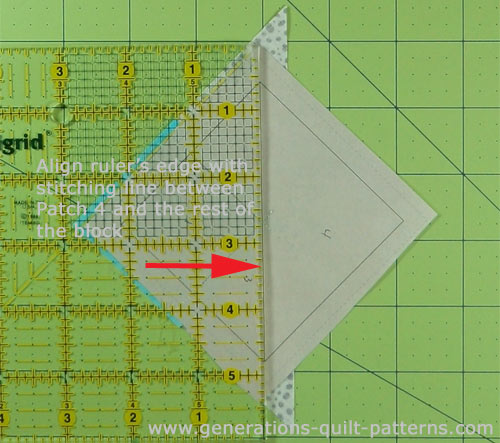 Use the ruler edge to crease the pattern along this line. You will need to free some of the stitches in your seam allowance from the paper to do this. Just give them a little tug.

Tip
If you accidentally rip the paper in a big way—and I do every once in while—you can repair the tear with Magic Tape (Scotch Brand).
You won't ever press from the paper side so there's no worry about melting it. The Magic Tape seems to hold up nicely, though, to the heat of the iron.
For small tears, most times you won't need the tape. The tear doesn't effect the accuracy of your piecing.

Fold the pattern back along this creased line.
Now align the 1/4" line of your ruler with this fold and cut with your rotary cutter.
You've now created a quarter inch seam allowance.
Align Patch 4 (red print), RST with this cut edge and stitch.

Align the cut edge of Patch 4 with the edge you just trimmed
Press.
Trim the unit to size by matching the 1/4" line on your ruler with the solid outline of the block. Cut. Repeat for the three remaining sides.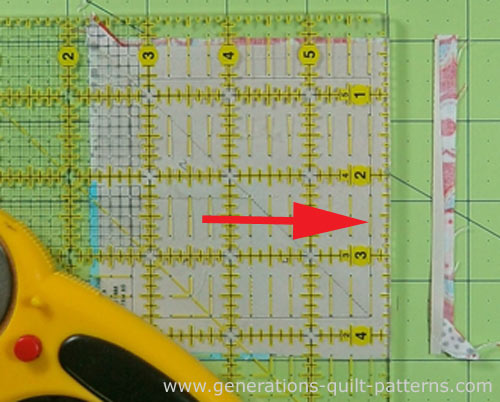 Remove the paper and press.
Step 4: Assemble the Brave World quilt block
Lay out the trimmed units. Each is rotated a quarter turn as you go around the block.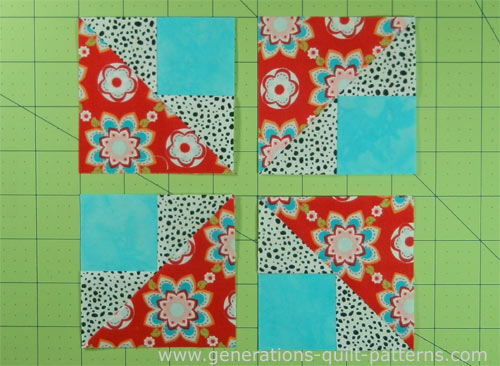 Stitch into rows. The seam allowances will nest making it easier to match the triangle points in the center.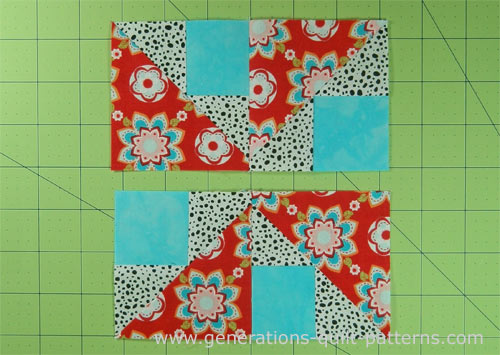 Press.

Stitch the two rows together. Again, the seam allowances nest making it easier to get a nice match in the center of the block. For an even flatter center, I've twirled the seam allowances to reduce the bulk.

Your Brave World Quilt Block is finished!

A variation on the color placement...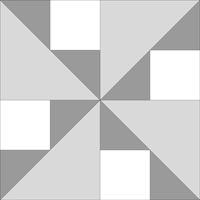 The Spinner

The color placement has all been switched. It looks like a basic Pinwheel quilt block decorated with rick-rack, don't you think?


Cutting Chart for Other Block Sizes
Finished Block Size
Fabric
Qty
4"
5"
Subcut
A – Medium
4
1-3/4"sq
2"sq
no
B – Light
4
2-3/8"sq
2-5/8"sq
C – Dark
2
3-3/8"sq
3-7/8"sq
Grid Size
1"
1-1/4"
n/a
Ready to Brave more Blocks?
Your Brave World quilt block is finished and now it's time to fill your world with all sorts of other fun blocks.

Click here for your passport to our Free Quilt Block Pattern Library!

---
Return to the top of Brave World Quilt Block

Go to the Generations Quilt Patterns Home Page