Some of the links on this page are affiliate links. If you buy thru them, I receive a small commission—at no extra cost to you. This helps me provide all the free information on this site. To learn more, read my full Disclosure Policy.
Bear's Paw Quilt Block Pattern


From our Free Quilt Block Pattern Library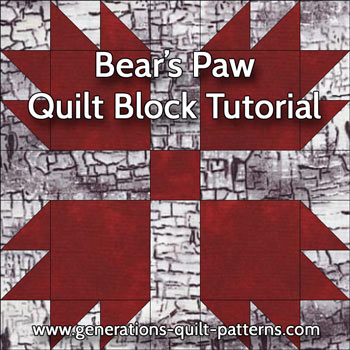 Block Type: Uneven 9 patch

Grid: 7x7
The Bear's Paw quilt block is a classic!
It's also a great design for beginning quilters to practice piecing with half square triangles (HST).
In these instructions you'll learn how to make them in batches of 8. Efficient with your time and extremely accurate, I'm sure you'll love this method—especially because it requires no specialty tools or rulers.

A Bear's Paw block is known by a whole slew of other names including:  Bear's Foot, Chinese Block Pattern, Duck's Foot in the Mud, Hand of Friendship, Tea Leaf Design, The Best Friend, Cat's Paw, Batsche, Small Hand, and Illinois Turkey Tracks. Whew! That's a lot!

Grab two fabrics and let's begin.

Construction Instructions

All seam allowances (SA)  in our Bear's Paw are 1/4". Press them toward the darker fabric unless otherwise noted.

When you are instructed to press, first press the pieced unit flat to set the seam. Then open the patch, pressing from the front. 
I recommend starching your quilt fabric before cutting to increase your stitching accuracy.


Step 1: Cut the fabric patches
A single Bear's Paw quilt block requires 16 HSTs, so we'll use the very efficient  8-at-once method. This saves time, both marking and cutting, and provides perfect results!
Patches #3 and #4 (used for this technique) are cut oversized. The HST units are trimmed to size after stitching.
I suggest you try one pair of patches first and then make any adjustment you need to the cutting sizes.
Finished Block Size
Patch
#
Fabric
Total
Qty
7"
10-1/2"
14"
1
A
1
1-1/2" x 1-1/2"
2" x 2"
2-1/2" x 2-1/2"
2
A
4
2-1/2" x 2-1/2"
3-1/2" x 3-1/2"
4-1/2" x 4-1/2"
3**
A
2
4-1/4" x 4-1/4"
5-1/4" x 5-1/4"
6-1/4" x 6-1/4"
4**
Backgrnd
2
4-1/4" x 4-1/4"
5-1/4" x 5-1/4"
6-1/4" x 6-1/4"
5
Backgrnd
4
1-1/2" x 3-1/2"
2" x 5"
2-1/2" x 6-1/2"
6
Backgrnd
4
1-1/2" x 1-1/2"
2" x 2"
2-1/2" x 2-1/2"
Unfinished Block Size
7/1/2"
11"
14-1/2"
Mid-point
2-1/8"
2-5/8"
3-1/8"
Trim HSTs to...
1-1/2" x 1-1/2"
2" x 2"
2-1/2" x 2-1/2"
Grid Size
1"
1-1/2"
2"
**Cut oversized
Step 2: Assemble the corner units for your Bear's Paw quilt block

Start by constructing the HST units.
Make the back of each light #4 patch with a diagonal line between both pairs of corners. Layer a #4 with a #3 square, right sides together.
With your favorite quarter inch foot installed on your sewing machine, stitch a quarter inch away from both sides of each line.
Repeat for the other set and you've stitched a total of 16 HSTs. Pretty nifty, eh?!!

After sewing, the unmarked side looks like this.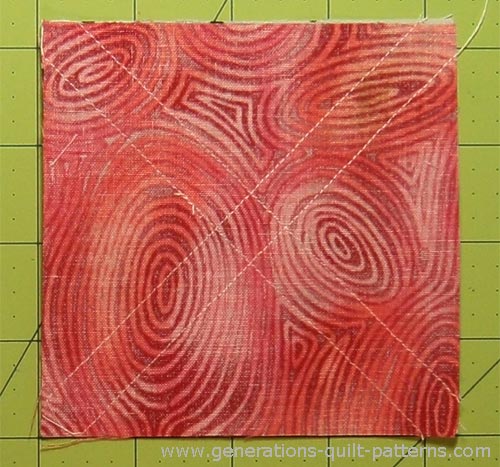 Now it's time to cut this into the units.
The block in the photos finishes at 7". To cut these into the HST-units go to the cutting chart above and locate the row labelled 'Midpoint'. The corresponding number in the 7" column is 2-1/8".
Place the sewn unit on your cutting mat, marked side up.
Align the 2-1/8" of your ruler (black arrow) with one of the edges and cut.That cut should go through (or at least pretty close to) the center of the drawn 'X'.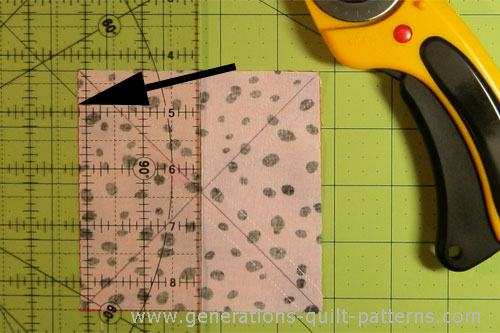 Rotate the mat a 1/4 turn and align the 2-1/8" ruler mark with the edge and cut again. You've now cut your patches into four squares.
Now cut along each of the drawn diagonal lines and you'll have...
Press. For the 1" grid size (which is the size shown in these photos) I prefer to finger press seam open before pressing them from the front. Starch makes this very effective.

Trim to the size listed in the cutting chart (for this example it's 1-1/2" sq)
One set of #3 and #4 patches yields 8. Notice the small amount of waste. Quite an acceptable tradeoff from perfectly sized HSTs, don't you think?!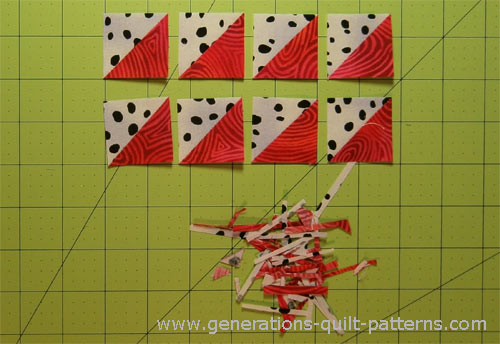 Repeat for the other set.
For more detail instructions on this HST-technique, click here.
To create the corner sections for our Bear's Paw, stitch four of each of the 2 different units shown below. The arrows indicate the direction to press the seam allowances.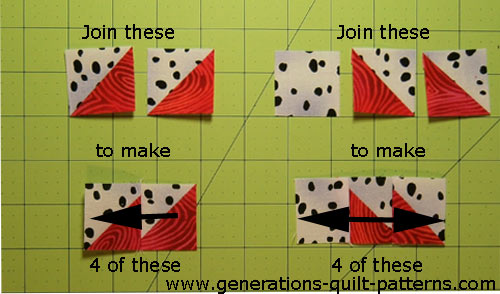 It's easy to get things all discombobulated when you sew these units together. I like to sew one and then keep it at my machine as the others are made.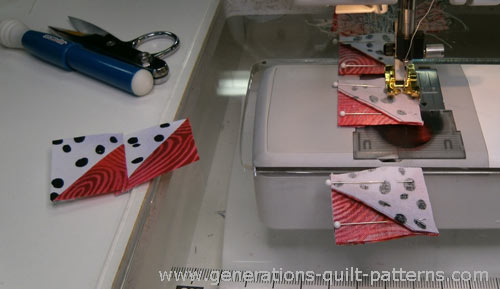 With RST, join a pair of HST to a #1 and press in the direction of the arrow for a total of 4.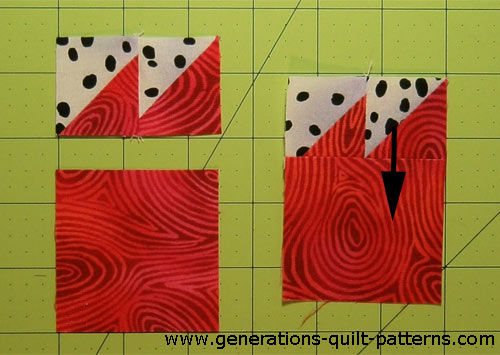 Pressing the SA as suggested makes it easy to see where your stitch where your seam touches the point of the triangle.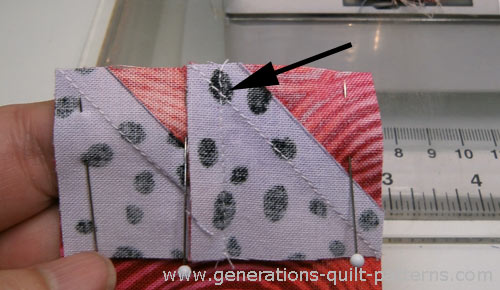 To finish your corners, add the remaining subunit as shown below. Press your SA toward #1. Make 4 identical units. Now this is looking like a Bear's Paw!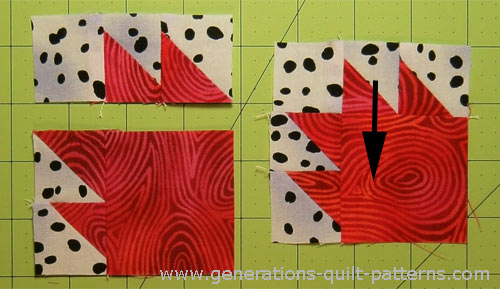 Step 3: Assemble the Bear's Paw quilt block

Arrange the sewn corners and #5 and #6 patches.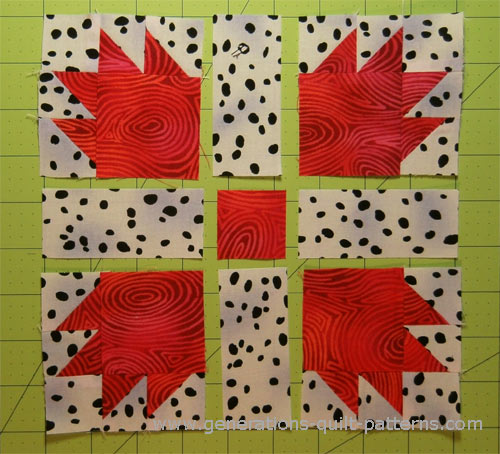 Sew them together into rows. Press the SA in the direction of the arrows.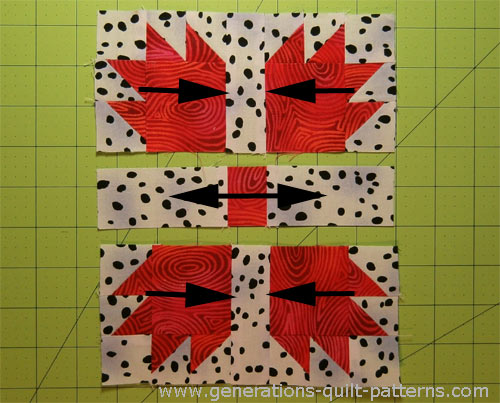 Join the rows together, pinning if you like. (I find I rip less when I pin.)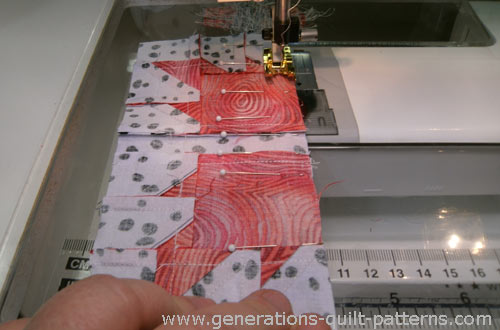 One final press and your Bear's Paw quilt block is complete.
For the perfect finish, check out our Best Technique for pressing. It's fast, simple and the results are fabulous!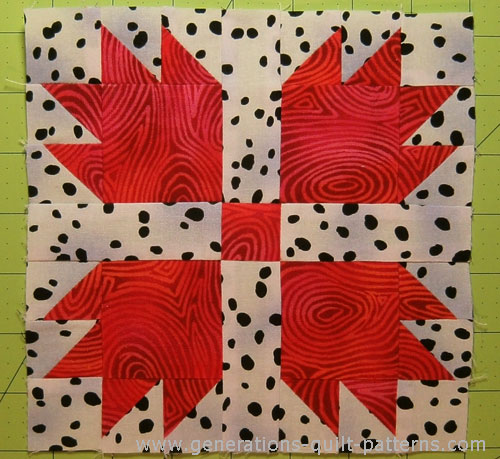 ---
Bear Paws Quilt Kit

Available from Craftsy.com
Finished quilt size: 61" x 73"

Skill Level: Intermediate
Includes quilt top fabric from the Benartex Gradations collection by Caryl Bryer Fallert and background fabric.

The downloadable pattern is by Nancy Smith. The PDF file for it is delivered to your Craftsy Pattern Library after the purchase is complete.

[For more information click here...]
---
You've Bear-ly scratched the surface!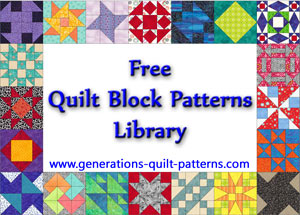 Got a hankering for more patchwork designs?
You're sure to find a honey of block in our Free Quilt Block Patterns Library.
If you're truly inspired by this design, I recommend "Bear's Paw: New Quilts from an Old Favorite"
from the Museum of the American Quilters Society.
Click on the image of the book (left) to go to Amazon.com, and learn more.

Return to the top of Bear's Paw Quilt Block instructions