What to do with leftover starched quilt fabric?
by Valerie
(Ontario)
Valerie writes...
I like to starch my fabric before cutting the pieces, but I often have left-over fabric.
I don't like starched fabric lying around for any length of time, but since it has already been pre-washed, I don't want to wash it again.
What suggestions do you have?
Julie replies...
Hi Valerie!
A question near and dear to my heart...I am a starch fanatic because it helps me so much with accuracy—both cutting and piecing. I'm glad to read you love it, too!
For readers who'd like to learn more about starching their quilt fabric
click here
.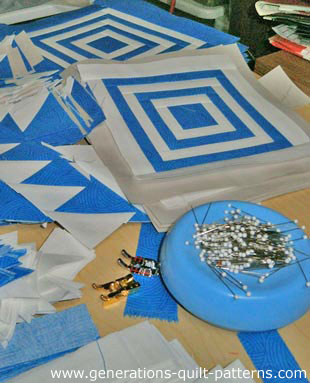 Quilting is always a trade-off between time, money, skill and your imagination—there's
ALWAYS
more quilts I can't wait to start. I bet you're the same way! My friend, Sharon, thinks about the quilts that she wants to make so much that sometimes she forgets she hasn't made them yet!
And yes!
She's gotten a lot of teasing about 'quilting in her mind' from her bee-mates! :D
Starching, in and of itself, slows down the process. And especially if I'm working on a scrap quilt.
I have several patterns that I'm currently developing...one pattern has two versions. Both are two colors. One white and blue (above). The other red and white (below).
The white and blue one is a two fabric quilt. That meant
yardage
to starch. Because I've also done the yardage calculations, there wasn't a lot left over.
Since I prefer to make practice blocks when I'm using someone else's patterns, I'll just leave the excess starched and handy for those blocks.
That fabric will live on my cutting table for easy access until it's used up.
For the red and white version of the pattern—it's a whole other story.
I've used about 100 different fabrics for the 'red' ranging from orange to dark purple.
With so many selections, I needed just a bit from each. My choice was to starch only as much as needed (a guesstimate on my part).
After spraying down the material with a mix of 50/50 StaFlo Starch and water, I'd let them air dry to reduce flaking. Then iron, using the starch mix to help 'soften' up the fabric to get a good press and make up for any spots I missed.
After cutting the patches there might be an inch or two wide area along the cut edge that still had starch in it.
Though most of those fabrics are
STILL
laying on the cutting table, I will fold and put them back into their color box (a plastic Sterilite container) and close the lid once the project is finished.
What about critters?
Yes, starch is a food. And it can attract critters...furry four legged and more-legged, too. But...
...there's only so many hours in a day.
For me (and you have to make the decision that works for
you
), I'm not going to re-wash my pre-washed. My decision is based on the following:
I haven't seen any critter activity on my starched fabrics. (IF I did, I'd wash it out immediately.)


There's not a lot of leftover starched fabric to go back in the box because I've only treated as much as I thought I'd need.


I do iron my pre-washed fabrics before I put them away. I don't want to iron any more than I have to—it's boring and a waste of precious time. If I didn't iron before boxing, but only just before cutting, then washing out the starch would be an easier proposition. I usually do a touch-up press before cutting anyway.

Again, how you process your fabrics has an impact on your decision.
Valerie, I hope this has given you some food for thought in determining what is best for you.
Readers, your comments and experiences are most welcome. Just use the comments link below to share!
Piecefully,
Julie Baird
Editor