This post contains affiliate links for which I receive compensation
Twinkle, Twinkle!!
by Cathy Lucas
(Plainfield, IL)
The LeMoyne Star quilt block is one of my absolute favorites.

I saw an antique quilt top with tiny stars at a quilt show in Alabama shortly after I started quilting. I took a workshop in 1998 with Sharyn Craig and learned her precise method for constructing this block. Then I discovered ARDCO Templates by QuiltSmith (tiny little metal templates). I was very excited to be able to make 3.4" stars!

This quilt has 120 3.4" stars on the front and 3 on the label on the back of the quilt.

Each block took about 20 minutes to construct. I just kept making stars because I couldn't wait to see the combinations of fabrics.

The blue zig-zag setting is quilted with 100 wt silk thread in an unmarked free motion feather design. I used the "bump" method that I discovered in a book by Darlene Epp for quilting feathers.

The LeMoyne Stars are quilted with the continuous curve method in each diamond. It was the first time I used silk thread for machine quilting and I enjoyed working with it.

This quilt was accepted at the 2008 WI Quilt Expo and I received an Honorable Mention for it. I was thrilled!

I've learned another method of constructing these blocks and I know I will make more of these little stars on my quilting journey.

Some close up pictures of the free motion machine quilting...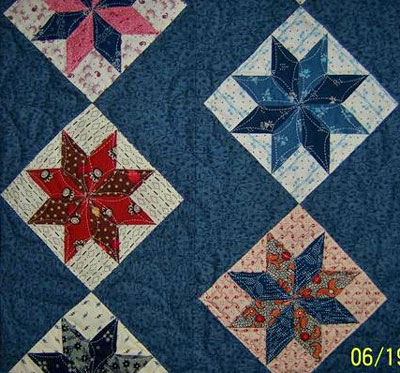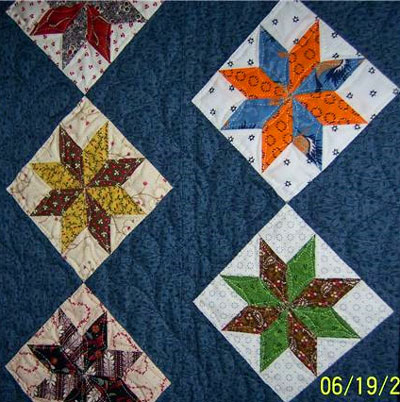 Julie says...

If you've enjoyed this quilt...
Do let the quilter know!

To share your comments...
Just use the link below!