Thread color for quilting modern quilts
by Elaine Hoskins
(Independence, Iowa)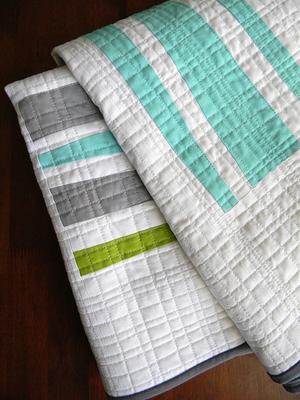 Click on each thumbnail below for a larger image


I am going to make a quilt with large pieces in a dark blue and aqua, but the background will be mostly white. I have not decided on a backing. The quilting pattern I want to use is a random straight stitch very close together and going in both directions. So that changing thread could be very difficult.

I want to machine quilt it myself but what color should I use or should I go with invisible thread?


Reply
If I was making a
traditional quilt
in the colors you describe, I would definitely go with the invisible thread. I would be looking solely for the texture that my quilting stitches create, and not so much another 'line of design' drawn by the quilting stitches.
But the quilts you've pictured are definitely in the 'modern quilt' vein. I'm intrigued by them and have bought many books (and there are a lot of good ones out there...as well as a couple of
good online classes to learn how to make them!
)
And as a machine quilting teacher—I'm absolutely thrilled to see a type of quilt that really needs the quilting...simple quilting...that anyone can do...that gets quilters quilting their own quilts. That just makes my heart sing!
If it were my quilt, a modern quilt like pictured above, and the quilting lines extended straight through the colored patches, I would use a white 50wt 100% cotton thread to quilt the lines. I would not change thread colors to match all the fabrics.
I wouldn't choose invisible for this because I'd want the extra 'drama' that the white crossing the colors would give me. The invisible thread also has a slight 'sheen' to it. I don't particularly care for shiny thread with all of this straight line quilting--personal preference.
Now if the white background was quilted with the close straight lines, but the colored patches were quilted in another quilting pattern (say swirls), then I would use a matching color for those patches. The difference in the quilting pattern would add the drama.
A word about backing and bobbin thread...
I would choose a backing fabric that worked well with your matching white bobbin thread. With all the stitching that you'll be doing to finish this quilt, I wouldn't want to have a tension issue crop up part way through. I'm not a big fan of frog-stitching (rip-it! rip-it! rip-it!) and do everything I can to minimize possible problems before hand.
That said, there are going to be as many opinions on thread color choices as there are quilters.
So...
Readers, what do you think? What thread colors would you choose for this quilt and why? Please share your thoughts using the 'comments' link below. Thank you!
Piecefully,
Julie Baird
Editor