This post contains affiliate links for which I receive compensation
Sunflower Quilt
by Julie Baird
(Plainfield, IL)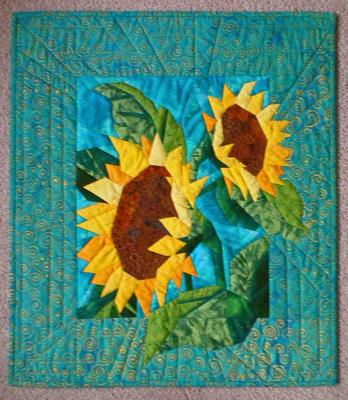 Sunflowers, 20
This is my "Sunflower" quilt...pattern by Eileen Sullivan of 'The Designer's Workshop'.

I love to paper piece and Eileen does some of the best paper piecing patterns.

They are all printed on freezer paper which helps to hold the fabric pieces in place as you press them open and add the next piece. Tearing the freezer paper off is about like tearing off regular old copy paper.

I added some 'pebbles' for a free motion background fill stitch to the center of the sunflowers. Click on the thumbnails above to get a closer look.

Other than that, all the quilting is either in the ditch or some straight line in the borders. Eileen's quilt patterns always provides good ideas for the machine quilting.

A fun pattern to make...even better because two sizes, with one pattern each, come in the envelope.

A happy quilt!


---
English Roses
is another paper piecing quilt I've stitched from a pattern by Eileen Sullivan. Like I said, I love this gal's patterns!