This post contains affiliate links for which I receive compensation
English Roses, A Paper Piecing Quilt
by ejb
(Plainfield, IL)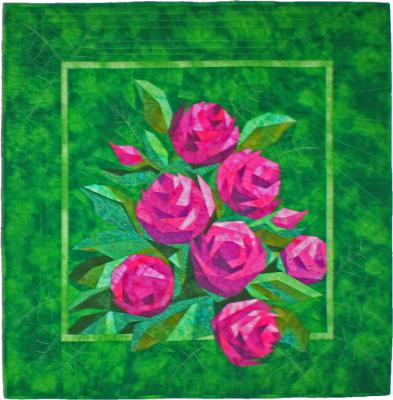 English Roses
I made this paper piecing quilt from a pattern called "English Roses" by Eileen Sullivan of The Designers Workshop. I love working with her quilt patterns. They are printed on freezer paper and are simple to use. The directions are easy to follow and GOOD!

I had challenged myself to finish a quilt a month for a year. I didn't have to start it from scratch, I just had to finish something every month.

I had one of Joen Wolfrom's color books, "Color Play", and decided to challenge myself. My husband picked a color for me to work with...it was...oh no!...YUCK...it was fuchsia...now I have to admit fuchsia kind of makes me want to vomit...bad boyfriend experience, but I digress.

OK...now I'm stuck with fuchsia for a color...what am I going to do? Well, I do like green so I decided to work on a complementary color scheme. Spring green and fuchsia it was.

Guess what?

I really didn't like that darned color. Couldn't find a speck of it in my stash. So it was off to the quilt store. That was one quilt store visit that wasn't any fun. But I came out with a pile of quarter yards of it. Now back to my stash.

I learned that all the greens that are in this quilt are related...always wondered why I liked them together.

I also had to work at the final color choices and placements. This was not a natural color scheme for me to work with. So I had to follow the color rules...that's where Joen's book came in handy. The quilt was finished within its allotted time, even the quilting and binding.

It was a good experience for me working outside my color box. I'm glad it worked out this way and would recommend it to anyone having problems with color. Get one of Joen's color books or her color cards and have SOMEONE ELSE choose a color to base your quilt on.

Hopefully the picture does the quilt justice, it's actually quite stunning in person, if I do say so myself.


And if you're wondering, I still don't like fuchsia.