Stars of the Prairie
by Pride of the Prairie Quilters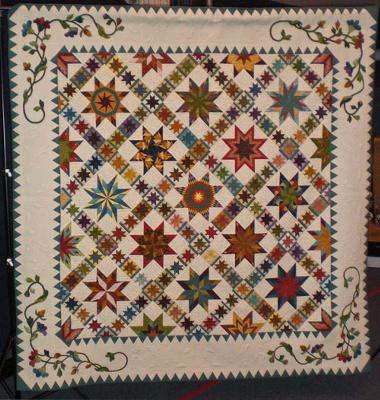 Stars of the Prairie
Pride of the Prairie's 2012 Raffle Quilt

(Click on a thumbnail image below for a larger picture.)


Our 2012 raffle quilt, "Stars of the Prairie" is truly a guild project, with 75 members involved in its piecing and applique.

All of the stars, large and small, and the dogtooth borders are paper pieced. The appliqued flowers, leaves and stems are sewn with finished, turned edges. It is estimated that there are well over 100 fabrics sewn into this beautiful work which includes reproduction fabrics, batiks and various cottons, making it a scrappy masterpiece.

Award-winning long-arm quilter, Monica Troy of Lemont, IL, designed and stitched the beautiful quilting designs that make our stars twinkle and our flowers bloom. The backside of this marvelous quilt is truly as eye-catching as the front.

The inspiration for the design came from several sources, including an antique quilt which used strips of stars as sashing, framing large stars set on point. This same setting has also been used by several designers, with the addition of the dogtooth and appliqued borders. Our design committee felt that these design elements would enable the participation of a large number of quilters.

Raffle tickets are available for $1.00 each or 6 for $5.00. The winner's name will be drawn at the April 2012 Pride of the Prairie Quilters guild meeting.

We are so very thankful for the commitment, skills and participation of our guild members as we are all the "Stars of the Prairie"!

The design committee members include Julie Baird, Beth Grossman, Sylvia Khanifar, Alice Krzak, Sandy Piatek, Jo Sheppard and Jill Stuck.
Pride of the Prairie Quilters
2012 Quilt Show Information

Location:
Richland Grade School
1919 Canton Farm Road
Crest Hill, IL
Just 1/4 mile west of Caton Farm & Weber Road
See map below

Dates:
March 10, Saturday, 9am to 5pm
March 11, Sunday, 11am to 4pm

Admission:
$5.00

With over 300 quilts plus wearable arts and all the 2011 Challenge Quilt entries, there is something for everyone!

Quilt appraisals are available by appointment.

Other activities include...

Our scrumptious Bake Sale - this just gets more tantalizing every year!


Used Magazine and Gently Used Book Sale


Raffle Baskets for all interests


Scissor Sharpening


Merchant Mall


on-going demonstrations on a variety of quilting techniques



...and the opportunity to view our Raffle Quilt in person.

We hope to see you at the show!



View Larger Map