Star Chain Quilt Pattern

Heavenly quilt design options for a basic block!

Now that we've made a few blocks, let's test out some design ideas for a Star Chain quilt pattern.
You haven't made any of these blocks yet?
No worry!
Check out the Star Chain quilt block tutorial for instructions to make a 9" finished block.
You'll also find free downloads for the 'triangle in a square' paper pieced units on that page.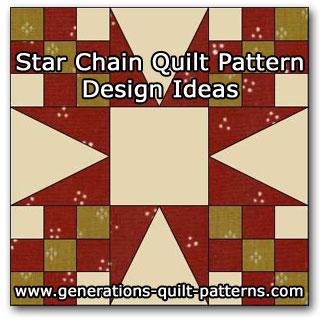 My Favorite Quilt Design Software

All the free patterns and block/quilt illustrations on this site were created in either EQ7 or EQ8—my favorite quilt design software.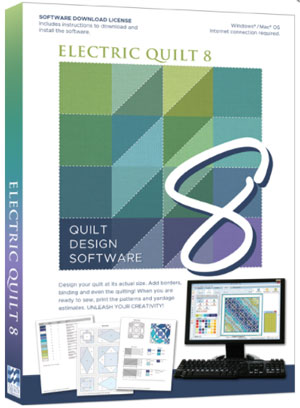 Click here to purchase EQ8 from Amazon
This program makes it so easy to audition different colors and values with just a few mouse clicks.

Rotate and flip the blocks with another series of clicks.
I can't imagine going back to graph paper and colored pencils.
Or worse yet—simply keeping my fingers crossed. Fabric is much too expensive!
The box contains a software download license—License ID and Password—and a booklet to get you through installation and get you started. There is no disk as in the past. 
Download the software onto your computer from the EQ website using the ID and password as directed. At the time of download you can choose either PC or MAC. 
I LOVE Electric Quilt!
I hope you do to.
Straight Set Layouts

A straight set layout is the simplest, but will take the most blocks of any layout type.
Here the block is laid edge to edge in a 7x9 block arrangement.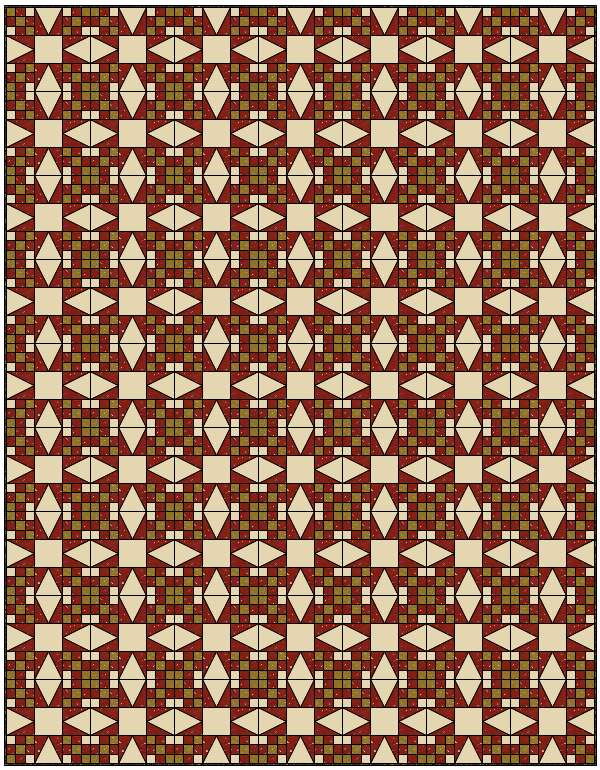 With 9 inch finished blocks and a binding, this quilt measures 63-1/2"x81-1/2" and takes 63 blocks to make.
Where the four nine patches come together is nice, but the design in those areas could be pieced much more efficiently—especially if the design was changed so that the group of nine patches is the block and the triangle in a square and square in a square units form the block's sashing.
Let's try another arrangement.
Add an alternate block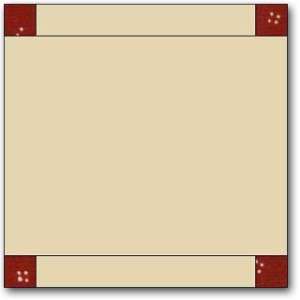 One intriguing aspect of this block design is the chain that starts in the corners. To bring out this design element, add this alternate block to complete the chain.
For each block you need:
Background:

One 7-1/2"x9-1/2" rectangle
Two 1-1/2"x7-1/2" strips
Dark(D) fabric:
As we learned in Quilt Layouts 101, use odd numbers of blocks in both the rows and columns to maintain the symmetry of the design.
Alternate between the two and you have this...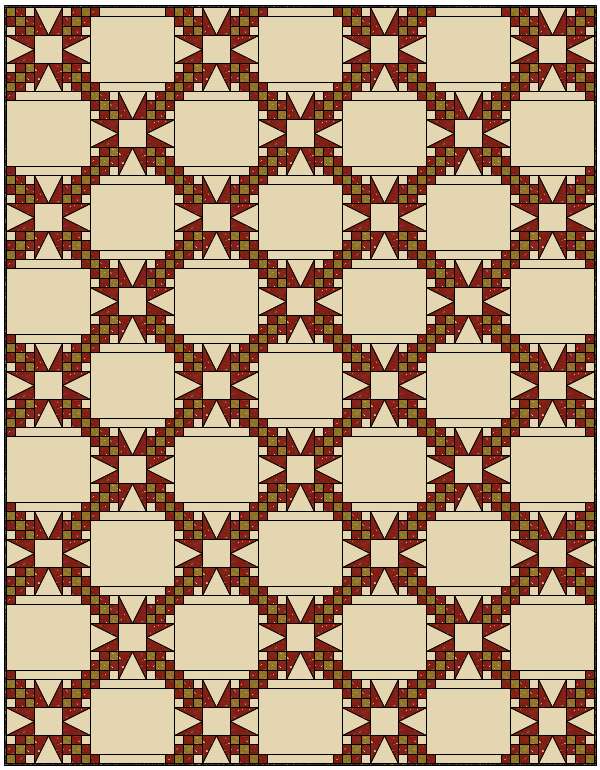 Much better than the first design, don't you think? And a whole lot less piecing.

Nice open spaces for some fun free motion quilting or applique.
But this Star Chain quilt pattern is kind of boring, don't you think?
You're the boss! Change it up!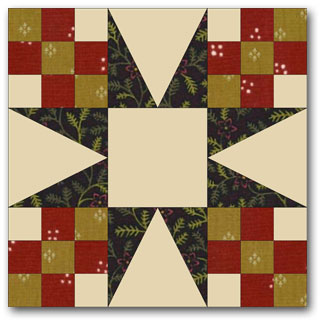 Way too much of the dominant color (red) and those star points don't really stand out like they ought to.
Since it's your block, you CAN MAKE any change you want!

Let's try adding another fabric...this time even darker than the red.
Much better already!
This block has a little more 'oomph'!
Now let's substitute it into the alternate blocks setting...
Much better!
Now let's move on to...
Diagonal Sets
In a diagonal set, the blocks are all rotated an 1/8 of a turn. Frequently the tops and sides are filled in with setting and corner triangles cut from solid fabric, so there are fewer blocks to piece than its straight set cousin.
This 5x6 block layout with the same 9" finished blocks and a binding measures 63.64"x76.368" and takes 50 blocks to make.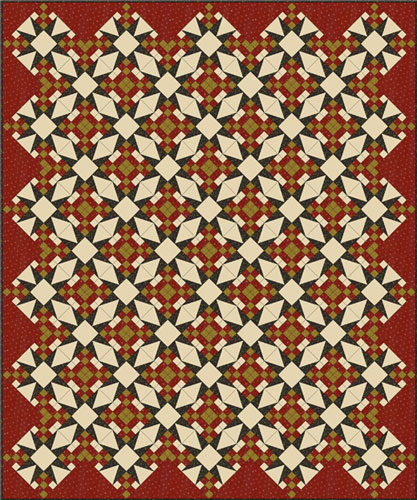 It's amazing how different and much more difficult a design can look when it is set on-point. If I were to continue with this design option, I would piece a gold square into the setting triangles to finish off the design created by the nine patch units.

Now swapping in an alternate block and add changing the setting and corner triangles to the background fabric...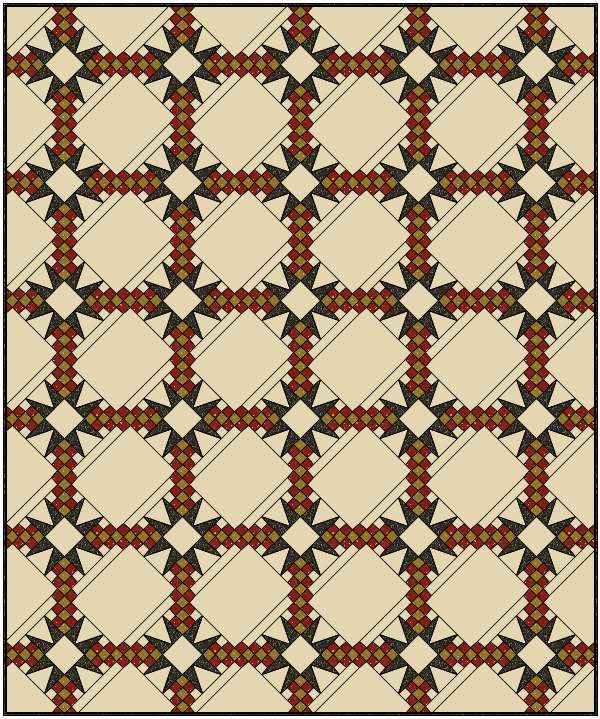 That finishes off the chain and leaves the nice spaces for quilting or another block. (We'll get back to that idea in a minute).
This next illustration was a happy accident.
All the quilts on this website are designed in Electric Quilt. Blocks can easily be swapped in and out of an idea with a couple clicks.
Here, an alternate block is added in, except not all the blocks are alternated. Can you see it?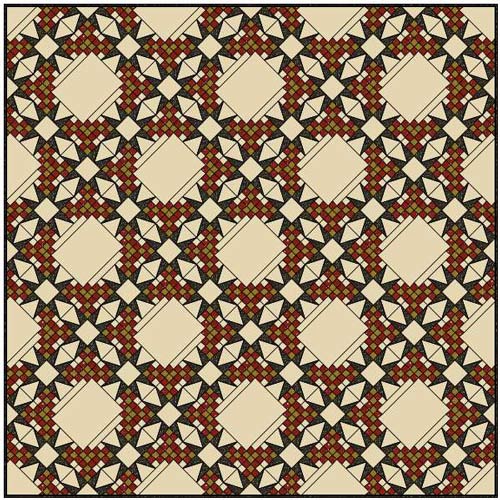 In order to make this a symmetrical design a block is added to each row making it a 6x6 or square design. It's a far cry from our first try at a Star Chain quilt pattern.

Now let's get back to that 'add a block' idea.
Quilting is all about pattern and repetition—we make oodles of blocks over and over again to put into our quilts.
In this quilt, let's jazz up our pattern with a little Sun Rays block. With Electric Quilt we don't need to concern ourselves with whether or not this is 'rotary-cutter friendly'...we'll just paper piece it!
Now let's go back to the diagonal set with alternate blocks...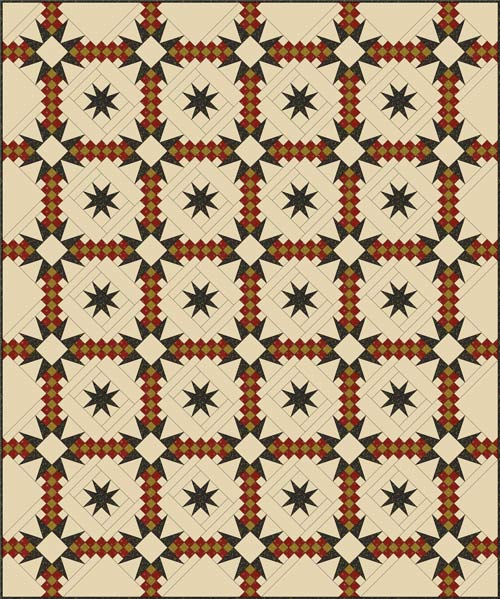 And now just a couple of more tweaks—the centers of our Star Chain quilt blocks look a bit empty, let's fix that...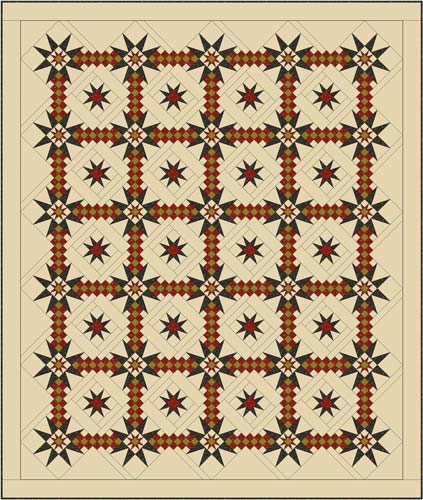 Plenty of room for quilting in the outside border, repeated Sun Rays quilt blocks in the alternate squares and the center of the Star Chain block and a little tweaking with the chains—the blocks at the edge of the design have nine patches in either two or three corners.
A much more complicated looking design with almost the same block.
I hope this has inspired you to play and create your own Star Chain quilt pattern designs.
Ready for more?

Visit our Free Quilt Block Patterns Library or Quilt Design 101 for more inspiration!