This post contains affiliate links for which I receive compensation
Something Old is New Again
I saw this quilt at the 2010 Autumn Gems Quilt Show. This show is put on by the Gems of the Prairie Quilt Guild of Peoria, Illinois every September.

The quilt was made by Sue Drosner and it won the Viewer's Choice for Small Bed Quilt-Pieced Duet at the 2009 Autumn Gems Quilt Show. (That is what the ribbon is for in the picture.)

The pattern is "Not-So-Square Granny" from "Family Favoriate QUilts" designed by Tammy Tadd. It is foundation paper pieced using hand dyed fabrics. The machine quilting is by Sheri Zalar, also a member of the same guild.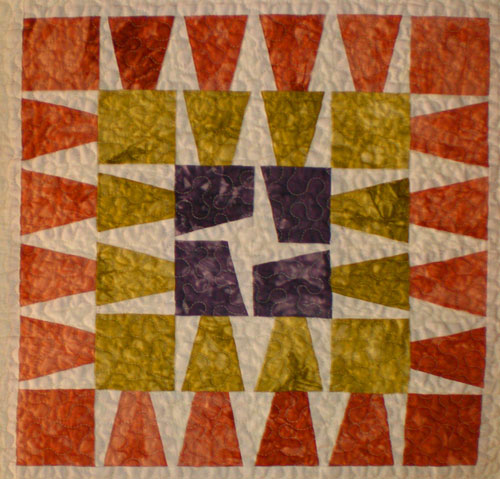 Close-up of quilt block
Sue used a wonderful palette of hand dyed fabrics that just sing! And added a scalloped border that is the perfect finishing touch.
It is such a beautiful quilt in person, I only hope that my photography does it justice.
Don't you just love it??!
Submitted by Julie Baird