Quilting Foot - Which one do I need?
by anonymous
What is the best type of machine quilt presser foot to use for "stitch in the ditch"? I bought a "Big Foot" but couldn't figure out how to install it on my machine.

Would a walking foot be a better choice for this type of quilting?


Reply
You are absolutely correct!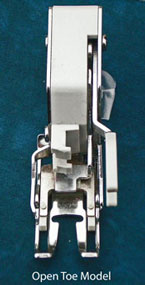 The foot you need for "stitch in the ditch" quilting is an even feed or walking foot. It can go by either name.
When you visit your sewing machine dealer, you'll need to have the model number handy to get the proper foot. It's also helpful to know what type of shank your machine has (high, low or slant) just in case only a "generic" version of the foot is available for your machine. That information will be in your instruction manual.
If at all possible, I recommend you get an "open toe" walking foot. There is no bridge between the "toes" of this foot which means there nothing between your eyes and where the needle is piercing the fabric (in the ditch).
The "Big Foot" you mention is a "giant" darning foot for free motion quilting with feed dogs dropped.
Regarding its installation...at the top of this foot is a "finger". That finger rests on top of the needle screw so that the foot will "hop" as you stitch. The foot fits any machine that can use low-shank generic feet.
If you have a Bernina sewing machine, you may find you also need a Bernina long-shank adapter. Check the instructions that came with the foot. The specific information should be in there.
I hope I've been able to answer your question.
Thank you for visiting Generations Quilt Patterns and contributing to the Machine Quilting Forum!
Piecefully,
Julie Baird
Editor