Problems installing my walking foot
Please help me to figure out why I cannot get my walking foot to work on the Singer machine I have.

I attached it but when I lower the lever on the presser foot, there is about 1/8 inch or slightly more between the foot and the fabric.

What should I do now?


Reply
You are right, the walking foot should sit on the machine bed with the presser foot down.
To double check, I installed my walking foot on my own Viking D1. With the foot installed and presser foot down, the foot firmly holds the quilt sandwich in place.
Installing your walking foot on your sewing machine for the first time can be very trying. The first thing to remember is not to "force" the foot on. If it's been made for your machine, it will fit.
Check that You Have the Correct Foot for Your Machine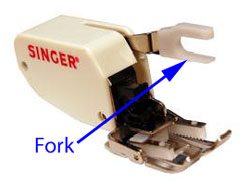 The fork installs around the needle clamp screw.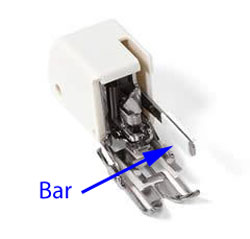 The bar installs over the needle clamp screw.
First, check to be sure you have the correct walking foot model for your machine. Singer makes both "slant needle shank" and "low shank" machines. Each requires a different walking foot.
Not sure which shank your machine has?
Check your manual first. But if you can't find the info, all is not lost.
With a standard presser foot installed, put the presser foot in the down position.
Now measure from the bed of your sewing machine to the screw hole that holds the presser foot on your machine.
The slant shank measurement is about 1-1/8", for a low shank it's about 3/4", and for a high shank it's about 1-1/4'.
Install the Foot
A Singer Walking Foot or Even Feed Foot has either a "fork" or a "bar" as seen in the pictures above. The fork fits around the needle clamp screw; the bar rides on top. As this screw moves up and down, so does the walking foot.
Remove the screw (on the left) that holds your current presser foot in place.
Remove the presser foot and its shank.
Depending on your version of walking foot, postion the "fork" around the needle clamp screw. The "bar" rides on top. The needle clamp screw is the screw on the right that holds your sewing machine needle in place.
Position your walking foot's shank on the needle bar and screw it into place with the screw you removed in #1 above.
Troubleshooting
With your foot sitting so high, even with the presser foot in the down position, I'm wondering if perhaps your "fork" is sitting completely on top of the needle screw instead of around it.
If that is not the case, then there is a good chance that you've been given the wrong foot for your model of Singer sewing machine. Check with your dealer to be sure.
I hope this information has been helpful to you!
Happy Quilting,
Julie Baird
Editor