Pressing seams open or to one side
by Noreen
(Thornhill, Ontario, Canada)
I've always pressed my seams to one side but now I think it might be better to press them open.

Is there a better way?

Reply
Hi Noreen!
The best way is the way that works best for you!
Traditionally, seams were pressed to the dark side:


To prevent the dark fabric from shadowing through a lighter one;


To prevent batting from coming through the stitches in the seam allowance; and...


To reduce bulk where seam allowances come together.
In clothing construction, seams are almost always pressed open so as not to add noticeable bulk.
As batting has gotten better and better (i.e. way less bearding) quilters seemed to start pressing their seams open, too.
I come from a garment sewing background (been sewing since before I could cross the street by myself!), so I do press many of my seams open. 'Typically to reduce bulk or prevent shadowing.
Where's the ditch...?
Some will argue that when the seam allowance is pressed open, that there is no ditch to quilt in. Personally, I find that my stitches are better hidden in seams that are pressed open. If I accidentally stitch out of the ditch (and I do), I'm not stitching on top of three layers of fabrics—those stitches
DO
show.
I like the flatter appearance of an open seam and do not experience any noticeable bearding. My batting of choice these days is Hobbs Heirloom 100% Wool.
One final consideration when seams are pressed open. There's no seam allowance to nest. But since I'm a pinner anyway, it's work I was already doing. If you're
NOT
a pinner, piecing takes longer with open seams.
Paper Piecing
When I am joining paper piecing sections together that have lots of stitching lines coming into the seam, as on 'English Roses' below...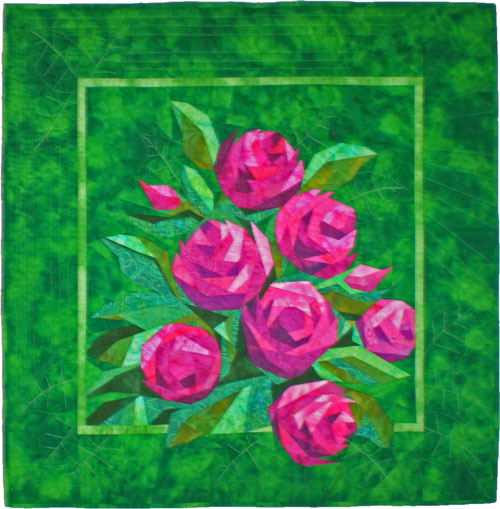 ...I add and then cut 1/2" seam allowances and then stitch the sections together.
It's much easier to press that gnarly seam open when it's bigger. After pressing to my satifaction, I'll then go in with a pair of scissors and hand-trim the SA to 1/4".
The Best Pressing Technique
Regardless of whether or not you try pressing them open, I heartily suggest you try our
Best Technique for Pressing Quilt Blocks
—it's the bomb!
Your blocks will come out flatter than you ever expected. It doesn't matter if you pressed them open, to one side or even paper pieced them. Please do give it a try!
So in the end, it really is up to you. And it is quite possible, that like me, you'll end up pressing in different ways, for different projects, for different reasons...all with the same intent of nice, flat blocks that are easy to quilt because they aren't bulky.
I hope this has helped.
Readers, how do you press? Your thoughts, comments and experiences are
ALWAYS
welcome. Share using the 'comments' link below. Thank you!
Piecefully,
Julie Baird
Editor