This post contains affiliate links for which I receive compensation.
Mariah's Tee Shirt Quilt
by Elaine DeFoor
(Stuart, Florida)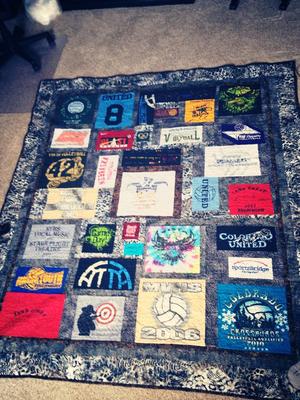 Tee Shirt Side
My daughter and I have made tee shirt quilts for her older son. Because I am now a more adventuresome quilter and I have a very creative granddaughter, this one was a little different. Mariah helped picked out the fabric and she said "Grandma can the quilt be reversable?". I thought "why not" since I have a new Janome Horizon and I use the same thread in the bottom and top and to all-over freemotion. It was the first large quilt I did on my new machine. I told my granddaughter - "just remember this was Grandma's training quilt" - a sampler of sorts.

Anyway, here are the results of Mom and I piecing and me quilting. I also sewed the binding on using a decorative stitch and was quite happy with it.

Love this website. I go to it often. Thanks Julie.

Elaine DeFoor
Click here to return to Your Show and Tell.
Subscribe to StashTalk, our free Newsletter