Joining two different quilt blocks together - do I need to pin
by Lisa
(Karns City, PA 16041 U.S.A.)
Lisa asks...
I have a quilt pattern where you make 3 (4)patch of one solid color and 3 (4)patch of a patterned material. In between the diamond shaped 4 patches are triangles.
Is there a way to sew these pieces together so you don't have to go through so much pinning and all the tips meet in the middle?
Julie replies...
Hi Lisa,
Click on the
image above
to learn more.
I wish I could tell you there was an easier, faster way, but unless the seams abut (i.e. they are pressed in opposite directions and nest together) the only way to get a good match is to pin.
To the right are my favorite pins by IBC. They are very fine, and you will have to replace them from time to time because they will bend after a lot of use. Since they are so fine, however, there is less distortion when you pin. :D
I insert a pin perpendicularly through the points that must match. The secret is the pin is perpendicular and not angled. If it is angled, then the points aren't directly over each other.
Then insert a pin through the layers perpendicular to the cut edges on both sides of the first pin. You can see this in the photo below.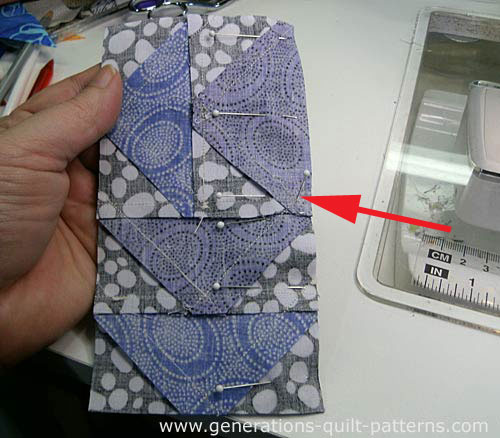 The red arrow points to the perpendicular pin through the match
point in the the center of this Dutchman's Puzzle quilt block.
I don't remove the first pin until I'm right up to it as I'm stitching.
If having those points match is important to you (and for me, personally, it is in my own quilts) you might look on pinning as a way to minimize ripping out and resewing patches where you're not satisfied with the match. I find it faster to pin than rip and re-sew, plus it saves on a lot of aggravation.
Readers, we're open to suggestions here! Please share what you would do using the 'comments' link below.
Thank you!
Piecefully,
Julie Baird
Editor